Shenggen Fan, director general of the International Food Policy Research Institute (IFPRI), is speaking at the third annual D.C. Food Tank Summit, Let's Build a Better Food Policy, which will be hosted in partnership with George Washington University and the World Resources Institute on February 2, 2017.
Dr. Fan is known for his work on transition economies and agricultural development in China and India. His research focuses on the analysis of the role of public and private investments in agriculture to alleviate poverty and hunger. Dr. Fan also serves on the Lead Group for the U.N.'s Scaling Up Nutrition Movement and was the recipient of the World Food Programme's 2014 Hunger Hero Award.
Food Tank had the chance to speak with Dr. Fan about growing up on a small farm and his work towards feeding the world's hungry.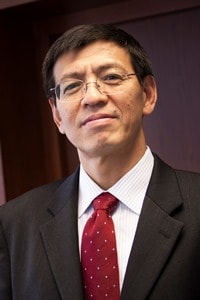 Food Tank (FT): What originally inspired you to get involved in your work?

Shenngen Fan (SF): I grew up on a small farm in southeastern China. We raised chickens and pigs and eked out rice and wheat on a plot about half the size of a football field. Some years, we were able to feed ourselves, but mostly, we were poor and hungry. So I know what it's like to be hungry and malnourished; I also benefited from policy reforms that rapidly reduced hunger and malnutrition. That's why I believe we can change things for the 795 million people in the world who do not have enough food and more than two billion who lack essential vitamins or minerals.
FT: What makes you continue to want to be involved in this kind of work?
SF: I know it's possible to eliminate hunger. There is evidence. I've seen countries make rapid gains on a massive scale with the right policies. For instance, if China and Vietnam continue at their current rates of cutting hunger by enabling small farmers to produce nutritious foods and consumers to purchase these foods, both countries can eradicate hunger and undernutrition in the next decade.
FT: Who inspired you as a kid?
SF: My mom. I grew up during the Green Revolution. When high-yielding seeds came to our village, my mom had to get up at four o'clock every morning during the harvest and planting seasons. Her hard work highlights for me the important role women play in agriculture. It also shows that we need a new green revolution that reduces manual labor by introducing mechanization and modernization.
FT: What do you see as the biggest opportunity to fix the food system?
SF: These are exciting times because there is evidence-based research that shows that we can transform agriculture and our food system to achieve multiple Sustainable Development Goals. We need to use data and evidence to improve nutrition, smallholders' income, employment, and welfare of women and children. That's the kind of work my organization, IFPRI, does—providing the world with research, data, and knowledge to improve policies.
FT: Can you share a story about a food hero who inspired you?
SF: Millions of smallholder farmers are my food hero. They face multiple challenges, but they work industriously to feed their families and send their children to schools.  
FT: What's the most pressing issue in food and agriculture that you'd like to see solved?
SF: Instead of focusing solely on raising crop yields, we should work to increase nutrition, improve resilience to shocks, and mitigate climate change. To do this, we need an integrated approach: we must reshape the food system for multiple-win outcomes. This new food system must be productive and efficient, nutrition- and health-driven, sustainable and climate-smart, inclusive, and business-friendly.
FT: What is one small change every person can make in their daily lives to make a big difference?
SF: Cut down beef consumption in rich and emerging economies—but not in Africa or other least developed countries or regions. Red meat is some of the most carbon-intensive food products. It is also associated with the risk of coronary heart disease and Type-2 diabetes, among other diseases. If we consume less red meat, it can help improve our health and the environment.
FT: What advice can you give to President Trump and the U.S. Congress on food and agriculture?
SF: The leadership role of the U.S.—including that of USAID, State Department, and USDA—is critical in combating poverty and hunger. Government programs like Feed the Future have had tremendous impacts in countries like Bangladesh and Ethiopia. Food insecurity and extreme weather events are drivers of persistent conflicts and migration pressure, so it's all the more important that the U.S. continue to promote global food security, resilience, and nutrition.