Food Tank recently spoke with Jon Shaw, Director of Sustainability & Communications for Carrier Transicold & Refrigeration Systems. Shaw is the 2016 recipient of the "Food Logistics Champions: Rock Stars of the Supply Chain" award to better understand the role of refrigeration in preventing food waste, hunger, and the impact of climate change while also increasing food quality, food safety, and helping preserve food security.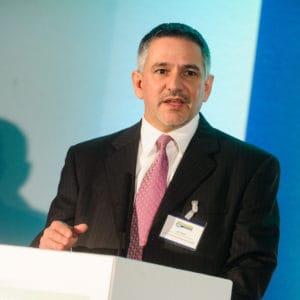 Food Tank (FT): Can you explain to Food Tank readers what the cold chain is? Why is it so crucial to the global food supply?
Jon Shaw (JS): The Global Food Cold Chain Council, of which Carrier is a founding member, defines the cold chain as "a supply chain where refrigeration is necessary for moving food products from field to market through the steps of food processing, transportation of refrigerated food products, and sale in retail food establishments."
In practice, a functioning cold chain is critical to the protection and delivery of all perishable foods, including dairy, produce, meat, and fish, as it is transported by ocean, road, and rail in temperature-controlled refrigerated containers, trucks, and trailers to cold storage facilities, distribution centers, food retailers, and restaurants using stationary refrigeration systems, walk-in coolers, supermarket display cases, and refrigerators ready for the consumer.
Without the cold chain, perishable foods can only be transported and sold as far as they can travel without spoiling or developing bacteria that could cause food-borne illnesses, such as E. coli, listeria, Salmonella, etc., to spread.
In their book, Food Foolish: The Hidden Connection Between Food Waste, Hunger and Climate Change, co-authors John M. Mandyck, Chief Sustainability Officer at United Technologies and Eric B. Schultz, former CEO of Sensitech Inc., note, "…[N]othing keeps perishable products safe, maintains their physical and nutritional qualities, and prolongs their shelf life like cold air. Fresh fish held at optimal temperature can last for ten days; fresh green vegetables might last a month at optimal temperatures. Drive one or the other to market in an open truck in the hot sunshine and they can be ruined before arrival."
Additionally, according to the authors, "In parts of the world where the cold chain is established and effectively run, perishable food loss can be maintained as low as 2 percent."
FT: How does the cold chain contribute to food waste?
JS: When applied properly and consistently, the cold chain should not contribute to food waste because the food it is protecting would be delivered and presented for sale or consumption at peak condition.
But, breaks in the cold chain can occur due to a wide variety of causes, including operator error; insufficient pre-cooling; poor loading practices; inadequate insulation; improperly functioning refrigeration equipment; or, even something as simple as cargo or walk-in cooler doors being left open too long. Any of these breaks can cause damage to perishable foods by exposing them to conditions that are too warm or cold, all leading to food that is lost or wasted.
Temperature is critical to the quality of perishables, and even relatively small differences can make a big difference in quality. Sometimes the detrimental effects are not immediately obvious and don't manifest until the perishable items are already at home in your fridge.
Perhaps a better way to look at it is in places where the cold chain doesn't exist or is too small to properly function from end-to-end. According to the International Institute of Refrigeration, the lack of a functioning cold chain causes significant food loss—up to almost 20 percent globally. In developed countries, food losses from the absence of refrigeration account for nearly 9 percent of total food production, and 23 percent on average in developing countries.
As an example, India is one of the largest global producers of milk, hen eggs, fish, and chicken meat, and the second largest producer of fruits and vegetables, after China. India loses as much as 50 percent of all its perishable food due to an inadequate or non-existent cold chain, to the tune of US$4.5 billion every year, as identified in a 2015 research report by the University of Nottingham, "The Impact of Reducing Food Loss in the Global Cold Chain," funded by a grant from UTC.
According to the report, conservative estimates show 30 to 35 percent of fruit and vegetable losses in India could be reduced by transporting fresh produce in refrigerated vehicles. In addition, there are approximately 104 million tons of perishable foods transported inter-city throughout India every year, but only a fraction—four percent—is refrigerated during transport. By contrast, 70 percent of all food consumed in the U.S. each year passes through the cold chain.
FT: What role does refrigeration play in the food, hunger, and climate change nexus?
JS: Refrigeration has a huge role to play in reducing food waste, hunger, and climate change impact.
It is estimated that food waste generates seven percent of global greenhouse gas emissions, or 3.6 million tons, offering a significant opportunity for countries and industries to reduce their negative impact on the climate. In fact, if food waste were a country, it would be the third largest emitter of greenhouse gas emissions, behind China and the U.S.
By preserving the perishable foodstuffs, refrigeration helps reduce food losses and the carbon emitted to produce this wasted food, and helps improve food security by connecting consumers and producers much more effectively.
Only about 10 percent of perishable foods are refrigerated worldwide, yet refrigeration is the best technology, with no associated risks, to ensure food safety and prolong the shelf life of perishable food. For example, milk can last for up to two weeks at 0 degrees Celsius but just a few hours at 30 degrees Celsius. More than 50 percent of global food loss and waste is comprised of commodities that can benefit from refrigeration.
FT: In January, Carrier issued an industry-wide call to action for the "Age of Food Efficiency." Can you explain what that means?
JS: The world already produces enough food to feed 10 billion people—that's enough for everyone on the planet today, and everyone to come until 2050. So producing more food to feed more people is not the answer when we already waste upwards of 40 percent of what we produce. Using that model, we would only waste more food, at even higher costs to the global water supply and contribute even more to climate change.
At the 2nd World Cold Chain Summit to Reduce Food Waste, John Mandyck, Chief Sustainability Officer at our parent company, UTC, noted that over the last 20 years the world has experienced the "Age of Energy Efficiency"—taking the same power base and spreading it more efficiently to urbanize in a sustainable manner. He drew a parallel to the need for an "Age of Food Efficiency," using our current food supply base more efficiently and in the process avoiding more production and the environmental emissions that come with it.
With the help of an improved green cold chain, the potential to extend food supplies and create an "Age of Food Efficiency" is extraordinary.
FT: How is Carrier fostering dialogue with other private sector organizations in its efforts to help the world feed the growing global population?
JS: For the third consecutive year, Carrier is organizing the "World Cold Chain Summit to Reduce Food Loss, which brings together around 130 delegates from more than 30 nations, including global leaders in the supply chain private sector, academia, and government and NGOs to discuss and develop scalable, sustainable solutions to expand and improve the cold chain to reduce food loss and waste.
We are giving a voice to the issues of food waste and climate change by actively participating in other cold chain conferences and webinars on reducing food waste, and through the publication of the book "Food Foolish: The Hidden Connection Between Food Waste, Hunger and Climate Change"  (US$9.95, all proceeds will be donated to food charities), co-written by John Mandyck, and by providing input to publications and websites such as Food Tank.
FT: What do you see as the biggest opportunities to improve cold chain efficiencies?
JS: Name one area in your life where you would accept up to 40 percent inefficiency. Not in your home utility bill, not in the performance of your car, and not in your checkbook!  Yet, we blindly accept that one-third or more of the food produced each year is never eaten, a fact that has been widely recognized as a global environmental, social, and economic issue.
The solution is all around us. More than 50 percent of wasted food can have its shelf life extended by the cold chain. Yet today, only 10 percent of worldwide perishable foods are refrigerated, so there is immense opportunity to cut food waste by implementing or improving the cold chain. As noted at our first World Cold Chain Summit in 2014, cold chain development is the best investment that can be made for food preservation.
The development and implementation of sophisticated data analytics—the Internet of Things—will help by providing end-to-end visibility to identify ways to improve food safety and quality, and thus reduce waste and inefficiency, and close gaps in the cold chain.
Consumer preference is another opportunity for cold chain development. As urbanization grows around the world, it gives rise to more affluent consumers who are looking for safe, nutritious, and diversified food. This means greater demand for growers and supply chain operators to invest in cold chain equipment.
FT: What do you see as your biggest obstacles?
JS: We've learned there's a perception in many developing countries that cold is bad for fresh foods. The argument goes that fresh food needs sun and warmth to grow, so putting it in a cold, dark truck or warehouse must be counter to its well-being. But the opposite is true—temperature management is critical to extending the food supply chain and reducing waste.
Even in developed countries, there's a perception that frozen fruits and vegetables are not as healthy as fresh. Yet again, this isn't necessarily true. When produce is flash-frozen at peak, all the vitamins and nutrients are frozen with it, rather than rapidly diminishing as the produce ripens.
A properly functioning cold chain is the single best way to preserve perishable food. Instead of putting efforts into producing more food, the need for preservation requires more attention.
FT: The issue of food waste has been gaining traction in policy discussions and business strategies, what do you think of this growing interest? What can policymakers do to have the greatest impact on reducing food waste?
JS: The attention being paid to reducing food waste and increasing food quality and security is growing every day. This is a very positive tailwind for cold chain development, where there is a need for public attention and support.
Governments and individuals must be aware of the importance of sustainable urbanization and of the actions they take that help or hinder our progress. For example, food waste—a widespread and common issue—has a big impact on the environment. If measured as a country, the carbon footprint of all the food wasted or lost would rank third in the world for global greenhouse gas emissions. In the U.S., the equivalent of all the water used by California, Texas, and Ohio is used every year just to grow the food that is wasted. Small steps can make a big difference. Since one-third of all food that is wasted happens at the consumer level, awareness campaigns are needed, such as the UK's WRAP program that has reduced household food waste 20 percent in the last ten years. With two-thirds of all food waste happening at the production and distribution level (mostly in emerging economies), access to capital and incentives is needed to modernize infrastructure and technology. Those resources could be available if we address food waste as the climate issue it truly is.
FT: Do you have any recommendations for everyday consumers?
JS: Number one, have a plan for what you buy, and if you don't have a plan for it, don't buy it!
We're all susceptible to making impulse purchases. So when you're buying broccoli at US$1.49 per pound you don't think twice about putting three or four heads in the bag because it's relatively cheap, you like broccoli, and you're sure you'll eat it. But you might think twice if you knew that every wasted head of broccoli means 5.5 gallons of water was now wasted to grow it!
Second, consumers need to be a little less picky when it comes to selecting "perfect" fruits or vegetables. We've become accustomed to oranges that are round, carrots that are smooth and straight, bananas with no spots…the list goes on. But the reality is, much of what we reject is perfectly usable, edible, and nutritious. To reject an item because it's a bit misshapen is to contribute to food waste. Throwing away imperfect produce also contributes to the overall carbon footprint of food waste, now quantified at 3.6 gigatons of CO2.