I've recently spent several weeks in Malawi, and for about 15 years I have been working with colleagues on measuring the impacts of agricultural input use in Africa. With American budget cuts looming, I spent some of my time overseas reflecting on the importance of the research that is often supported by foreign aid budgets. Agricultural input use has been a particular focus for decades. Since the turn of this century, the main policy focus has been on fertilizer subsidies. At about the same time, Jeffery Sachs and like-minded policy advocates hailed that the new generation of subsidies were the harbinger of a new era of food security and poverty reduction, all while "ignoring the experts."
Since then, the research of many economists, agronomists, and political advisors has coalesced around the same general conclusion—Africa's latest input use promotion programs have underwhelmed. The share of rural farmers in Africa living in poverty and without a consistent, predictable supply of food has been stubbornly unflinching. The number of Africans without food security has increased. African agricultural yields remain desperately low—some years, the percent difference in grain harvested per acre is measured in the thousands when comparing to the United States and Europe.  Fertilizer use is still very low. Most African small farms still use no fertilizer at all.
That said, while policy critics may want to cry "we told you so," it would miss a much more urgent point. African farmers don't produce enough food to feed their continent. Fertilizer may be one way farmers could increase productivity. Crop diversification and soil conservation are others, but crop rotation and minimum tillage practices, for example, are often less common than fertilizer use. In this way, working in developing countries can seem monotonous, and I can understand how so many on the outside looking in can ask why. With so many years of research under our belts, why is it so difficult to convince farmers to change their behavior? Is it important to keep funding research despite these challenges? When you spend time with farmers, though, you can see the incremental changes that belie the unchanging façade of African agriculture. If you can try to begin to understand the world from the farmer's perspective, the slow pace of behavioral change isn't so confounding, and, yes, aid budgets are still important.
Regarding crop rotation, for example, nutrient cycles and symbiotic bacteria that fix atmospheric nitrogen into soils are abstract concepts that don't translate easily. If you want to see them laugh, ask an extension worker how they use local languages to explain 70 percent of the air we breath is the something called "nitrogen" whose absence in soil is a key to growing agricultural productivity, and if you plant some beans they will capture nitrogen and bank it in the soil for later use. Sadly, maize plants, like humans, simply watch nitrogen float by. Well, we don't watch it float by, actually, because this mysterious gas, which invisible bugs that like legumes will put into the soil for you, is also invisible. Our folklore mocks characters that believe in magic beans, yet we expect farmers to take our word for it? And yet, these extension workers do the impossible! They make sense of this process to farmers while laughing about the challenges. It would be easier, of course, if more could be invested in demonstration plots, and if the officers were paid enough to live full-time in the communities they serve, earning the trust of the farmers they teach, but most agricultural budgets are crowded with subsidy-related line items.
Regarding subsidies, the motivating assumption has been that farmers don't adopt technologies because they are too expensive. We've assumed the bang is worth the buck, but that the buck isn't there. The failure of subsidies has shown us it's not that simple. Closer to the mark is probably that the risk isn't worth the reward. Part of understanding this nuance is understanding that most of us in wealthier countries don't know—can't know—what "risk" means to African small farmers. Change is scary, and asking farmers who live on the edge of malnutrition or worse to change how they survive is expecting more than we can imagine.
A risky investment to a financier could cost money, but is safeguarded through a diverse portfolio. A risky investment to a small business owner or an aspiring entrepreneur in the West could cost them "everything," but even in the worst case, they still live in a society that has the capacity to avoid and prefers not to see them go hungry—not to mention they live in an economy that will, most likely, eventually put them back to work. A risky investment for a small farmer in Africa could cost far, far more. It could leave them hungry and cost their own lives, sure, but worse than that is the toll that taking a risk could have on their children.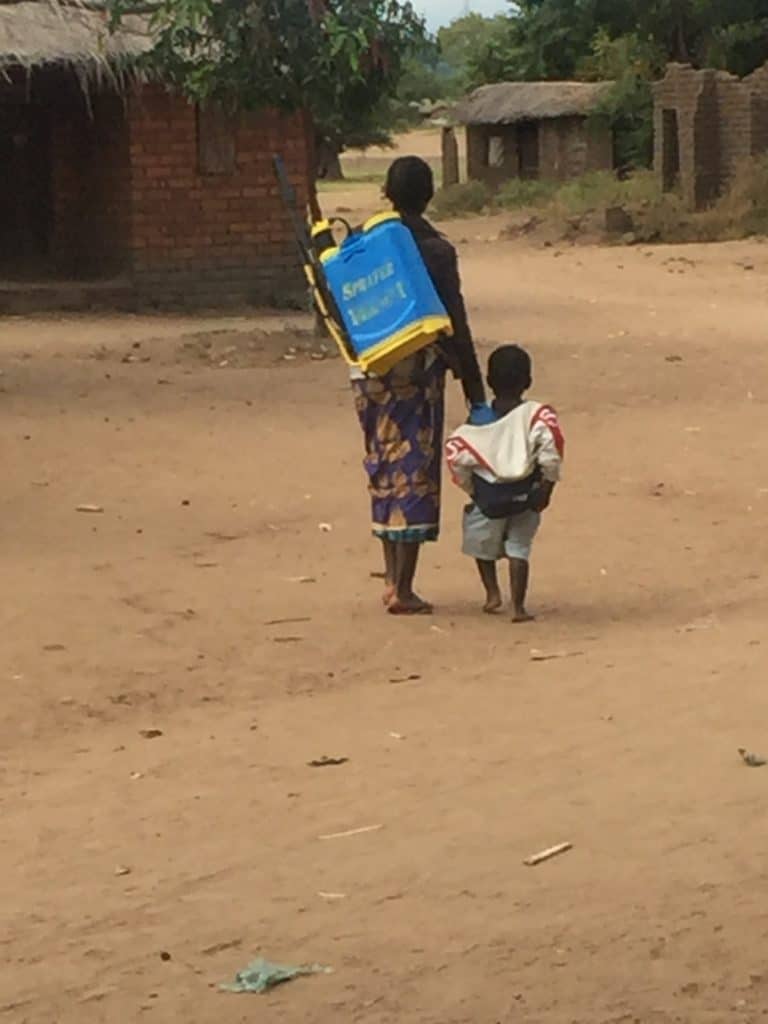 "High child mortality" is detached term that many people use dispassionately without really taking a moment to consider what it means. Living in a country where child mortality is common, however, is no consolation whatsoever to the family that buries the small boy or girl to whom they had given a name. A child they nursed and who slept on their stomach. A child they taught to count, whom they laughed at while they learned to smile, speak, make jokes, and get angry at the dog. A child that had made friends—friends the parents will see every day as constant reminders. A child they knew before s/he succumbed to malnutrition and a weakened immune system. To that farmer, and to everyone they know, "risk" carries an altogether different meaning than we understand, and while the farming they practice may seem unwise to us, it is the devil they know.
More than that, the word "risk" implies knowing the potential results of one's actions, though they could be either good or bad. For most investments outsiders ask farmers to make, however, they don't know how good the good result could be, or even how likely a good outcome may be. Farmers know very well how bad the bad can be. But there is uncertainty on top of the risk, and as the intangible costs of investment pile up, the decisions farmers make that repeatedly fail to raise them from poverty start making more sense.
Farmers don't live in a vacuum. Rather than trying to "nudge" how African farmers invest their precious resources under their given constraints (which, by definition, policy wonks know less about than farmers do), perhaps farmers would be better served by addressing the constraints, only one of which is income. Most obviously, policies could take the uncertainty out of the risk—showing that crop rotation works is easier and more convincing than explaining it without evidence, for example. Less obviously, farmers are affected by the lack of public goods that many of us take for granted: roads, schools, law, and order.
Why do African farmers do what they do? Why don't they do what we think they should do? Specific answers always depend on the context, but this I do know: African small farmers' behaviors may be born from a lack of knowledge, but it is not from lack of intelligence or a failure to pursue happiness.  If it is for lack of resources, it is not for lack of effort. Africa doesn't need better farmers. Africa needs better farm policies. Policymakers have shown a willingness to listen and respond to evidence. The more evidence they have, the better.