Feature Image: Chef Michel Nischan demonstrating cooking techniques and recipes that reduce waste
When attending a day of food activations, discussions, and cooking demonstrations focused on how big-data and artificial intelligence are transforming the entire food system, big names discussing big ideas can make it feel like the future is near.
One thing that remains ironically archaic, however, is our treatment of waste at events like this. With the dust now settled from the 2019 SXSW festival, and with Earth Day's 49th anniversary on the horizon, wasted food and its environmental impact has been on our minds.
America at large has a food waste problem—or more accurately, a problem with wasted food. United States Department of Agriculture (USDA) funded researchers found that the average U.S. consumer wastes almost a pound of food each day, or to put it another way, Americans waste 150,000 tons of food a day. Fruits and vegetables are the most likely to be thrown out, followed by dairy and meat. In an assessment of food data between 2006-2014, the USDA found that about 30-40 percent of the food supply becomes wasted food. Most of this food ends up buried or burned, eventually polluting our water or air. The Environmental Protection Agency (EPA) estimated that in 2015, only about five percent of all of the wasted food that could be composted actually was. Even less of this wasted food goes to a higher use, like feeding the nearly one in eight Americans that are food insecure, feeding a farmer's livestock, or creating energy through biodigestion.
Unfortunately, food waste isn't sexy, and many initiatives go unnoticed. Recognizing the urgency of this issue, the White House declared April "Winning on Reducing Food Waste Month." Following this, the Food and Drug Administration (FDA), USDA, and EPA released a joint statement on a new federal interagency strategy to cut the volume of wasted food. This call to action included an agreement with ReFED Inc. formalized by the agencies "to better evaluate and improve upon strategies to reduce food loss and waste." The report clearly demonstrates that we have a problem, stating "in the U.S., more than one-third of all available food goes uneaten through loss or waste. Food is the single largest type of waste in our daily trash" (Emphasis added).
The recent attention drawn to this issue is hopeful for those working to reduce food waste and the amount of organic material burned or buried. Politically, reducing wasted food has generally been a bipartisan issue, as it lowers overhead costs for businesses and reduces hidden hunger in our communities. It has long been a priority for religious, civic, and other non-governmental organizations dedicated to food recovery and alleviating community food insecurity. This initiative is considered Number 3 on the Project Drawdown list of top 100 solutions for addressing climate change, with lead researcher and Drawdown author, Paul Hawken, dubbing it one of the "No Regret Solutions," which he defines as "actions that make sense to take regardless of their climate impact since they have intrinsic benefits to communities and economies."
For those working on issues of food and sustainability, this shared goal of reducing food waste drives innovation; yet there is a paradox—the events organized to educate and spread new ideas of sustainability often generate excessive food waste. It can be difficult to cater to exact numbers at events, while still attempting to satisfy the tastes of a heavy flow of attendees. Buffets are especially wasteful as everything placed on a buffet is considered to be "touched" by consumers, preventing it from being safely donated to a food recovery organization if not eaten.
Additionally, data on the amounts and types of wasted food from events and conferences are notoriously difficult to track. Most events do not plan for waste-tracking, and most event venues lack comprehensive waste-diversion plans. Because of the inherently ephemeral nature of conferences and events, there usually isn't infrastructure in place to take pre- or post-consumer food beyond what the venue has available, which rarely goes beyond the minimal trash and recycling requirements of the city or county (even in a city like Austin, which is actively working on increasing organics diversion). Even the low bar of adding composting can be seen as an additional burden that neither organizers nor venues want to add to their list of things to coordinate and pay for.
Finally, contamination is especially pernicious at events, especially when some amount of attendees are inebriated. From the Refresh Food and Tech event at SXSW, we know first-hand that even a giant sign will rarely detour a preoccupied event-goer from throwing items in the wrong bin. Yet a (close to) zero-waste event is possible. One of the best examples we've seen of a successful zero-waste event took place in Turin, Italy at the Slow Food Salone Del Gusto, where volunteers, from school-aged children to venerable seniors, stood guard over an array of receptacles for every conceivable type of recyclable or compostable. They vigilantly guided absent-minded patrons to deposit their refuse in the proper bin. We've yet to see anything like this in America, and consequently, contamination has proved to be a huge barrier to ensuring that materials collected and sorted can actually be used for their intended purpose. Mix some plastic cups in with your food scraps and a composter may have to divert the whole bin due to contamination.
In the FDA, USDA, and EPA joint statement, FDA Deputy Commissioner Frank Yiannas points out that "with more than one-third of all available food uneaten through waste or loss and one in six Americans suffering a foodborne illness each year, it's clear that many people are unnecessarily discarding food in fear of food safety issues." Events are especially prone to this mentality of disposal as a precautionary measure to reduce potential liability and risk of litigation. The pervasive myth that "you shouldn't donate food because you might get sued if somebody gets sick from your donated food," has been debunked time and time again. As Komal Abhad of San Francisco-based startup Copia puts it in a 2017 interview with FoodTank, "Food donors are protected from civil and criminal liability under both state and federal laws (see Bill Emerson Good Samaritan Food Donation Act) when donating leftover food…This law was passed in 1996 and since then no person has gotten sick, and no lawsuit or legal claim has been filed due to the donation of excess food."
But it doesn't have to be a burdensome act of altruism to donate perfectly good food or reduce the amount of food waste; it's actually good business. In 2017 the World Wildlife Fund and the American Hotel & Lodging Association, supported by the Rockefeller Foundation, partnered for a trial of waste reduction strategies on participating properties and managed to reduce their food waste by at least ten percent by reducing the volume (and cost) of discarded organics. In some cases, the properties were even able to lower food costs by three percent or more with increased measurement and employee engagement, which lead to an actual lowering of overhead normally associated with waste removal.
As U.S. Agriculture Secretary Sonny Perdue puts it in the interagency report, "Our nation's agricultural abundance should be used to nourish those in need, not fill the trash. As the world's population continues to grow to nearly 10 billion people by 2050 and the food systems continue to evolve, now is the time for action to educate consumers and businesses alike on the need for food waste reduction."
While we're nowhere near close to solving this problem, we are proud of the efforts of local activists who are making strides in addressing this issue. At the Google Refresh Food & Tech event at SXSW 2019, Little Herds, The Cook's Nook, and Nutriconomy, with the support of Jones Dilworth Inc. and the U.S. Business Council on Sustainable Development, challenged the event hosts and attendees to go zero-waste (or as zero-waste as we could). We trialled a variety of waste-reduction strategies including recovered-food pickup by local food recovery advocate Allen Schroeder of Save Our Food Austin, live demonstrations of bug-composting from Little Herds with the support of Enviroflight, and cooking demos highlighting more efficient kitchen cooking habits from Forbes Fellow and Chopped Champion Chef Roshara Sanders and four-time James Beard Award winner Chef Michel Nischan.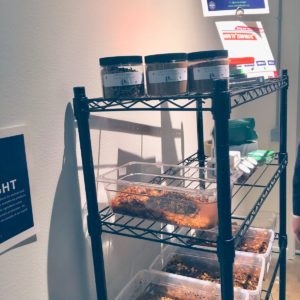 Black Soldier Fly Larvae "Bug-Composting" station provided by Little Herds and Enviroflight
Tens of pounds of post-consumer food-scraps – most of it produce – were fed to black soldier fly larvae to be bug-composted and up-cycled into high-protein chicken feed. About a half a dumpster's worth of compostable waste, including all of the utensils and dishes used, was diverted from the garbage. Hundreds of pounds of unused food went to local food recovery organizations through Save Our Food Austin; three City of Austin neighborhood centers, Optimist Club, and Casa Marianella. An estimated 450 pounds of organic materials was diverted from the landfill at this event, because of the efforts of a few local advocates. To be clear, this event was a unique case where a large amount of produce was purchased to contribute to the aesthetic appeal, and was on display in a farmer's market stand. Most events won't have such a large amount of readily usable pre-consumer produce available for recovery, but there is plenty of room for improvement at events of all sizes.
Zero-Waste signage used at Refresh @ SXSW event
What would this event have looked like if local groups had not stepped up? Not much different from any other SXSW event. Attendees do not see the waste left over at the end of each day—what gets thrown out or piled up. Small changes can lead to big impacts in the local community, especially within groups that are actively working on fighting food deserts, food insecurity, and the impacts of food waste on the climate and communities.
Food Tank founder Danielle Nierenberg reinforced this idea recently in her Forbes piece, "In Austin, Food And Tech Industries Connect To Address Food Insecurity." She writes that one in four households in Austin, Texas are food insecure, and that this is well known and well documented. "In order to achieve an equitable food ecosystem in Austin," she writes, "systemic issues [like these] must be addressed with multi-pronged approaches."
As progressive as Austin holds itself up to be, these issues are still pervasive. This isn't to say the city is sitting idly by. Austin Resource Recovery, the city's waste management department, has been rolling out the city's bold Universal Recycling Ordinance and Organics Diversion Plan requirements for food permitted businesses over the past eight years, pushing to curb the flow of organic materials into the landfill. When companies hold events in Austin, it's important that they look to the local community if they need guidance on making events less wasteful.
"For the Refresh @ SXSW event, our goals were to engage the local community so that we were listening to what communities need in order for tech to play a role in improving food systems and shaping the future of food. We were excited to collaborate with local stakeholders, like Joi Chevalier of The Cook's Nook, who have been advocating for zero-waste events. The outcome was a great example of how easy it is to reduce waste and limit our environmental impact when we are intentionally thinking about it from the start," said Ali Lange, senior policy analyst at Google.
The Google Refresh event was an important early step by exactly the type of company that should be trying to go zero-waste, pioneering the trail to discover more viable routes for other groups to also go zero-waste, and discovering those "hidden hurdles," along the way. We were personally shocked at the small challenges that arose when trying to plan our zero-waste event. Compostable bags became a mission. We went to multiple locations around Austin that specifically cater to restaurants and caterers, and could not find compostable bags at any of the large restaurant supply chains. When Austin has a mandate that restaurants should be composting, issues like these make it harder to do the right thing. However difficult it may seem at face value, the truth is that fighting against wasting food is indeed a "No Regrets Solution."
So, what to do? Nora Goldstein of BioCycle wrote recently about Project Drawdown: "What to do? Panic and Prosper. Panic fuels the urgency to act now. It is the reality that keeps us on task every day to implement No Regrets Solutions. Prosper is the 'reward'—monetary, societal, planetary—for implementing the solutions."
If you're planning an event and are interested in making an impact today, here are some easy ways to start:
Have clear and eye-catching signage around disposal sites—the bigger the better
Station volunteers at disposal stations to direct people when the giant signs are ignored
Have announcements during the event reminding attendees of your zero waste goals
Check locally on the availability of compostable bags, ideally before the day of the event
Schedule a pickup of unused food after your event with a local food recovery organization
Contact a local composting company ahead of the event for your compostables
Catalog, photograph, post, and share your zero-waste success—now you're Winning on Reducing Food Waste!
In his recent White House announcement, the President said "During Winning on Reducing Food Waste Month, I encourage all Americans to do their part in helping to reduce food loss and waste. Together, we will promote American prosperity and turn what might otherwise be millions of tons of wasted food into nutritional fuel for America's communities and economy."
Frankly, we couldn't agree more.
We would like to thank MacKenzie Wade and Meghan Young for their help and contributions organizing and editing this piece.
This article was written as a reflection on the "Refresh at SXSW" event on Tuesday, March 12, 2019 at Google Fiber in Austin, Texas.
Feature and Event Images Courtesy of Markus Carter, @MCarterFood