Marc Oshima, Chief Marketing Officer and Co-Founder of AeroFarms, is speaking at the third annual D.C. Food Tank Summit, Let's Build a Better Food Policy, which will be hosted in partnership with George Washington University and the World Resources Institute on February 2, 2017.
Mr. Oshima has an extensive background in marketing for retail industries, brand management, and media. Prior to founding AeroFarms, an award-winning clean-technology company that builds and operates responsible, state-of-the art indoor vertical farms in urban environments around the world, Mr. Oshima led the marketing for The Food Emporium and Citarella Gourmet Markets. He has created partnerships with the James Beard Foundation, Museum of Food & Drink, City Harvest, and Le Fooding. 
Food Tank had the chance to speak with Mr. Oshima about his work developing AeroFarms and passion for improving America's food system.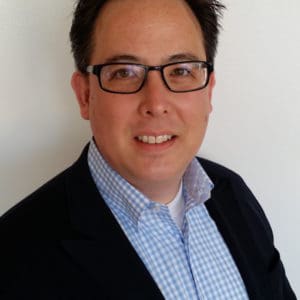 Food Tank (FT): What originally inspired you to get involved in your work?
Marc Oshima (MO): A combination of both professional and personal experience has helped shape my passion for improving our food system. I have been in food retail and marketing for years, and have also been involved with the Marketing Advisory Committee for the Food Bank for NYC, and have seen the challenges of not knowing where your next meal may come from. Here at AeroFarms, with our indoor vertical farming approach, we are focused on democratizing access to nutritious, great-tasting produce that is safely and locally grown all year round.
FT: What makes you continue to want to be involved in this kind of work?
MO: I see first-hand the impact that we are having within the community—creating year-round jobs, addressing food deserts, educating students about agriculture, bringing better product to the market—and I want to help inspire and lead our team to scale our farms around the world.
FT: Who inspired you as a kid?
MO: My parents, teachers, and coaches helped inspire me to grow and be curious. In particular, my middle-school math teacher Mr. Cook helped me develop critical thinking and taught me how to come up with different creative approaches to problems, and to appreciate that there could be more than one solution.
FT: What do you see as the biggest opportunity to fix the food system?
MO: There is such a disconnect between the real challenges of farming and the global macro pressures of an increasing population and urbanization, decreasing access to arable land and fresh water, worker welfare, food safety, food security, and we need to increase awareness of these issues. Fundamentally, I think that we need to develop a greater connection and appreciation for how and where our food is grown, and that will help foster new breakthroughs.
FT: Can you share a story about a food hero who inspired you?
MO: There are many, but one that stands out is Dr. Lucy Cabrera who is the former CEO of the Food Bank for NYC. For over 20 years, Dr. Cabrera lead that organization to help distribute over 70 million pounds of food annually and help raise awareness that one out of five New Yorkers is food challenged and at risk. She helped me appreciate more than ever that food is a fundamental right, and I am inspired to help address that every single day.
FT: What's the most pressing issue in food and agriculture that you'd like to see solved?
MO: There is an artificially-depressed cost of food, where the externalities and true costs of farming and environmental negative impacts are not factored in.
FT: What is one small change every person can make in their daily lives to make a big difference?
MO: Vote with your wallet, and make informed purchases to buy responsibly grown food.
FT: What advice can you give to President Trump and the U.S. Congress on food and agriculture?
MO: Access to healthy, delicious food is not about party lines—it is a fundamental right for every American, and we need to figure out how to come together to work collectively.