Joan Briggs, Executive Director of The Fink Family Foundation, will be speaking at the inaugural New York City Food Tank Summit, "Focusing on Food Loss and Food Waste," which will be held in partnership with Rethink Food Waste Through Economics and Data (ReFED) and with support from The Rockefeller Foundation and The Fink Family Foundation on September 13, 2017.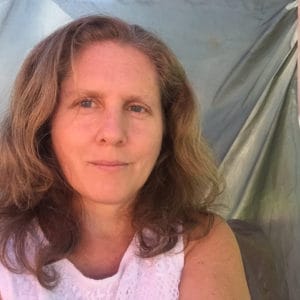 Briggs joined the Finks in 2006 and has worked across all Fink start-up entities including MissionPoint Capital Partners, MissionPoint Partners, and Millstone
Farm, providing early research and relationship development for pilot projects and impact investing structure. Prior to joining the Finks, Briggs worked at GreenOrder, a sustainability consultancy firm. A believer in people and place, she enjoys creating purposeful events and partnerships to build collaboration. Briggs received a BA in
Economics from SUNY Purchase and did Masters' studies at the University of Connecticut in Agricultural and Natural Resource Economics. Post academic studies, she lived and worked on a small diversified farm in Morocco to gain an understanding of the social and economic ecosystem for small farmers. Briggs lives in New York, where she and her husband collaborate on songwriting and music production.
Food Tank sat down with Briggs to discuss her vision for investment and philanthropy, and the role it can play within the food system.
Food Tank (FT): What originally inspired you to get involved in your work?
Joan Briggs (JB): A strange duo of influence—Jane Fonda and Frances Moore Lappe. As a leg-warmer wearing exercise enthusiast of the '80s, I was inspired by Jane Fonda's strength (not just related to aerobics) in taking a stand on important social and environmental issues, the power of a woman having an opinion and expressing her views. Closely after that in college, I read some of Lappe's work and thought to myself that food is the most powerful access point to social change. I have had the wonderful fortune to work with The Fink Family Foundation over the last 10 years to work on many society's most pressing issues and food has often been at the center.
FT: What makes you continue to want to be involved in this kind of work?
JB: Food is an incredibly powerful tool to address systemic problems in our society, everyone needs to eat. The food that is grown will be eaten across all demographics and most people share a common goal of feeding nutritious, safe food to their families.  There is so much work to be done as we balance what problems to fix in our current food infrastructure with how we invest in transformational change in our broken food system for a real paradigm shift.
FT: Who inspired you as a kid?
JB: My grandfather. He was a quiet yet powerful influence in my life. In the earlier days of automobiles, he had one of the only mechanic shops in Greenwich. A pioneer, yet humble and always striving to learn more. In addition, he created a small garden in his backyard, not more than 12 feet by 12 feet, that produced enough tomatoes, peppers, and other delicious produce for us and neighbors every summer. Having this taste of fresh produce allowed me to question whether the three pinkish round objects, with no taste and wrapped in plastic, were actually tomatoes.
FT: What do you see as the biggest opportunity to fix the food system?
JB: I think the work The Fink Family Foundation seed funded around food waste is a piece of the opportunity to shift the food sector to reflect aspirations of the circular economy structure and a more closed loop system.
FT: Can you share a story about a food hero who inspired you?
JB: Betsy Fink, one the Foundation's Founding Trustees, spent 10 years building an operating farm in Connecticut, opening it to the area, and cultivating community in many ways. This venture allowed her to learn hands-on about food and farming issues that guided and inspired the Foundation's philanthropy. We saw gaps to be filled with investment or human capital and barriers that small farmers experienced within a broken regional infrastructure. The farm and her experience were the actual genesis for the ReFED Roadmap which has had a huge ripple effect. To me, it brought philanthropy to a level we don't often see and I believe she has inspired others.
FT: What's the most pressing issue in food and agriculture that you'd like to see solved?
JB: Soil and seed.
FT: What is one small change every person can make in their daily lives to make a big difference?
JB: Take one small step in another's shoes.
The NYC Food Tank Summit is now Sold Out. Register HERE to watch the livestream on Facebook. A few tickets remain for the Summit Dinner at Blue Hill Restaurant with a special menu from Chef Dan Barber. Apply to attend HERE. If you live in New York City, join us on September 14 for our FREE outdoor dance workout led by Broadway performers called Garjana featuring many great speakers raising awareness about food waste issues. Register HERE.