Christine Datz-Romero, Co-Founder and Executive Director of the Lower East Side (LES) Ecology Center, will be speaking at the inaugural New York City Food Tank Summit, "Focusing on Food Loss and Food Waste," which will be held in partnership with Rethink Food Waste Through Economics and Data (ReFED) and with support from The Rockefeller Foundation and The Fink Family Foundation on September 13, 2017.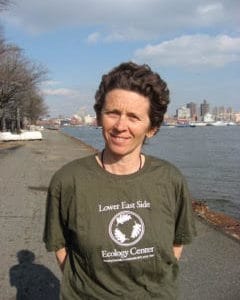 A transplant from Germany, Datz-Romero has lived in NYC since 1980, holds a BA from Queens College, and completed graduate work at the New School. Datz-Romero created a compost collection program in 1990, introducing the concept of urban composting to countless NYC residents in addition to developing innovative, community-based recycling programs. Now, she is Executive Director of the LES Ecology Center, a nonprofit offering community-based recycling, environmental education, and stewardship programs.
Food Tank had the opportunity to speak with Datz-Romero about what inspired her to co-found the LES Ecology Center and what continues to inspire her today.
Food Tank (FT): What originally inspired you to get involved in your work?
Christine Datz-Romero (CDR): I got involved in community-based organizing by searching out better options for my trash, and started to volunteer in a nonprofit to recycle paper, metal, and plastic. Seeing a tremendous need to create more recycling programs, I co-founded the LES Ecology Center with my husband to do just that.
FT: What makes you continue to want to be involved in this kind of work?
CDR: It is great to see the progress we have made, but quite frankly, we also still have a long way to go to create sustainable systems. What keeps me going is how much people appreciate the work we do.
FT: Who inspired you as a kid?
CDR: Che Guevara.
FT: What do you see as the biggest opportunity to fix the food system?
CDR: We need a holistic approach that addresses taking care of the soil we depend on to grow our food, to thoughtfulness about locally sourcing food, to ensuring that food gets put back into the natural cycle. Here in NYC, we are seeing a push to make composting accessible to diverse communities, and I would like to see programs developed that also address preventing food from heading to the compost bin through communal sharing of excess food resources.
FT: Can you share a story about a food hero who inspired you? 
CDR: Mary Applehof inspired me greatly. Mary became intrigued in worms being able to compost food waste in the 1970s, and introduced 'vermicomposting' to home gardeners and created a curricula resource through her Worms Eat My Garbage book.
FT: What's the most pressing issue in food and agriculture that you'd like to see solved?
CDR: How wasteful the system is, the overuse of fertilizer and pesticides, how vegetables and fruits need to look perfect to be marketable, and how we are losing small family farms.
FT: What is one small change every person can make in their daily lives to make a big difference?
CDR: To be more mindful about their carbon footprint and to lead by example.
The NYC Food Tank Summit is now sold out. Register HERE to watch the livestream on Facebook. A few tickets remain for the Summit Dinner at Blue Hill Restaurant with a special menu from Chef Dan Barber. Apply to attend HERE. If you live in New York City, join us on September 14 for our FREE outdoor dance workout led by Broadway performers called Garjana featuring many great speakers raising awareness about food waste issues. Register HERE.