Bonnie McClafferty, Director of the Global Alliance for Improved Nutrition's (GAIN) Agriculture for Nutrition Global Program, will be speaking at the inaugural New York City Food Tank Summit, "Focusing on Food Loss and Food Waste," which will be held in partnership with Rethink Food Waste Through Economics and Data (ReFED) and with support from The Rockefeller Foundation and The Fink Family Foundation on September 13, 2017.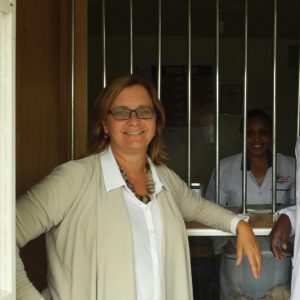 The Agriculture for Nutrition program at GAIN seeks to unlock obstacles along food supply chains to make diverse and nutritious diets accessible to the poor and undernourished. McClafferty joined GAIN in 2011 after 12 years with HarvestPlus, where she headed their office on Resource Mobilization, Development, and Communications. As a founder of HarvestPlus, McClafferty managed a portfolio of activities that brought together agriculture and nutrition scientists and development specialists to breed and test biofortified staple crops.
Food Tank had the opportunity to speak with McClafferty about the disconnect between diet, public health, and nutrition.
Food Tank (FT): What originally inspired you to get involved in your work?
Bonnie McClafferty (BM): As a student of agriculture and a bit of a purist about the quality of the food that sits on my family's table, the disconnect between the incentives for agroindustry and the ultimate purpose of food production, that being to provide essential ingredients to optimally sustain humanity, was both obvious and terrifying.  For several decades and nearly every day, I ask myself, what is food for, if not to adequately feed populations?  Where did we go wrong removing health from the agriculture equation and, likewise, since when did health become only about treating illness and not preventing it? We know that 52 percent of the global burden of disease is diet related. Disconnecting the food system from health and nutrition outcomes is a clear and present danger to global public health. One we can avert.
FT: What makes you continue to want to be involved in this kind of work?
BM: The urgency, passion, and the pace of innovation in this space as well as the need to have our learnings be additive and practical rather than reinvent what we already know or repeat what has not been useful.
FT: Who inspired you as a kid?
BM: My 8th-grade science teacher, Mr. Zagriello. It was such a formative time to question and innovate. Mr. Zagriello made sure we were not intimidated by what we did not know but that someday we could be part of solutions and pioneer new knowledge.
FT: What do you see as the biggest opportunity to fix the food system?
BM: We need to shape markets for better food. I believe markets and business is driving what is produced, harvested, aggregated, processed, packaged, sold, and consumed. We need to be at the table with them and we need to be clever in aligning their incentives with the goals of public health and nutrition. This is our greatest challenge. If we can make nutrition and health expand markets or reduce costs to production, we have succeeded in harnessing the power of private enterprise for public good.
FT: Can you share a story about a food hero who inspired you?
BM: Howarth Bouis is a man with an idea and the fortitude to stick with it with rigor, clarity, objectivity, and humility. Howdy is the father of biofortification. In Howdy, we can see what it takes to change food for the better, ensuring health and agriculture sit together and bridge divides that had previously stifled innovation in the research and development of food.
FT: What's the most pressing issue in food and agriculture that you'd like to see solved?
BM: We need to add nutritious foods to the big three (maize, wheat, and rice) to make these nutritious foods available and affordable to low-income consumers. The green revolution provides testimony to what innovation can do to make foods available and affordable. The trick is to invest as much innovation and funding to the non-staple foods that are rich in micronutrients but remain relatively low in productivity and consequently high in price.
BM: What is one small change every person can make in their daily lives to make a big difference?
Change #1. Put color on your plate to capture a diversity of foods that collectively make up the most optimal diets.
Change #2: Choose foods that are produced as close as possible to your table to maximize the freshness and nutritional quality of those foods.
When seasonality limits your local food choices, never stray from change #1, and repeat.
The NYC Food Tank Summit is now sold out. Register HERE to watch the livestream on Facebook. A few tickets remain for the Summit Dinner at Blue Hill Restaurant with a special menu from Chef Dan Barber. Apply to attend HERE. If you live in New York City, join us on September 14 for our FREE outdoor dance workout led by Broadway performers called Garjana featuring many great speakers raising awareness about food waste issues. Register HERE.