Dr. Selena Ahmed, an ethnobotanist, and Dr. Carmen Byker Shanks, a nutritionist, challenge you to mindfully reduce your food waste to improve nutrition. As co-directors of the Food and Health Lab at Montana State University, the two professors unite their disciplines to research the impacts that food waste has on nutrient availability for plants and people. They apply findings to develop strategies that make food waste a part of the solution to nutrient loss in food systems.
Food waste is generated in virtually every sector of the food system. We waste more than 1.3 billion tons of food each year and over one-third of all consumable food in the United States, or one in four food calories, is wasted. While up to a third of our plates may meet the landfill, approximately 14 percent of the U.S. population and 13 percent of the global population is food insecure without access to adequate and nutritious food. Beyond diets and food security, food waste has a detrimental ecological footprint with negative impacts on water, land use, biodiversity, and climate. Economically, food waste represents a loss of approximately US$161.6 billion annually. We are essentially throwing away limited resources and nutrients for health when we waste food.
Now, here is the good news. If managed mindfully, food waste can be part of the solution in addressing food insecurity by cultivating nutrient-dense edible plants and providing nutrient-dense foods to those with poor access. Food waste is everyone's problem and calls for every one of us to be mindful in our consumption and food choices. In recognition of the pressing need to address the food waste challenge from the ground up, the Food and Health Lab leads several studies about food waste.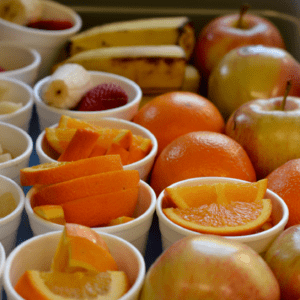 Meeting the Food Waste Challenge in Educational Institutions: We have been working with foodservices at educational institutions including campus dining, pre-schools, and grade schools to measure food waste and to use this evidence to champion solutions. If it is not measured, it may not be effectively managed. For example, we trained students in our classes to measure dining hall food waste. Our campus food waste measurements included different types of food waste such as the amount of nutrient-dense fruits and vegetables and food that can potentially be composted and donated. We then applied findings to design and implement a food waste intervention that consisted of reduced portion sizes, smaller serving utensils, and educational and mindfulness messaging to dining hall staff and student diners. Following this intervention, we found that total food waste decreased by more than 15 percent. 
Redirecting Lost Nutrients from Food Waste to Create Compost and Grow Nutrient-Dense Vegetables. Which nutrients are in food waste compost and what is their value in cultivating edible plants? We are working with our students to address this question with food waste from campus dining halls by applying varying types and levels of compost to enrich soil health and cultivate nutrient-dense vegetables. The findings have been remarkable. The plants with the food waste compost additions not only look more vibrant, they outperform the others based on nutrients, minerals, and phytochemicals. These nutrient-rich plants translate to improved nutrition for consumers.
Integrating Science to Promote Mindful Actions for Improved Nutrition. What do we do with all the data from our measurements? A key goal at the Food and Health Lab is to apply research findings to design evidence-based management plans and promote mindful actions to help reduce food waste. We would like to help redirect uneaten food to food donation programs to support healthy diets of food insecure households while informing the management of foodservice operations and households. For example, we collaborated with AmpleHarvest.org to share findings on the effectiveness of redirecting excess garden produce to nearby food pantries through a web-based platform.
We are also working on integrating science, sustainability, art, and education to collectively reduce food waste. For example, our former graduate student Madeline Kelly, M.S., created a 4-song EP titled "Time for a Change" as part of her masters' project in our sustainable food systems graduate program. For this science meets art project, we collaborated with musician and professor Dr. Eric Funk at Montana State University. The resulting songs are part of an ongoing effort to integrate research sciences and the arts to inspire young people in ways that are engaging and fun. Listen to one of Madeline Kelly's song from her album "Time for a Change," a product of her passion for music and sustainability.
What are Some Mindful Actions that You Can Take to Reduce Food Waste? Our research has taught us that mindfulness in consumption can be a powerful tool to transform the food system. Mindfulness entails taking a pause and being fully present and aware. Here are some mindful actions that you can take to reduce food waste.
When shopping, plan your grocery list, do not abandon ugly produce, and avoid impulse buying by shopping on a full belly.
Organize your food storage spaces so that older and more perishable items are upfront and visible.
Learn how to best store different foods so to best preserve them. Do you have fresh produce that cannot be immediately eaten? Consider fermenting, pickling, canning, or freezing.
Understand expiration dates. "Use by" and "best by" dates are food manufacturer suggestions for peak quality.
Plan your meals ahead of time and explore your food options. What needs to be eaten first to prevent spoiling?
When preparing meals, avoid cherry picking different produce and product parts. Try to use as much of the whole produce and other edibles such as fish.
Be mindful when eating your meals by slowing down, valuing what you are eating, and watching portion sizes. Understanding food, such as how it is grown and its cultural importance, can help increase our valuation towards food. Reducing the size of your plates, bowls, forks, and spoons can help decrease portion sizes and avoid food waste. To slow down and mindfully engage with your food, start your meal by observing the food and reflecting on its value. Take a few deep belly breaths and then start eating. Slowly chew your food and listen to your belly.
Pause and reflect before throwing away food. Brainstorm if there are other uses for this food. Some foods may be economically cheap and feel easy to throw away, while representing an expensive cost to the environment. Can you invite friends over to have a leftovers pot luck? Can you donate the food to a food bank or food pantry? Can you compost the food waste?
Encourage others to take action and innovate where food is wasted in your community.
Click HERE to learn more about the Food and Health Lab's work to transform the food system. Follow the MSU Food and Health Lab @msufoodandhealthlab