Hagirso and Tesfaye, 10 years after facing starvation. Hagirso is about 15 years old in this photo.
Outrage and Inspire is a new podcast from the Chicago Council on Global Affairs that tells stories of hunger and humanity based on the books of Roger Thurow, author and Chicago Council Senior Fellow.
Outrage in the title refers to the tragedy of famine and malnutrition in the modern era when we have the ability to eliminate these maladies. Although progress has been made to combat starvation, there has been a recent increase in global hunger. Over 815 million people are chronically undernourished. Nearly half of all deaths in children under five, about 3 million annually, are due to undernutrition. Children who survive undernutrition can face stunted growth and impaired cognitive ability.
Inspire comes from the stories of those who confront hunger and malnutrition. It is the parents, children, farmers, scientists, and activist who face these problems and try to make a positive impact.
The stories in the podcast are from a series of books from Roger Thurow referred to as the "Real Hunger Games Trilogy." These are The Last Hunger Season: A Year in an African Farm Community on the Brink of Change, The First 1,000 Days: A Crucial Time for Mothers and Children—and the World, and Enough: Why the World's Poorest Starve in an Age of Plenty.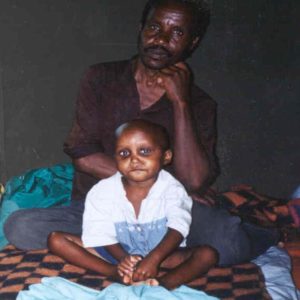 Episode one follows Tesfaye, an Ethiopian farmer, and his son Hagirso. While Hagirso was dying of starvation, his father asked, "What have I done to my child?" Thurow counters that the right question should have been, "What have we done to his child."
Episode two follows a Ugandan midwife, Susan Ejang. She counters the fear and violence suffered by her generation by teaching pregnant women the importance of nutrition and opening them to promising possibilities with the statement, "your child can achieve great things."
The Chicago Council on Global Affairs is an independent, nonpartisan organization that conducts research to provide insight and offer solutions that address global issues. They are committed to public engagement and raising global awareness.