Photo courtesy of Keck School of Medicine, USC.
Keck School of Medicine at the University of South California (USC) has partnered with nonprofit L.A. Kitchen to provide a new culinary medicine course that teaches students the power of food in promoting health and fighting disease. Open to second-year medical students, the course features nutrition lectures, culinary demonstrations, hands-on kitchen sessions, and supermarket excursions to engage students in real-life applications of dietary guidelines and advice.
More than 70 percent of medical schools in the United States fail to provide the minimum 25 hours of nutrition education recommended by the National Academies of Sciences, Engineering, and Medicine. USC's new culinary medicine course strives to go beyond traditional classroom-based lectures and prepare students for the everyday nutrition challenges they may encounter in clinical practice.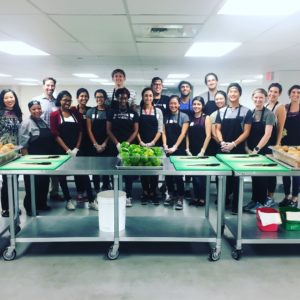 "What we've been interested in from a nutrition and education standpoint for the medical school is: how do we not only teach the students nutrition in a classroom but how do we really bring it to life?" says Dr. Greg Harlan, Director of the Introduction to Clinical Medicine course at USC.
"And bringing it to life is not only teaching them some hard skills—like how to use a knife, how to become more familiar with portions and sizing, or how to know your way around a kitchen—but also, how do they then engage with their patients in a real way?"
The course has six sessions, each comprised of a 30-minute lecture and two hours of practical lessons in L.A. Kitchen's preparatory teaching kitchen. Sessions center on the major food groups—fruits, vegetables, whole grains, dairy, and protein—represented in the U.S. Department of Agriculture MyPlate guidelines. Students learn about each food group's nutritional makeup, proper portion sizes, supply and cost, and clinical applicability in treating diet-related diseases.
Interactive sessions with L.A. Kitchen are designed to teach students about the local food landscape, addressing issues such as food deserts and how patients may gain access to high-quality, low-cost foods in their neighborhood. The final "cook-off" session includes a trip to a local supermarket, where students are given a budget and instruction to prepare a meal that meets certain dietary criteria.
"What's unique about our course is that students not only get the hands-on training, but there's also a large reflective component to get students to really think about how they would take this back to their patients," says Dr. Harlan.
"For example, when working on whole grains, we have students prepare and taste all these whole grains and then think about how they might introduce whole-wheat tortillas to their patients: how difficult would it be to have someone to switch from white flour to whole-wheat flour; what would be some of the barriers; and what have they seen in clinics that they've been working in."
Students have also started exploring their own relationships with food, says Dr. Harlan, with some students trying new foods, such as quinoa, or experimenting with different diets, such as veganism. Now in its second year, Dr. Harlan hopes to grow the course and make it available to all of USC's medical students.
"The goal is to try and grow the course so that we can really offer it to all the students. Right now it's a smaller cohort that's interested, and they apply for it, but we're going to try and make it available to all the students and figure out ways to really integrate it into the broader curriculum," he says. "We have a-ways to go, but we're definitely off to a good start."