Photographs courtesy of Farms for Orphans. 
Farms for Orphans (FFO), a nonprofit based in Colorado, is working to establish sustainable food sources for children and orphans in the Democratic Republic of Congo (DRC) through investments in insect farming. According to the U.N. Food and Agriculture Organization (FAO), insect farming has a variety of benefits, including less land use and lower levels of greenhouse gas emissions compared to traditional animal-rearing. Additionally, insects are an excellent source of micronutrients, particularly copper, magnesium, and zinc in which they are high.
FFO is initiating insect farming for communities in the DRC by building the agricultural infrastructure, hiring support staff, and engaging community members in their mission to ensure orphaned and underprivileged children have a sustainable source of nourishment.
Food Tank spoke with Amy Franklin, Farms for Orphans Founder and President, to learn more about their current work teaching DRC communities about insect farming and their aspirations for the program.
Food Tank (FT): What was the inspiration behind starting Farms for Orphans?
Amy Franklin (AF): My children are my inspiration! In 2013, my husband and I adopted two of our children from the DRC. Our kids, like millions around the world, suffered from malnutrition. Today, they are happy, healthy, and thriving! Unfortunately, there are millions of orphaned children around the globe that are unable to reach their full potential or live productive lives due to malnutrition.
The fact is, problems that stem from malnutrition such as stunted growth, impaired cognitive development, compromised immune function, and lost productivity exacerbate many of life's existing challenges. Malnutrition is often described as one of the biggest missed opportunities in global health. We believe that addressing malnutrition in children can facilitate critical improvements in health, educational attainment, economic productivity, and quality of life.
Knowing these statistics and watching my kids grow and blossom over the years motivated me to help other orphaned children access the nutrients they need to survive and thrive. In 2015, Farms for Orphans was born.
FT: How are the various problems addressed by Farms for Orphans connected?
AF: Farms for Orphans works in collaborative partnerships with orphanages to implement insect farming on their grounds to provide a healthy and sustainable source of protein, fat, and micronutrients for the children in their care. Once the orphanages are successfully farming insects, we work with them to help maximize the economic potential of their insect farms to combat the general poverty of the orphanages. Orphanages in the DRC receive little-to-no government support or outside sponsorship. We have found that a small-scale insect farm can earn approximately US$300 per month, and the additional income can be spent on nutritious food or school fees for the children.
Further, our program is designed to engage youth in the farming process to help them build marketable skills. By addressing malnutrition and poverty, while also providing vocational training, we hope to change the lives of these children.
FT: How does your programming change in the communities you are working with?
AF: We believe insect farming can improve the lives of orphans in three key ways. First, our program will improve their health through the direct consumption of nutrient rich insects. Second, orphanages can achieve economic autonomy through the sale of farmed insects at market and use the additional income to purchase fruits, vegetables, and other proteins. Finally, youth who learn the insect farming process will have the skills to begin their own farms, allowing them to support themselves as adults, and make positive contributions to their communities. Additionally, we hope to see decreases in stunting and increases in child morphometrics (i.e. height/age, weight/age, and weight/height). We also hope to see decreases in iron deficiency, anemia, and micronutrient and vitamin deficiencies as insects are rich sources of iron, magnesium, calcium, potassium, and fat-soluble vitamins. With improved nutrition, children have an increased likelihood of accessing education and growing into healthy adults.
FT: Why do you concentrate on insect agriculture?
AF: As a veterinarian, my original vision for FFO was to train orphanages to raise traditional sources of protein such as poultry or goats. I quickly learned that most orphanages, particularly those in large African cities, do not own land and may have limited access to water, which are both essential to raising traditional livestock.
Prior to this endeavor, I was unaware that two billion people around the world ate insects on a regular basis! Through my research, I learned that insects were a popular food source throughout the developing world, including the DRC. As I considered feasible options, insect farming made the most sense from both economic and environmental standpoints.
Insects are easy to farm with minimal capital investment and require only a fraction of the natural resources needed to raise traditional livestock to produce equivalent amounts of protein.  
FT: Why did you select the Democratic Republic of Congo for your project location?
AF: The DRC is the birthplace of two of my children, and I feel a personal connection to this country through them. Additionally, the DRC is one of the world's hungriest countries and the situation is particularly dire for the country's orphaned children, which number over four million. Furthermore, recent declines in foreign aid to support humanitarian assistance combined with low levels of government spending on socio-economic sectors such as education, health, infrastructure, and agriculture has further undermined food security and nutrition in the DRC.
Our first goal is to support the orphanages where my children are from in central DRC. FFO plans to expand insect farming operations to central and eastern DRC as soon as we can safely travel to the regions, which are currently enmeshed in significant social conflict. Once we are operating there, we expect to be able to expand further.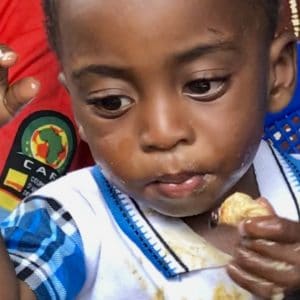 FT: Farms for Orphans is currently building out its agricultural infrastructure. What challenges have you faced as you build out those systems?
AF: The biggest challenge we face working in the DRC is the lack of a functioning government.  The current president, Joseph Kabila, has refused to leave office after his mandated two-term limit ended in 2016, resulting in political turmoil and impending threat of civil war. Further, the lack of basic infrastructure in the country makes travel and, at times, communication with in-country staff difficult.
FT: What is the impact that Farms for Orphans has seen to date?
AF: FFO, in partnership with the Global Orphan Foundation, is successfully farming African palm weevil larvae in Kinshasa, DRC and have built insect farms on four orphanages, caring for a combined 1,000+ children. We have shown that farming the African palm weevil, a traditionally wild-caught food, is a viable solution for orphanages with no land and few resources to grow their own protein.
We continue to evaluate our program and expect that insect farming will improve the lives of orphans in two key ways, by decreasing hunger and improving health through the consumption of insects and by creating economic autonomy through the sale of farmed insects at market.
FT: What is Farms for Orphans excited for in the coming year?
AF: We are excited to watch the insect farms grow and see the children receive the nutrients they need to survive and thrive!  In 2018, FFO and the Global Orphan Foundation will begin a study to evaluate the nutritional benefits affiliated with the addition of the larvae to the children's diet.
This coming year also brings a new partnership with Loyola University of Congo. We believe that we can impact the largest number of lives in the DRC through strong partnerships and collaborations, particularly with Congolese led institutions.  
Further, FFO is eager to train more orphanages in insect farming techniques throughout the Democratic Republic of Congo and eventually, sub-Saharan Africa and beyond!