Photograph courtesy of Wholesome Wave.
Advocate, consultant, and farm hero Gus Schumacher passed away on September 24, 2017, of a heart attack at the age of 77. His long career began with helping out on the family farm in Lexington, Massachusettes. After serving in the government for many years, he later co-founded his own nonprofit called Wholesome Wave. Throughout all, he promoted food justice.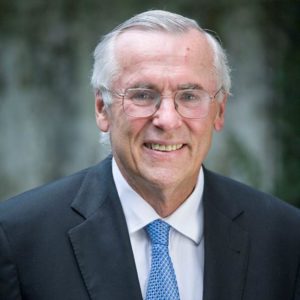 "As Gus was loading up his brother's truck at the end of the farmers market in Dorchester, a box of Bosc pears fell off the truck and broke apart, scattering the fruit into the gutter," Michel Nischan of Wholesome Wave describes. "Two young boys and their mother ran over and began picking them up. She explained that she was divorced, on food stamps, and unable to afford fresh fruits and vegetables for her kids. His heart broke, and his life's work began."
Schumacher went to Harvard College and the London School of Economics. He was a research associate in agribusiness at the Harvard Business School where he worked with Professor Ray Goldberg. Leaving academia, he served as the Commissioner of Food and Agriculture for the Commonwealth of Massachusetts, where he raised money and extended state and federal programs to increase affordable healthy food access. One such program, the Women with Infants and Children Farmers Market Nutrition Program, is now a US$6 billion federal program that provides vouchers for fresh produce.
Peggy Hernandez of The New York Times recalls the story of when Schumacher went to Hamersley's Bistro in Boston in 1988. "While sitting at dinner, he pulled a beautiful, bright, vine-ripened tomato out of a brown bag. He asked for a plate, olive oil, and serrated knife. Then he made a salad," Hernandez says. "Chef-owner Gordon Hamersley, who was buying produce from California, was curious where the plump red fruit was grown. 'Twenty minutes from your door,' said Schumacher, grinning. Thus, Hamersley says, was born the local farm-to-table movement."
In the 1990s, Schumacher worked as a senior agri-lender for the World Bank, Administrator of the U.S. Department of Agriculture (USDA) Foreign Agriculture Service, and was President of the Commodity Credit Corporation. From 1997 to 2001, he served as the Undersecretary for Farm and Foreign Agricultural Services at the USDA, where he oversaw the Farm Service Agency, Foreign Agricultural Service, and the Risk Management Agency. During this time, he initiated a market nutrition program for seniors, now a US$22 million program.
In 2007, Schumacher co-founded Wholesome Wave, a nonprofit focused on empowering underserved consumers to make better food choices by increasing affordable access to healthy food. They have partners in 46 states and 700 farmers' markets and retailers to provide nutrition incentives. Schumacher was working to expand the Fruit and Vegetable Prescription (FVRx) program, which partners with community healthcare providers to improve access to produce, and to partner with nutritionists at Veteran Affairs Medical Centers and Clinics to promote a Veterans Farmers' Market Nutrition Program.
Additionally, Schumacher participated in the Task Force Report of the Chicago Council of Global Affairs, titled Modernizing America's Food and Farm Policy: Vision for a New Direction. He was a member of the 21st Century Sustainable Agricultural Task Force of the National Academy of Sciences. Schumacher worked for the Food and Society Initiative at the W.K. Kellogg Foundation, the agri-strategy firm SJH and Company, and was Contributing Agricultural Editor of Food Arts magazine. He received the 20th Anniversary Food Arts award for outstanding service to the American food and farming system in 2008. In 2013, he received the James Beard Foundation Leadership Award for his lifelong efforts to improve access to fresh local food in underserved communities.