Australian food rescue organization OzHarvest has delivered more than 59 million meals to people in need since it begun, in addition to diverting more than 19,000 tons of food from ending up as landfill and waste. Recently, OzHarvest started working with airlines to collect uneaten sandwiches, apples, muesli bars, and biscuits. At Brisbane airport, for example, this initiative has collected between 200 and 400 kilograms (440 to 880 pounds) each day. Food Tank recently had the opportunity to interview Ronni Kahn, founder and director of OzHarvest, about this new initiative.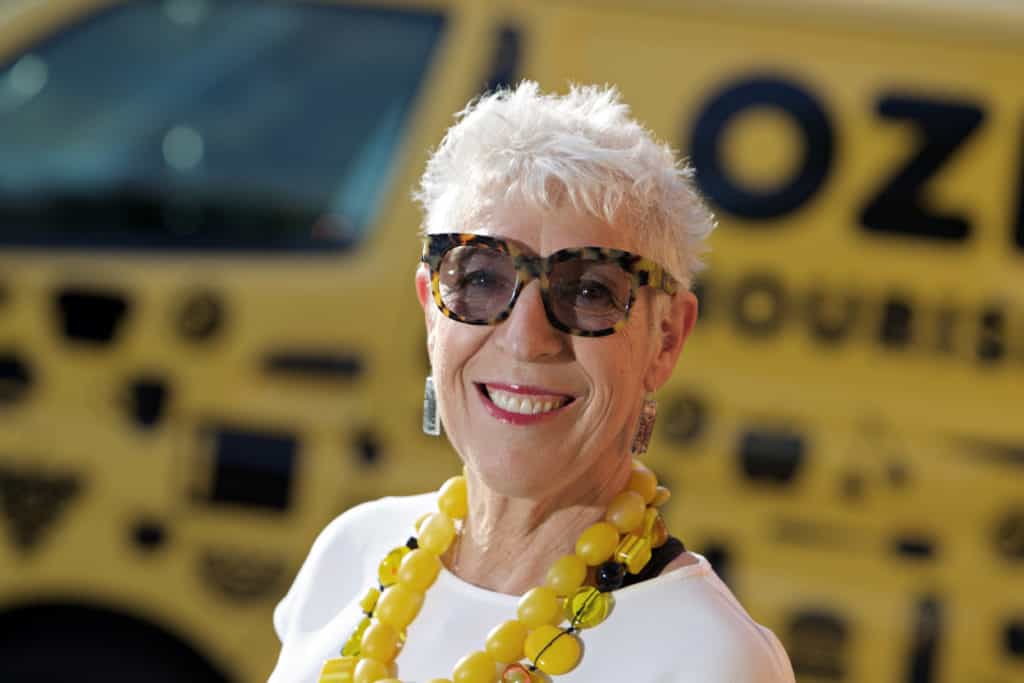 Food Tank (FT): Why did you think it was important to rescue food from airlines? What were the biggest obstacles to overcome?
Ronni Kahn (RK): OzHarvest collects quality surplus food every day from over 2,000 businesses including supermarkets, cafes, restaurants, and food outlets. Expanding our food rescue operations to airports, where thousands of kilograms of perfectly edible food was going to waste, has enabled us to recover food from domestic flights and deliver directly to local charities.
As not everyone chooses to eat when they fly, the unopened airline food items and fruit—such as apples, bananas, muesli bars, breakfast cereal, baked goods, and water cups—are perfect for delivering to charities that help feed vulnerable Australians. Food recipients are delighted to receive the single serves of cereal, fruit cups, juice, sandwiches, and fresh fruit. The individual packaging makes this food highly suited for distribution by charities working directly with homeless people, as well as school kids.
These partnerships involve an incredible amount of logistics, work, passion, and commitment to execute and we are constantly looking at innovative ways to reduce waste or excess food along the supply chain.
One of the biggest obstacles was back in 2005 when we first started to rescue food. Together with pro bono lawyers, we lobbied to have the Civil Liabilities Amendment Act passed in four states, allowing potential food donors to donate surplus food to charities without fear of liability. These changes have transformed the face of food waste and rescue in Australia.
FT: How receptive were airlines to this initiative and what were their main reasons they wanted to be involved? How did you convince them that this was important?
RK: It did not happen overnight! It took countless conversations over many years to get this over the line.  At the same time, awareness about global food waste and the negative environmental effects were gathering momentum, and eventually, businesses began to take action to address their sustainability strategies and make changes.
We have now been rescuing good quality surplus food from a number of airline partners for the last two years. After a one-year pilot, the program was rolled out at major airport hubs. Approximately 160 tons of food each year is rescued from airline partners in Australia, which equates to around 480,000 meals.
Every kilogram of food collected from major airlines saves food from ending up as landfill, which helps prevent harmful carbon emissions released into the environment. If that's not convincing enough, then the work we do also significantly reduces waste disposal costs to businesses.
FT: How are the airlines you're working with improving their food waste management?
RK: As someone who travels a lot, I've noticed cabin crew paying more attention to sorting unopened food on the domestic flights, which is a big change to the food waste management.
The collaboration between OzHarvest and major airlines shows a great commitment towards the national target of reducing food waste in Australia by 50 percent by 2025.  
FT: What are your plans for expansion?
RK: Thanks to the global interest in OzHarvest, we are duplicating our food rescue model in the United Kingdom, Thailand, and South Africa.
The media interest sparked from a local news story about our food rescue from Brisbane Airport last year shows that Australia is leading the way with airline food rescue. Many countries including the United Kingdom, United States, and the Netherlands featured this story, questioning why it is not happening all over the world.
At the moment, we have airline and airport food rescue operations in three cities in Australia; we hope to continue to expand this program to other hubs across the country. It would be a significant milestone if we could start collecting from international flights, but due to strict custom and quarantine regulations this not a viable option at the moment. But, watch this space.