The Reducetarian Foundation, which encourages eating less meat, released a new book, Reducetarian Solution: How the surprisingly simple act of reducing the amount of meat in your diet can transform your health and the planet.
While the goal of the Foundation is to promote healthier lifestyles and lower the impact of modern dietary preferences on the planet, it emphasizes making manageable lifestyle changes instead of an all-or-nothing approach. Through positive reinforcement and knowledge, the Foundation hopes to make a difference one meatless Monday at a time.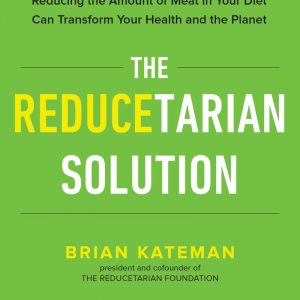 Brian Kateman is a co-founder and the president of the Reducetarian Foundation. Further, he is an instructor at the Earth Institute Center for Environmental Sustainability at Columbia University. Three years ago, he presented a TEDx talk at the City University of New York about ending the battle between vegans, vegetarians, and everyone else by focusing on shared objectives. Since, he has appeared on National Geographic, Times, The Washington Post, and other news outlets.
Food Tank had the opportunity to discuss the reducetarian movement with Mr. Kateman, as well as his Foundation and his recent book.
Food Tank (FT): What is a reducetarian?
Brian Kateman (BK): A reducetarian describes a person who is mindfully eating less meat—red meat, poultry, and seafood, as well as less dairy and fewer eggs—regardless of the degree of reduction or motivation for cutting back. They play around with Meatless Mondays, veggie-heavy lunches, smaller protein portions, vegetarianism, and veganism to see what works best for them. This concept is appealing because not everyone is willing or able to follow an 'all-or-nothing' diet.  However, reducetarianism is inclusive of vegans (no animal products), vegetarians (no meat), flexitarian or mostly-vegetarian (a little bit of meat), semi-vegetarian (some meat), and anyone else who reduces the amount of animal products in their diet.
FT: How did the Reducetarian Foundation get started and what are its primary goals?
BK: I originally imagined that the reducetarian campaign would be a small endeavor, something fun that I would do part-time with my friends in NYC. But when we launched with a TEDx Talk and Indiegogo Campaign in 2014, it received international attention. Reporters worldwide covered our existence in nearly a dozen languages. I realized then that we were on to something important. I then founded the Reducetarian Foundation in 2015 to help grow the movement. The Reducetarian Foundation aims to improve human health, protect the environment, and spare farm animals from cruelty by reducing consumption of animal products. We envision a world where all people eat less meat and dairy and fewer eggs. We celebrate the small changes in personal behavior and attitudes that collectively result in a significant difference in the world. We encourage people around the world to make healthy, sustainable, and compassionate food choices by implementing paid online advertising campaigns, creating and sharing videos, organizing a yearly conference, disseminating literature, and engaging in many other outreach activities (we even have a documentary underway!). In addition to piloting research in our lab on the most effective ways to reduce societal consumption of animal products, we also promote the adoption of plant-based and cultured alternatives as their success in the marketplace will make it easier for people to eat fewer animal products.
FT: What made you personally interested in reducing meat consumption?
BK: As an undergraduate, I was very concerned about environmental issues. I was the guy on campus who advocated for taking shorter showers and for carrying around a water canteen and for recycling in the cafeteria. But it wasn't until much later in college that I learned about the many negative impacts of meat consumption on our planet, including human health and animal welfare issues too. I then quickly decided to become a card-carrying vegetarian. It was pretty awesome—in addition to aligning my values with my food choices, I felt healthier, had more energy, and was enjoying eating plant-based meals. The only problem was that I occasionally found myself falling off the bandwagon, eating small amounts of meat in particular social situations. I remember one Thanksgiving as my father passed me a drumstick, my sister remarking in jest, 'I thought you were a vegetarian?' I explained to her, and the rest of the table, that perfection and purity aren't the goals, that meat consumption isn't an all-or-nothing premise and that every plant-based meal is one worth celebrating because it is healthier, more eco-friendly, and kinder to animals, but my retort came off a bit defensive. I decided then that I wanted to reframe the conversation away from 'cheating vegans' and 'lazy vegetarians' and toward positive language around meat reduction.
FT: In addition to combating climate change, as discussed in a recent GRAIN report, what are some of the advantages of eating less meat?
BK: With less meat and more fruits, vegetables, whole grains, and plant-based proteins such as beans and lentils, reducetarians live longer, healthier, and happier lives. Dr. Michael Orlich and colleague of Loma Linda University found that among 73,308 Seventh-Day Adventist men and women, compared to typical omnivores, those who ate less meat had up to a 15 percent lower risk of death. In fact, eating less meat and more whole, plant-based foods is one of the lifestyle habits that unites the people living to 100 and beyond in hot spots of longevity—regions called Blue Zones. Reducetarians enjoy these benefits by setting manageable and therefore actionable goals to gradually eat less meat. For example, they may forego eating meat for lunch if they will have it for dinner, skip eating meat on Mondays, or eat it only on the weekends. Reducetarians know that eating less meat is good not only for themselves but also for the well-being of animals and the planet. Did you know that the average American eats approximately 2,000 land animals in his or her lifetime, leading to the suffering of over 9 billion factory-farmed animals every year in the United States alone? The number of sea animals killed is so high that it's difficult to estimate. It's pretty simple: The less meat we eat, the more animals we save. And along the way, reducetarians mitigate water scarcity and climate change issues. Dr. Arjen Y. Hoekstra of the University of Twente in the Netherlands found that diets consisting of less meat could reduce food-related water footprints by up to 36 percent. In a separate study, Dr. David Tilman and Mr. Michael Clark of the University of Minnesota calculated that eating more plant-based proteins could reduce greenhouse gas emissions by up to 55 percent. There's no doubt about it—eating less meat and being a reducetarian is healthy, easy, and good.
FT: Can you give some details about your recently published book Reducetarian Solution: How the surprisingly simple act of reducing the amount of meat in your diet can transform your health and the planet.
BK: This book presents more than 70 original essays from influential thinkers on how the simple act of cutting back on meat from one's diet can transform the life of the reader, animals, and the planet. It features contributions from such luminaries as Seth Godin, Joel Fuhrman, Jeffrey Sachs, Bill McKibben, Naomi Oreskes, Peter Singer, and others. It also includes over 40 vegan, vegetarian, and 'less meat' recipes from bestselling cookbook author Pat Crocker. There are tons of practical tips for reducing the meat in your diet (for example, skip eating meat with dinner if you ate it with lunch; replace your favorite egg omelet with a tofu scramble; choose a veggie burrito instead of a beef burrito; declare a meatless day of the week). If you are interested in 1) why we eat so much meat in the first place, 2) how meat consumption impacts our world, and 3) what you can do about it, this book is for you.
FT: What is your favorite excerpt from the book?
BK: It's impossible to choose one, and I really enjoyed reading all of them. But just to highlight a few of the quirkier ones…I love Susan Page's essay about how to navigate a romantic relationship in which your partner may have different dietary preferences than you, Nigel Henbest's and Heather Couper's essay on what you can learn about meat consumption from aliens and the cosmos, and Samuel Boerboom's essay on how language impacts what you eat. I'm also a total behavioral psychology and human evolution nerd, so the essays by Tania Luna and Chris Stringer respectively are ones I also particularly enjoyed. There is something in this book for everyone. Regarding the recipes, each one is insanely yummy and easy to make, but I can't resist the Buffalo Cauliflower, Vegetable Risotto, and Apple Crisp dishes.
FT: The Reducetarian Foundation is organizing its first summit, May 20 and 21 in NYC. What is the focus of the summit and who would be interested in attending?
BK: The Reducetarian Summit will bring together perspectives and technologies from all corners of the world to explore how to create a more equitable, compassionate and sustainable food system. The central question is: 'How do we as individuals, organizations, communities, and societies work to systematically decrease meat consumption?' We will examine a bit of the 'why' but focus heavily on the 'how.' By bringing together hundreds of people from all areas of the reducetarian movement, this conference will take a deeper dive into possible solutions for pushing the needle on meat consumption. The Summit will include high-profile speakers and moderators, workshops, breakout sessions, and panel discussions, multiple networking opportunities, and delicious meals. The event is perfect for anyone who is working to reducing societal meat consumption—whether at an environmental, animal welfare, or human health NGO or for-profit ventures like a food tech start-up or restaurant—or is interested in learning more about or joining the movement. We expect 400+ attendees. It's going to be a spectacular event, one not to miss.