Roughly 40 percent of all food in the United States goes to waste, and much of this food is still edible when wasted. While this US$218 billion dollars in food is wasted each year, we have more than 40 million people food insecure with not enough food to eat on a regular basis. For the past six years, Food Recovery Network (FRN) has been building solutions to fight this problem.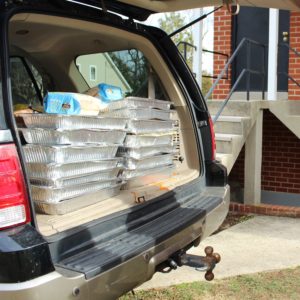 With more than 230 chapters in colleges and universities around the U.S. and more than 2 million pounds recovered, FRN is a large network working to prevent perfectly edible food from being wasted on school campuses. At the same time, FRN donates this extra food to food assistance agencies to feed people in need. Work is supported by five full-time staff and eight part-time fellows, but mostly driven by hundreds and hundreds of Chapter Leaders and thousands of volunteers around the country.
Regina Northouse, FRN Executive Director, gave me a glimpse into the wide-reaching organization and all of its FRNds (student volunteers). "Students are the ones that are driving this movement—saying we should be doing something better with our surplus food," Regina says. "Like what recycling was for so many of us growing up, this is the next frontier."
How Do I Start an FRN Chapter?
Regina explained that there are a few steps to follow to become a chapter, and FRN's national headquarters in College Park, Maryland, is there to help every step of the way.
First, fill out the Student Application, which takes about five minutes and is a way for FRN to get to know you and why you want to start a chapter. If there is already a chapter at your school, or an application already in motion, FRN staff will connect you with fellow students so you can work together. Then, attend an Info Session from FRN's trained Fellows (where interest is also gauged).
Next, you'll begin training students on how to handle food safely. You will need to build an internal team, which is what FRN calls your leadership team—at least five students are a good start (volunteers come after).
Working with the team, you will complete a landscape analysis for food recovery so students know where to bring the food—it must be a 501-c-3 nonprofit and they must be able to also handle the donated food safely. Houses of worship, food pantries, homeless shelters, assistance programs, etc., are good places to look. Most places will be eating the food immediately, but sometimes they freeze or refrigerate it. For smaller quantities, students will refrigerate and hold for a few days until there is more, if possible. There are many scenarios on how to recover the food and FRN will talk with you about how this can look at your school.
FRN Chapters also build a relationship with dining services. In addition to helping with food donations, dining services may be able to reconcile their wasted food through this, meaning, they'll start to reduce how much food they're over-preparing once they realize it's happening (through the reports they're given by FRN).
FRN Chapter leaders should go on a couple recoveries and do the work, themselves. Recoveries can happen at school dining halls, and most chapters do this. Recoveries can also happen outside of your campus at local restaurants and other dining facilities. Chapters also recover from events whenever they can. Lastly, there is paperwork for you, your dining provider, and the nonprofits where the food will be donated to sign, but that's easy.
What's it Like to Volunteer for FRN?
Thanks to Regina and FRN HQ Staff, I connected with Whittier College in Southern California (one of their long-running standout chapters) to find out what it's like to volunteer. Being a small school of only 2,500 students, the FRN Chapter at Whittier College has about 5 to 10 active members at a time. However, this small group is committed and has been going on food recovery runs twice a week, at more or less 45 kilograms (100 pounds) each pickup, for four years.
Each food recovery run takes just about 20 to 30 minutes to pick up food from the dining hall, pack it into a vehicle, and drop it off nearby. Volunteers usually use their own vehicles, but sometimes the college lets them use school shuttle vans. There are some quick forms to complete, and sometimes volunteers will need to bring the empty containers back. While many runs end with the delivery, some students like to stay a bit and help the receiving agency, as well.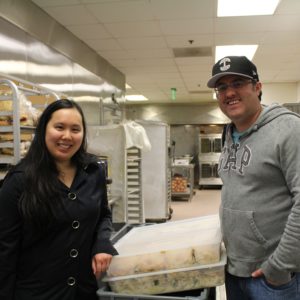 The Food Recovery Run
My contact at Whittier College was Christina Fong, a senior who was in her first year with FRN and had been helping for months. "I had heard about it last year and seen documentaries about food waste in our country and I just thought it's amazing (what FRN does) and I can do this right at my school!" Christina says.
We go to pick up the food inside the back of the dining hall at 2:30pm. It's the same time almost every day, sometimes volunteers wait just a few minutes or so for the kitchen staff to pack up the food for them. I notice the delicious extras from this pre-prepared lunch offering—jerk chicken, teriyaki chicken, grilled cheese, and tuna sandwiches.
We then load up the more than 45 kilograms (100 pounds) in the back of my rental car and take the short drive to Saint Mathias, a 100-year-old Episcopal church not far away. Upon arrival, we're greeted by church staff that help us load the food tubs on carts to wheel into the Church kitchen.
Serving the Meal
Ben, the Facilities Manager at the Church who helped us bring the food in, has been working here for 36 years and started the meal program, which runs five days per week from 3pm to 4pm, in 1984. He lets me know that there is usually more than 100 people attending the meal each day and that people do come from all around the area. Ben said that "Most of the people get money the first of the month —food stamps, GI, social security—and it only lasts to about the 15th, then they'll see more people here later in the month."
After we helped the church staff and volunteers set out the food and beverages, it was then time to help serve the meal. I chose to serve desserts since those are my favorite. Christina and some other students from the college helped with the main courses.
After the meal is over, I ask what Christina thinks of volunteering for FRN. "I really like it, we really help a lot of people. Volunteering has reaffirmed what I want to do which is help people. It makes me really happy and I feel like I've made a difference."
And made a difference they have at FRN Whittier College—saving 45 kilograms (100 pounds) twice each week has added up to more than 8,200 kilograms (18,000 pounds) of meals for those in need, so far!