Heroic Food has a mission to provide sustainable agriculture instruction to veterans seeking meaningful careers. Founded in 2015, the program is aimed at supporting veterans in their transition back to civilian life and providing opportunities for health and employment "while also helping the nation address its growing need for new farmers and burgeoning demand for locally, sustainably grown food."
The first veterans who enrolled in New York-based Heroic Food came from Georgia and Iowa—rural, agricultural areas which were also food deserts. There, local stores stocked packaged, processed foods and produce shipped from California and Mexico, while surrounding farms produced corn, soy, and alfalfa for global commodity markets, mainly to feed livestock.
"Our first participants came to New York," said founder Leora Barish, "because they wanted to learn small-scale, sustainable, ecology-based farming in a veteran-supportive environment, and there were no such opportunities in their area."
The nonprofit offers a one year immersive farmer training program with a holistic support system, including paid training positions on mentor farms and housing. The program also offers seminar and hands-on workshops for veterans on various topics, with the goal of growing new farmers for America.
Food Tank had the opportunity to talk with Barish about her work and commitment to transforming veterans' lives and farmlands.
Food Tank (FT): What first inspired you to link the benefits of sustainable agriculture with the unmet needs of veterans?
Leora Barish (LB): My father was a veteran of three major wars: WWII, Korea, and Vietnam. He was medically retired with 100-percent disability and moved to Maricopa County, Arizona. Now, the county is filled with sprawling suburbs, but at the time, it was all orange groves.
A native of Brooklyn, New York, my father adored the peaceful, sweet-smelling groves. He bought a seedling and planted it in his backyard, and soon he filled the whole yard with fruit trees. Tending the trees revived him. It helped to heal his heart and mind.
I'm a writer, and post 9-11, I was mentoring veterans in writing through the Writer's Guild. I thought a lot about my dad, and I wondered, how many of those who served are having—or needing—their own orange tree revival?
I noticed there really wasn't anything available in the way of sustainable farmer training, even though 44 percent of veterans come from rural and agricultural backgrounds.
Two things are not disposable: land is not disposable, and people are not disposable. It's not a matter of charity to care for land or for people—it's not some abstract or romantic notion. It's very concrete, very real, and very much a matter of societal self-interest: we are part of an ecosystem, and our lives are interdependent. If we don't take care of our land and our people, we're doomed.
My dad was relatively old when he retired. He proves that it's never too late to grow food, and it's never too late be healed.
FT: What makes Heroic Food a distinctive opportunity for veterans once they return home?
LB: I knew that veteran peer support was crucial. The military trains you to be soldier, but when you get out, they don't un-train you, or re-train you for civilian life. So we have a full-time Program Manager, an experienced veteran peer mentor, advocate, and facilitator. He stays closely in touch with our participants to make sure the program is working for them. We also offer ongoing professional training and resources, including referrals to sustainable farm employment.
FT: How do you see Heroic Food in relation to the patchwork of farms across the Hudson Valley region?
LB: This is a natural and much-needed partnership. On the one hand we have veterans looking for nourishing, meaningful work worthy of their dedication; on the other, we have farmers looking for dedicated crew who know how to work and how to get the job done. The farmers are extremely appreciative of the veterans. And the veterans appreciate the chance to train on family-scale farms where the priorities of sustainability, stewardship, self-sufficiency, and humane totally align with their own values.
In addition, like the rest of the country, we have a population of aging farmers who can't retire because there's no one to take their place. Veterans are perfectly suited to be their successors, to save these endangered farms, and make them more sustainable and successful. It's an opportunity for deep and long-lasting benefits on all sides.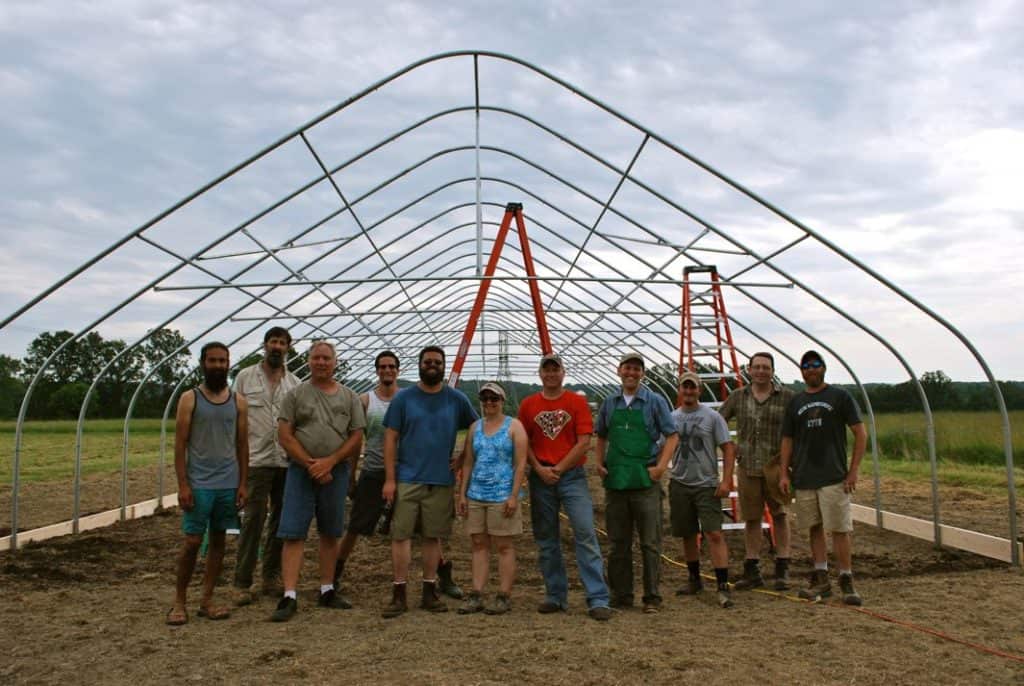 FT: What feedback do you receive from veterans, and their families?
LB: They love this work. To be able to work hard, out of doors, doing something they believe in, to work with the cycles of nature in the context of a supportive community…hands in the dirt, planting seeds or caring for livestock, and watching them grow—just like for my dad, it's healing and restorative work that they love.
FT: What's your favorite story to share about your work?
LB: A veteran came to us who had earned a Purple Heart in Afghanistan, who still had shrapnel—a quiet guy, very contained. He started working at Hawthorne Valley Farm in their corner garden where they do everything by hand. He worked barefoot, even though they told him not too…he was one of the best apprentices they'd ever seen. By the end of his first year, they hired him as assistant manager. It was amazing to witness.
FT: What are some of the greatest challenges you face as a nonprofit?
LB: As you can imagine, the greatest challenge is fundraising. Since the election, it has been more challenging, because people are strained in terms of their giving and their mental bandwidth. The perception is that the need for veterans is less than it was a year ago, which is incorrect. The need is as great as ever.
Another challenge: we need additional Board members and advisors to help with networking, finances, and outreach to key community leaders. We would also love to have a chef or restaurateur on our team!
FT: What successful partnerships have you built to bolster the work of Heroic Farms?
LB: Great mentor farms are crucial to our program. We've built partnerships with many in our area, including Hawthorne Valley Farm, Threshold Farm, Liberty Farms, Blue Star, Thompson-Finch, Letterbox, Walnut Grove, and others.
We collaborate with the national Farmer Veteran Coalition, Cornell Extension, and Cornell Small Farms program. We also work with Glynwood Center, GROW NYC, and Hawthorne Valley Learning Center to provide farming and business training as well as market access and opportunities.
Our pro bono partners are Ennead Architects, who created a gorgeous sustainable site plan for us (needs funding!) and Proskauer Rose LLP, which are valuable partnerships.
We work with local politicians including Assemblymember Didi Barrett, Congressman Sean Maloney, and Senator Sue Serino as well as with veteran support groups including the Pfc Dwyer Program, Hudson Valley Veterans Alliance, and others.
FT: What can Food Tank readers do to support your mission?
LB: Help us find donors! We depend on small grants and private donations, cooperation, and community connections. If there's a Food Tank reader out there who's interested in helping us raise money or volunteering, please contact us!
Also, we're looking for someone to donate a site for a new home base in or near Dutchess County, a place where veterans who want to farm can meet and learn together.
FT: What's next on the horizon?
LB: This is our third year, and when we began, there was no prototype for what we were doing. We tried different things to find out what works and what doesn't. Based on these lessons, we are planning a more mobile model by creating replicable training package, so we are not geographically bound.
We are very interested in the idea of cooperative farming, too. If there are a group of veterans who want to farm cooperatively, and know how to work as a team, this could be a great model. But that's up to them.
FT: How would you describe your vision of a food system for the future?
LB: Our vision is an ecology-based food system that supports, and is supported by, values of sustainability and health. We vision a food system that works for whole communities—including the hungry, not just the foodies—and includes veteran leadership and participation.
It's also important that farms are economically viable, and to me that means sustainable agriculture should be supported by taxpayer dollars much, much more than at present.
Land, children, food, and water—that is is our lives—that's the future of our human race. If we're not supporting that with our taxpayer dollars, I don't know what we're doing.