Helen Hollyman, food writer and Editor-in-Chief of MUNCHIES, will be speaking at the inaugural New York City Food Tank Summit, "Focusing on Food Loss and Food Waste," which will be held in partnership with Rethink Food Waste Through Economics and Data (ReFED) and with support from The Rockefeller Foundation and The Fink Family Foundation on September 13, 2017.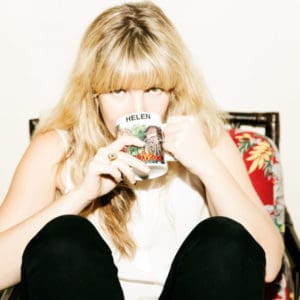 A former cook, truffle dealer, and radio host, Hollyman got her start at Food & Wine Magazine. She has worked under award-winning pastry chef Christina Tosi at Momofuku Milk Bar and for food writers Mark Bittman and Amanda Hesser. Helen has written for a variety of publications including GQ, Saveur, Lucky Peach, and Time Out Magazine and is now Editor-in-Chief of MUNCHIES, the world's first global Millennial food website and digital media video channel from VICE Media.
Food Tank spoke with Hollyman about her responsibilities as an eater within the context of climate change.
Food Tank (FT): What originally inspired you to get involved in your work?
Helen Hollyman (HH): I truly love storytelling and meeting the people behind fascinating narratives. I feel lucky that MUNCHIES is a platform where we can do just that: explore the intersection between food and contemporary culture.
FT: What makes you continue to want to be involved in this kind of work?
HH: Food has become more important in its role in contemporary society more than ever—I'm excited that people are showing a great interest and care for understanding where their food comes from and the people who are making it.
FT: Who inspired you as a kid?
HH: The greats, such as Julia Child, Ruth Reichl, Alice Waters, and Jacques Pepin!
 FT: What do you see as the biggest opportunity to fix the food system?
HH: American citizens: call your representatives, participate in democracy, and advocate for positive community change in your local/state government.
FT: Can you share a story about a food hero who inspired you?
HH: Early on in my career, I worked for Mark Bittman. This was during the time when he was creating the Food Matters cookbook. Mark exposed me to my responsibility as an eater and the choices that we make every day about how we interact with the food system around us.
FT: What's the most pressing issue in food and agriculture that you'd like to see solved?
HH: There are so many food issues at the moment, that it's hard to prioritize one over the other: the fate of the U.S. farming policy, GMOs, food justice, food waste, seed saving, the seafood industry. Climate change is at the forefront of everyone's mind—and I think that the trickle-down effect of how food and agriculture play into this global crisis is the most pressing issue at the moment.
FT: What is one small change every person can make in their daily lives to make a big difference?
HH: Being mindful about the choices you make. Do you need those extra plastic bags at the grocery store? Can you compost your food scraps if there's space in your freezer? Do you need to eat meat every single day of the week? Do you need to run the water under the faucet while you brush your teeth? Make a choice that can feel like a tiny shift and work towards being mindful. And call your representatives.
The NYC Food Tank Summit is now sold out. Register HERE to watch the livestream on Facebook. A few tickets remain for the Summit Dinner at Blue Hill Restaurant with a special menu from Chef Dan Barber. Apply to attend HERE. If you live in New York City, join us on September 14 for our FREE outdoor dance workout led by Broadway performers, called Garjana, featuring many great speakers raising awareness about food waste issues. Register HERE.