Tinia Pina, sustainability professional and Founder and CEO of Re-Nuble, is speaking at the inaugural New York City Food Tank Summit, "Focusing on Food Loss and Waste," which will be held in partnership with Rethink Food Waste Through Economics and Data (ReFED) and with support from The Rockefeller Foundation and The Fink Family Foundation on September 13, 2017.
Pina received her Bachelor of Science degree in Business Information Technology from Virginia Tech and studied briefly at Columbia University's Earth Institute. She has six years of experience in the financial services industry and six years within the sustainability and food waste management industry. Her experiences related to food waste, food systems, and the circular economy have fueled her passion to increase our communities' resilience, prosperity, and knowledge to help us live more conscious lives. Pina's pioneering business model has earned her a Huffington Post Millennial Impact Grant, the American Express Emerging Innovator award, and a MillerCoors Urban Entrepreneur grant, among other honors.
Food Tank had the opportunity to talk with to Pina to find out what drives her innovative approach to reducing food waste.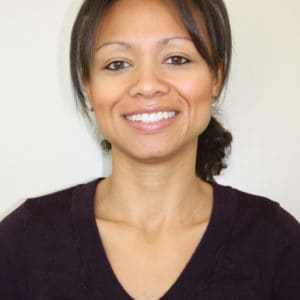 Food Tank (FT) What originally inspired you to get involved in your work? 
Tinia Pina (TP):  Food became personal for me as a former volunteer Prep-SAT teacher in Harlem with New York Cares. Every Saturday at 9 am, I noticed how the options for nutritious food within a two-block radius from where I was teaching not only impacted the productivity of my kids in class but also ultimately dictated their future. By working to indirectly help increase the production of more produce supply, I am committed to helping more healthy food become affordable as a result of more organic farms servicing densely populated areas.
FT: What makes you continue to want to be involved in this kind of work?
TP: Until premium priced, slow, organic, food fast casual chains are located in communities representative of a larger demographic range, I will continue to fight this good fight. These establishments' business models are incredibly successful but their impact is limited if they are claiming to be a benefactor in increasing the accessibility of nutritious food.
FT: Who inspired you as a kid?
TP: The most immediate and direct sources of inspiration were my mom and my grandfather. Both were relentless, independent, hard workers that always figured out a way to make something work. These qualities transcend my career for what has honestly evolved into my life's purpose by figuring out how to apply contrarian ways of thinking to various challenges present in our food system. As an engineer, my grandfather was a big thinker and made logical order of non-consequential theories and topics. I like to believe I apply this aspect of his personality when problem-solving as I tend to connect the dots related to trends, developments, and innovations that impact very different economies while reflecting my mom's ability to persevere.
FT: What do you see as the biggest opportunity to fix the food system?
TP: I see distributed manufacturing, production, and sourcing being the largest opportunity for a number of reasons: increasing supply chain efficiencies, resilience, and economic development. Though nascent in development, our team also recognizes and is working on finding ways to use existing biological resources to increase plant productivity with the goal of removing the need for synthetic agriculture inputs.
FT: Can you share a story about a food hero who inspired you? 
TP:  Ever since I read Jonathan Bloom's American Wasteland, I have become enamored by the negative externalities that exist after food is consumed. I think there are a ton of heroes that have really left a footprint on returning a sense of conscious, purpose, and innovation both in food service and food production, such as Dan Barber, but to make the dialogue around food waste relatable and meaningful to the common consumer and will always influence my 'why,' has been effectively done by Jonathan Bloom.
FT: What's the most pressing issue in food and agriculture that you'd like to see solved?
TP: I'd like to see the food system incorporate more innovation in the repurposing and reclamation of natural resources. I know many producers and food distributors want to increase their food waste recycling but the existing infrastructure is de minimis at best. Often this entices major decision makers to resort to the option that is the most economical, easiest to decide on, and allows their team to easily outsource. That's right, it is landfilling. Given the barriers to entry and high costs, I hope that this spurs more partnerships and innovation, blending existing technologies in applications that allow for higher volumes of food waste processing into new and innovative products serving higher market-based needs.
FT: What is one small change every person can make in their daily lives to make a big difference?
TP: In my apartment, we try to be stewards by controlling our own food waste, which is heavily dependent on meal planning. New food items are seldom purchased until we have ensured that we've used everything in our pantry and refrigerator to the best of our abilities. This requires ingenuity, thriftiness, and the ability to not be easily influenced by consumerism.
The NYC Food Tank Summit is now Sold Out. Register HERE to watch the livestream on Facebook. A few tickets remain for the Summit Dinner at Blue Hill Restaurant with a special menu from Chef Dan Barber. Apply to attend HERE. If you live in New York City, join us on September 14 for our FREE outdoor dance workout led by Broadway performers called Garjana featuring many great speakers raising awareness about food waste issues. Register HERE.