Amanda Oborne, Vice President of Food & Farms at Ecotrust, will be speaking at the Inaugural Seattle Food Tank Summit, titled "Growing Food Policy," which will be held in partnership with the Environmental Working Group, Food Action, Garden-Raised Bounty, the Natural Resources Defense Council, and Seattle University's Center for Environmental Justice and Sustainability on March 17, 2018.  
As Vice President of Food & Farms at Ecotrust, Amanda leads a team that seeks to revolutionize and re-regionalize the food system. By harnessing the purchasing power of schools and institutions, empowering local farmers and ranchers, and developing infrastructure to connect the two, Ecotrust is helping to build a resilient regional food economy that nourishes communities and renews natural resources.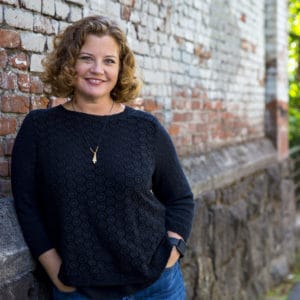 Recently named one of the Most Creative People in Business by Fast Company magazine, Amanda has a master's degree from Northwestern University, and spent 15 years in private enterprise before joining Ecotrust in 2010. She has recently been featured in the Stanford Social Innovation Review, Fast Company, and Civil Eats, and appeared at the Food Tank 2016 National Summit in Washington D.C. and the New York Times Live: Future of Food.
Food Tank had the opportunity to speak with Amanda about her work, her inspirations, and the food policy landscape.
Food Tank (FT): What originally inspired you to get involved in your work?
Amanda Oborne (AO): I credit Michael Pollan with opening my eyes to the tragedies of our food system! After reading Omnivore's Dilemma in 2009, I got involved in local agriculture and food system reform, and eventually worked my way into my dream job. At Ecotrust I work with some of the most progressive, creative food system reformers anywhere, both to make a difference on the ground in the Pacific Northwest and to spur system-level changes across the board.
FT: How are you helping to build a better food system?
AO: Ecotrust works with fellow practitioners, policymakers, funders, investors, and entrepreneurs to make our food system equitable, restorative, and prosperous for communities in our region. We do that by helping large scale food buyers, especially those feeding consumers who face systemic barriers based on race, gender, class, or ability, to leverage their purchasing dollars to kick off a virtuous cycle of health and prosperity. We support the business growth and development of community-based farmers, ranchers, and fishers, especially those using restorative production and harvesting practices. We also create and coordinate food infrastructure, like The Redd on Salmon Street, to better connect the good food ecosystem.
FT: What's the most pressing issue in food and agriculture that you'd like to see solved?
AO:  The most pressing issues are deep, slow-moving, and systemic. I would like to see more collaborative, holistic, and long-term thinking that is focused on solving root-cause issues embedded in soil, culture, and economy. That would take enlightened philanthropic, business, and policy leadership, but what exciting and meaningful work it would be!
FT: What innovations in food and agriculture are you most excited about?
AO: I'm very excited to see regenerative agriculture gaining attention and traction, and I appreciate the soul-searching and debate that the topic is spawning among farmers, ranchers, advocates, brands, and policymakers.  I am convinced there may be nothing as important in terms of potential for major climate change mitigation, improved nutrition, and even community-building and equity. The embrace of complexity and whole-system thinking required of regenerative agriculture would have a hugely positive cultural impact, with the potential to put rural and urban, red and blue, human and planet all on the same team.
FT: What is one small change every person can make in their daily lives to make a big difference?
AO: Cook your own dinner.  Re-organizing your life in order to make time to cook dinner will have positive ripple effects across your own life, your community, and the food system. And your home will smell good.
FT: How can we make food policy more relevant to eaters so that the politicians representing them feel a mandate to act?
AO: There is nothing as momentous as the power of people when they come together.  If eaters understood the degree to which corporations are extracting value from our bodies, including those of our
children, and our soils and waterways, they would be marching in the streets. Food is elemental, not only does every last one of us need it to live, but we need it to provide the strength to tackle all of the other problems we face.
FT: What policy areas or ideas would you like to see an increased focus on as the 2018 Farm Bill negotiations kick off?
AO: I applaud my Congressman Earl Blumenauer, from Oregon's Third District, for working to make the Farm Bill a Food Bill! The most important thing Congressman Blumenauer has done in our community is remind us of legendary author Alice Walker's quote: "The most common way people give up their power is by thinking they don't have any." Yes, the Farm Bill is complex and has been dominated by a small group of powerful players, but given the level of disruption in the federal government right now, our voices are important and new ideas can be heard.
Tickets for the 2018 Seattle Food Tank Summit are selling out quickly! Join us in Seattle on March 17th as we discuss cultivating the next generation of food leaders. Apply to attend HERE.