Nancy Tosta, Board Member of Tilth Alliance, will be speaking at Food Tank's inaugural Seattle Summit, "Growing Food Policy," which will be held on March 17, 2018 in partnership the Environmental Working Group, Food Action, Garden-Raised Bounty, the Natural Resources Defense Council, and the Seattle University's Center for Environmental Justice and Sustainability.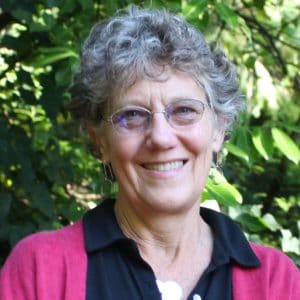 Tosta serves as a member of the Tilth Alliance's Board of Directors and an associate on the King Conservation District's Board of Supervisors. Currently in her second term as Burien City Councilor, she has served as a member of the Regional Food Policy Council and the KCD Regional Food System Review Team. She has previously worked at the state and federal government level in California and Washington, D.C., where her work addressed issues of forestry, growth management, and geographic information systems (GIS) technology. A soil scientist by education, Tosta previously owned a consulting company serving government agencies on a number of environmental, development, and food issues.
Food Tank spoke with Tosta about her inspirations for becoming involved in food movements and her aspirations for the food system.
Food Tank (FT):  What originally inspired you to get involved in your work?
Nancy Tosta (NT): As a student learning about soil science at University of California at Berkeley, I was exposed to many agricultural issues, especially within the state of California. Through my education, I became conscious of food quality and the impacts of food production on the environment. From there, my interests in food expanded as I became a dedicated cook that sought out fresh, local, seasonal, organic foods – for taste and health!
FT: How are you helping to build a better food system?
NT: Several years ago, I got involved with the Puget Sound Regional Food Policy Council. Additionally, I have subscribed to a community supported agriculture (CSA) for decades, and in past two years, I have arranged the start and delivery of a CSA to my community. I have also served as a consultant for various food initiatives nationally and across the country. Moreover, in my role on the Board of Supervisors for the King Conservation District, I review applications for funding to support our King County Local Food Initiative.
FT: What's the most pressing issue in food and agriculture that you'd like to see solved?
NT: Our most pressing issue currently is finding a way to ensure soil quality and health.
FT:  What innovations in food and agriculture are you most excited about?
NT: I'm excited to see an effort to grow food in the communities where it is consumed. Additionally, I would like to see more work in urban agriculture.
FT:  What is one small change every person can make in their daily lives to make a big difference?
NT: Everyone can work toward eating more local, seasonal, and preferably organic foods with a special focus on consuming more plants.
FT:  How can we make food policy more relevant to eaters so that the politicians representing them feel a mandate to act?
NT: There needs to be a connection made between food and our health, those outcomes, and its associated costs.
FT: What policy areas or ideas would you like to see an increased focus on as the 2018 Farm Bill negotiations kick off?
NT: The 2018 Farm Bill should place greater emphasis on supporting vegetables and other produce in place of commodity crops.