Photographs courtesy of Transfernation. 
Transfernation, a New York City non-profit, recently launched an app to help reduce hunger in America's urban centers. As the first tech-based, on-demand food redistribution system in the city, Transfernation diverts 1.5-2.7 metric tons of food per week from landfills and distributes it to local homeless shelters, church feeding programs, and soup kitchens.
The app connects established systems and food distributors across the city in real time. Volunteers and independent contractors from transportation networks like Uber and Lyft can pick up and deliver leftover food from receptions, film sets, or offices at any time. The system allows donors to take a tax write-off for the food they donate, contractors and drivers can earn US$15 per pick-up, and local feeding programs receive free high-quality food.
Food Tank spoke with the co-founder and CEO of Transfernation, Hannah Dehradunwala, about the challenges of urban food security, and how Transfernation's new app is a cost effective way to help combat systemic hunger in America.
Food Tank (FT): Why did you choose New York City as your headquarters for Transfernation?
Hannah Dehradunwala (HD): The multitude of transportation options in the city helped us test pricing options and see which networks would work the most effectively. NYC is a great playground and allowed us to develop a process for establishing and approaching big businesses, transportation networks, and shelters.
FT: How does business, population, and volunteer density affect the efficacy of the Transfernation model?
HD: Our entire model is centered on business and population dense areas. We're built off existing infrastructure: businesses that regularly produce large amounts of extra food, transportation networks, and shelters that host daily or weekly feeding programs. Our app connects these different sectors, creating a system to alleviate food insecurity out of their existing operations. We don't use volunteers. Instead, we harness gig economy transportation networks. Our Transporters (independent contractors picking up and delivering the food) are sort of like paid volunteers, except they usually work for an existing transportation or delivery network like Uber, Lyft, or the Cargo Bike Collective. Transfernation gives these individuals paid, part-time employment opportunities. It's like picking up and dropping off a silent passenger. The multitude of transportation options in cities also allows us to have Transporters available when pickups are requested on-demand.
Business and shelter density allows us to match donating businesses with the shelter that is closest to them, drastically reducing the time the food spends in transit. One pickup and drop-off can be completed in under 30 minutes. We believe that nearly every urban market globally can support this model.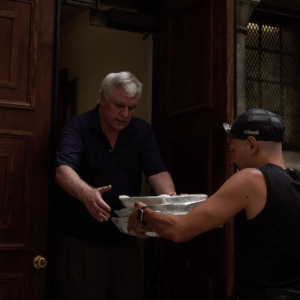 FT:  What incentives do businesses and cafeterias have to participate in Transfernation?
HD: They are, very literally, feeding their neighbors as we deliver their extra food to feeding programs hosted by churches and shelters in their vicinity. Other than the obvious environmental and societal benefits they're creating, there's also a huge financial incentive. Businesses are able to redirect their disposal and hauling costs towards a socially impactful cause. Using our service is also an alternative to hauling that doesn't entail any drastic changes to their current operations.
These businesses receive tax write-offs for untouched food that would have otherwise been garbage. Write-offs are based on the market value of the donated food and since this food is catered, already prepared, and often delivered still hot, it's market value is much higher than that of groceries. We provide each business with the necessary information to process these write-offs, so they don't have to expend resources tracking their own donations.
We also provide administrative services for participating businesses, who often can't be bothered with the logistics of transportation and tracking impact on their own. It takes time and manpower. We help track their impact on a weekly and monthly basis and send each business reports detailing how much they've donated in terms of pounds, meals made from their donated food, and information about the receiving institution. We also provide public-facing marketing materials that allow them to advertise their impact internally and to their supporters.
Additionally, there's a big focus on the added value for the Transporter. The small fee we charge goes towards paying the people picking up and delivering this extra food around the clock. When businesses schedule pickups, they're providing a Transporter with a part-time employment opportunity.  
FT:  Can you describe the social and economic repercussions if no one composted
or consumed leftover food?
HD: We're headed towards a societal and environmental catastrophe, especially in cities. We currently pick up between 1.8-2.26 metric tons a week from corporate cafeterias and offices. For me, these trash bags of food piled high on sidewalks represent the absence of a system. Garbage collection is for trash, it's a system built for non-edible waste. We're missing out on creating a change in mindset about what constitutes waste and what doesn't, and an opportunity for people to think actively about how reducing and redistributing edible waste can provide value beyond just feeding people.
Recycling paper and plastic took a while to catch on; it required a change in mindset regarding what could be reused and what couldn't. Most cities now have a recycling system that clearly defines what kinds of paper and plastic can be reused and what can't, which made people and businesses rethink what they were throwing out. We're still working on changing the mentality about edible waste, and there is still considerable confusion surrounding the reuse of edible garbage.
We're also missing out on a valuable economic opportunity. There is a way to create jobs through the transportation and distribution of excess food by tapping into networks that already exist without having to throw more resources at the problem. It doesn't just require resources, it requires a system.  
FT: What is the next big step for Transfernation?
HD: We've been testing our app for almost a year now, and we just launched a new version that will help increase our pickup load. It'll also become easier to take our venture to different cities; tech travels faster than infrastructure and because we won't need to build or buy any of the latter, we'll be able to expand more easily. We're also slowly growing our team and Transporter base to incorporate different types of transportation networks that would work more effectively for delivering food in different areas. For example, in Midtown, we try to use cargo bikes for all of our pickups because traffic is usually quite dense, and a cargo bike can get from donor to shelter much faster.
FT:  What are the greatest challenges the app presents now?
HD: Our greatest challenge is sending too much food to shelters that don't have adequate storage or distribution capacity. Yes, we can pick up food on-demand, but can shelters handle it on-demand? We need to think critically about how we can access this surplus and evenly divide it among areas that can use it while keeping our costs low. We're able to redistribute a pound for about US$0.20 while providing a Transporter with an employment opportunity. We're trying to increase distances traveled, ensure that food is going to where it is most needed, and ensure that Transporters are still getting paid a competitive hourly wage.
It's heartening that we have an on-demand pickup system in place and that businesses are actively using our service, but we need to make sure that we're not making things harder for the sector that receives the food in this process.
FT: How will Transfernation help solve the root problem of food insecurity?
HD: I think one of the major reasons why food insecurity exists, at least in cities, is logistics and inconsistency. As so many people have already stated, food insecurity isn't just a food problem. We have more than enough food and, especially in urban areas, always will. We're addressing food insecurity by providing a solution that speaks to the logistical inefficiencies present in food distribution, especially when the food is perishable. We've set up a straightforward system of donating and being able to transport the food to social institutions with the capacity to feed food insecure populations in large numbers. We're helping drive consistent and steady streams of high-quality food towards these programs. Roadblocks to doing so on a large and consistent scale often involve unreliable transportation and inflexibility in pre-existing pickup schedules for many food rescue organizations. We've created a system out of the transportation networks that already exist allowing us to transport more food to the institutions that need it.
Click here to download Transfernation's app.