In the summer of 2017, I set out on a road trip from Monterrey, Mexico, to Toronto, Canada, filming a documentary series on North American local food initiatives. During this 4,800-kilometer (3,000-mile) journey, my co-creator and I had the privilege of meeting dozens of farmers, small-business owners, community organizers, and food advocates who shared an inspiring and diverse vision for the future of North American food.
Beginning in November 2017, each of their stories will be presented as a component of a 10-part series entitled The Food Less Traveled.
There is far from a consensus on what counts as local. The U.S. Department of Agriculture uses several definitions of "local food," including geographic distance traveled and specific types of market arrangements. Many of the organizations in this series work expressly on shortening the distance between producer and consumer, while others are engaged in work beyond a single community or region. When exploring the concept of a local food system, this series highlights organizations at the neighborhood and community level, as well as larger initiatives that have a significant local impact.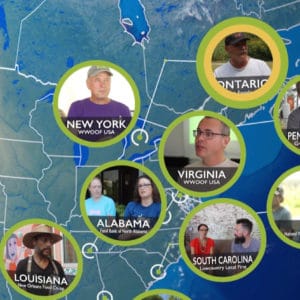 Each of these organizations approaches food from an entirely unique perspective. Even so, a number of common themes emerged between their work, and it is these core themes that the series will explore further. This is perhaps one of the most inspiring things about food and agriculture: the capacity of creative people to devise a number of solutions to the food system's biggest challenges.
Young farmers are critical
Nearly 100 million acres of land are expected to change hands over the next five years, and the young farmers that will take over that land need a directed strategy of support. One of the major themes that emerged throughout this journey is that young farmers have become a voice for change in the food system. These passionate food advocates are champions of sustainability and community organizing, and their hard work is deserving of support.
One key participant in the series that advocates for young farmers is the National Young Farmers Coalition (NYFC). NYFC draws together the voices and needs of young farmers across the United States to mobilize for policies and practices that support young farmers.
In Charleston, South Carolina, Lowcountry Local First (LLF) is working to train and support the next generation of farmers and food businesses. Through their Growing New Farmers Program, LLF gives participants hands-on experience with organic farming, while offering them the business tools and local connections to start their own farming or food business.
Finally, WWOOF-USA is a national network of organic farms, each of which hosts volunteers looking to gain organic farming skills. For several of the WWOOF volunteers we spoke with, this network is an incredible jumping off point for a career in food and farming.
Small and beginning farmers require specific intermediaries
In the past two decades, consumer demand for local food has been growing. Even with a thriving consumer base, producers still face barriers when entering local markets, particularly if they are small or beginning farmers. A number of the organizations we spoke with focused on reducing market barriers for farmers, by taking on some of their extra work.
For instance, the Farm Food Collaborative with the Food Bank of North Alabama works with farmers to get any certifications they may need to sell into the local market. They then connect those producers with specific buyers in the region, including schools in the Farm to School program.
In Ontario, Canada, 100km Foods has created a network of local producers and buyers, so that they can do all of the transportation and distribution work through a single warehouse. This cuts down the time that farmers need to put into marketing, communicating with buyers, and transporting their goods.   
Local markets can reduce risk
One of the most common themes was that access to a reliable local market can provide stability, particularly for young or beginning farmers. Farming is a risky profession—the weather can be unpredictable, prices fluctuate, and farm sector debt continues to rise, which puts farmers in a precarious financial position.
Participating in local markets can be one way of stabilizing farm incomes. These markets provide a more accessible entry-point for small and beginning farmers, who typically don't have the scale of production needed to make a profit in wholesale. Local markets also give producers direct control over prices, and the ability to convey the true value of the food they produce.
We first heard this perspective when speaking with Glyen Holmes, a farmer who works with the Farm Food Collaborative. He was one of the pioneers of Farm to School in Mississippi, Florida, and Alabama, and his vision for this program was to give small farms a reliable local market.
Similarly, several interviewees from NYFC felt that as first generation farmers they absolutely needed access to direct-sale markets to grow their farm businesses in a meaningful, sustainable way.
 Food organizations are tackling broader issues
For many of the organizations we spoke with this summer, challenges in the food system cannot be viewed separately from broader issues. Supporting healthy food systems is a valuable goal in itself, but for many initiatives, food can also be seen as a means to address a connected issue.
The New Orleans Food Co-op was founded in 2011, to address the food desert that had become a lasting legacy of Hurricane Katrina. As a member-owned cooperative, the co-op's goal is to make healthy food accessible to the wider community, support local farmers, and put food at the center of a larger process of neighborhood healing.
Similarly, Greensgrow is an urban farm, CSA pick-up spot, and community hub in the Kensington neighborhood of Philadelphia. The organization was founded 20 years as a brownfield clean-up project, and since then has grown to include the broader community in growing food and greening their neighbourhood.
Finally, ALUS Canada is engaging farmers and ranchers in conservation by working with landowners to convert acres of their land into ecosystem services projects, ranging from native pollinator habitat to wetlands.
Final thoughts
It is our hope that this conversation will inspire viewers to critically engage with every aspect of their local food system. As each initiative has shown, there are a number of ways to address these larger questions, which leaves space for each of us to pursue our own form of active food citizenship.
Learn more about the series through The Food Less Traveled introduction video, and follow this journey in the months to come.