Photos courtesy of Randy Gadient.
Randy Gadient is a first generation, Northeastern Iowa hog farmer who owns and operates Gadient Farms with his wife Gina and their two kids. Gina and Randy purchased their first 23 acres in 1993 before buying their farm in 2003 and expanding it in 2017. The Gadients' values are centered around "having pride in [their] work ethic and family bonding."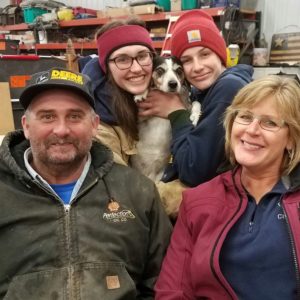 Gadient Farms provides pasture access to its hogs and cattle during the summer months and grows corn, alfalfa, and oats. In 2017, Gadient Farms sold about 1,200 hogs to Niman Ranch in an effort to produce and distribute more quality meat. Gadient Farms also focuses on sustainable farm practices, including grassy waterways, crop rotation, and preserving reconstructed wetlands on their property.
Food Tank spoke with Randy about the role of small farmers and the benefits of being more connected to our food.
Food Tank (FT): What does it mean to you to be a part of the Niman Ranch family?
Randy Gadient (RG): Being a part of Niman Ranch is being a part of a group of people who understand that animals come first. We care about our animals; it's not unusual for us to bring a cold little pig into the house to warm up in the winter, or turn on the sprinklers to cool off the pigs in the summer. Niman Ranch farmers instill the value of life in our kids at a young age, teaching them about responsibility and care, and hopefully providing them with the same opportunities and future to farm the land as we had. Niman Ranch makes small family farming possible.
FT: What do you think is the most important reason to farm sustainably?
RG: The quality of life for the animals and the taste of meat are the most important reasons to farm sustainably. I can't imagine breathing in a confinement building – it's so hard on the lungs. Our animals are happy and easy to work with.
FT: What are your family's' favorite farming activities?
RG: Going out to the pasture to feed treats to our pet pigs and cows are our favorite farming activities. They all have their favorite snacks. Our sow, Little Piggy, is crazy about pears. We give her a treat every day. Our cow, Sugar Plum, loves apples. The connection we develop with our animals is remarkable. We rely on them as much as they rely on us.
FT: What is it about farming that keeps you on the land year after year?
RG: I love being outdoors, being my own boss, and watching the animals grow.
FT: What originally inspired you to get involved in your work?
RG: I grew up helping on my grandparents' farm and my wife Gina grew up a farmers' daughter. I enjoyed helping my father-in-law on the farm so Gina and I started farming when we got married. The love of animals and the opportunity to be our own boss inspired us to make the initial investment.
FT: What is the best opportunity for young or aspiring farmers and entrepreneurs to get a foothold in America's agricultural future?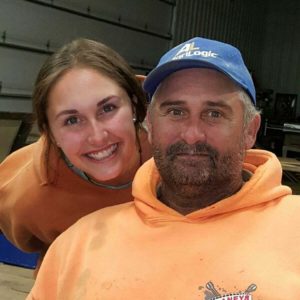 RG: The Next Generation Scholarships from Niman Ranch provides a great opportunity to help young people get an education. Our daughter, Elle (the first Phyllis Willis Founders Scholarship recipient), has greatly benefited from it. Other great opportunities for young farmers are a first-time farmer loan and the opportunity to work on a family farm. The first-time farmer loan made it possible for us to start farming. Niche markets provided by Niman Ranch also allow small farms to do what we love while still making a living for our family.
FT: How can we best stimulate young people's curiosity about food and agriculture and encourage their participation in building healthier food systems?
RG: We can show them how great it is to work with animals every day and to take care of the land. To get more young people into farming, we need to hire more young help and encourage them by showing them that hard work and patience pay off.
FT: What is the biggest change you've encountered in agriculture during your years farming?
RG: Technological advancements have changed the industry, making it harder for small farmers to continue doing what we love while making a living.
FT: Have you observed changes in the number, size, and type of farms that are found in your immediate locale? What is your attitude toward any trends you may have noticed?
RG: There are more concentrated animal feeding operations (CAFOs) going up, big farms are buying more land, small farmers are leaving their farms, and people are raising less livestock.
FT: If you could broadcast a message about farming to people across the country, what would it be?
RG: There's nothing like caring for your land and livestock and watching them grow. It's something we can pass down to the next generation. We want it to be just as good for our kids as it was for us, and it sure beats working in a factory. Take care of the earth and the earth will take care of you.
Farmer Friday is a bi-weekly series featuring livestock farmers selected by Niman Ranch, a network of more than 700 family farmers raising livestock in a traditional, humane, and sustainable way. With more than 40 years as an industry leader, Niman Ranch works with small, independent family farmers and ranchers across the United States to encourage better food system practices. All Niman Ranch pork, beef, lamb, and prepared products are certified under the Certified Humane® program and available nationwide at both food service and retail locations.