Jeff Moyer is the Executive Director of Rodale Institute, an independent research institute for organic farming. For decades, Moyer has helped develop new techniques and invent new tools to support organic methods.
The Rodale Institute was founded in 1947 in Kutztown, PA by J.I. Rodale. Inspired by the nitrogen fertilizer shortages during World War II, Rodale wanted to develop practical methods of rebuilding soil fertility. Today, the institute focuses particularly on compost, soil health, weed and pest management, livestock operations, organic certification, wastewater treatment, and climate change. It is home to the longest running comparative study of organic and chemical agriculture, started in 1981.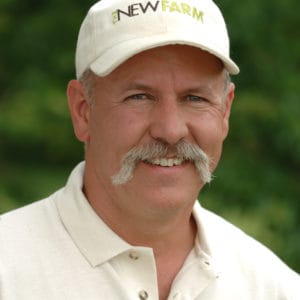 Moyer is well known for inventing and popularizing the No Till Roller Crimper, a device for weed management. He is a past chair of the National Organic Standards Board, a founding board member of Pennsylvania Certified Organic, the Chairman of the Board of Director of The Seed Farm, a member of the Green America Non-GMO Working Group, a Project Member of The Noble Foundation's Soil Renaissance project, and a Board Member of PA Farm Link. Moyer has been with the Rodale Institute for over 40 years.
Food Tank had the opportunity to talk with Jeff Moyer about organic farming and the future of agriculture.
Food Tank (FT): What is the No Till Roller Crimper and how has it changed farming?
Jeff Moyer (JM): The No Till Roller Crimper is used to terminate and suppress weed growth rather than using toxic chemicals. By doing so, farmers are able to delay termination by several weeks, increasing biomass production, resulting in greater nitrogen fixation, and accumulating more soil organic matter. This practice has allowed for farmers to integrate cover crops in their production systems, save money, and improve soil structure.
Research to determine which cover crops to grow with cash crops and having precise timing is crucial to the No Till Roller Crimper system. The concept can work for farms all around the world, but the timing is different in distant countries.
Although the No Till Roller Crimper has changed both conventional farming and organic farming, this tool allows for a faster process for farmers who wish to transition from conventional to organic production. At Rodale Institute, we encourage the reduction of tillage to improve soil health, and the No Till Roller Crimper has aided in that process.
FT: What are the biggest challenges organic farming faces?
JM: One of the biggest challenges organic farming faces is brand equity and trust in the marketplace. The consumer wants to be able to trust the background procedures of the organic food industry and assure their target in the improvement of personal and environmental health, not just the marketing of their brand. Consumers are paying for fair treatment of workers, animals, and land, not just the seal of organically certified.
It is important that the values beyond the production of the produce outweigh the value of the food product itself, a focus on soil health and the environment, rather than a larger yield. The overall goal is to feed the world for thousands of years, not just the present time. Through organic agriculture, this can be made possible, while continuing to focus on environmental concerns.
It is necessary for a shift in policy decisions for this to become a universal standard. Integrating stricter policy can lead to further research into scientific data of organic farming and the benefits thereof. For example, a cow can be fed organically, and be considered organic certified, but the treatment of this animal can be so inhumane, a person would not support the organic label itself.
FT: The Rodale Institute developed the Regenerative Organic Certification program. How is this different from other programs and what are its goals?
JM: The seal of Regenerative Organic Certification is not trying to replace the organic certification itself, rather add upon these regulations. Through this certification, we are suggesting the gaps in the organic standard be filled. The existing standard is mute to the idea of fair worker and farm worker standards and welfare, and the Regenerative Organic Certification fills these gaps.
The focus here is that the existing standard is allowing farmers to integrate procedures that are not included but are in need of stricter guidelines. We further this certification by adding three pillars of focus including animal welfare, continuous improvement with soil health, and social treatment.
Animals should be free to roam the outdoors and therefore be grass-fed/pasture raised. They should be treated fairly in a way that limits stress to these animals and allows for a sustainable atmosphere to live in. Continuing procedures to improve soil health is important for organic agriculture. Sustainability will not suffice for soil health; rather an effort to keep improving is necessary. Social treatment of workers includes living wages, fair treatment, and no child labor.
More information on the Regenerative Organic Certification and the three pillars can be found here.
We introduce the Regenerative Organic Certification because there are a lot of seals designed to inform the consumer, such as non-GMO, USDA, and Gluten-free. As the list goes on, through Regenerative Organic Certification we prioritize labels and created a certification label that can say "I do it all," this product is humane-raised and handled, takes care or farmers, fairtrade, and organic.
The term organic was coined by our very own J.I. Rodale and his son, following in his father's footsteps, added to the idea that it cannot only be organic, but regenerative as well. The idea that sustainability is not enough, rather we must keep moving forward with soil health, food management, and regenerate human spirit, the community, and essential, the whole world.
FT: The USDA recently ruled that hydroponic farming can be certified as organic. What do you think of this ruling and what role does automation and technology play in organic agriculture?
JF: Hydroponic farming is a controlled business of commercial green housing crops of fruit, herbs, and lettuces. The growing procedures of such items will not feed our people, it doesn't make sense. We are supportive of technology that improves human health, we are not anti-technology but if these tools negatively impact health, that device falls short.
FT: What direction our food system heading in and what do you hope Rodale Institute will be working on in 50 years?
JF: The millennials have a huge push towards a change in our food system. I think that people are divided, but still moving towards a healthier diet. There are more diets of meat- and dairy-free than ever before and Organic Agriculture to following this push towards a healthier lifestyle.
Rodale Institute hopes to put more research behind soil health and human health. The millennials today are more educated than ever. They know what is in their food, and the scientific data behind the data, it is understood how their diet is positively or negatively affecting their health. Rodale Institute is working to motivate other agricultural institutions through being a leader and an inspiration.