Lauren Tucker, Executive Director of Kiss the Ground, will be speaking at the Washington D.C. Food Tank Summit, "Cultivating the Next Generation of Young Food Leaders," which will be held in partnership with George Washington University, World Resources Institute, the National Farmers Union, Future Farmers of America, and the National Young Farmers Coalition on February 28, 2018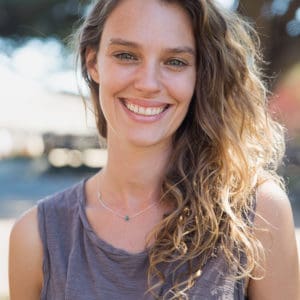 Initially, the manager of their local garden, Tucker is now the Executive Director of Kiss the Ground, a non-profit striving to combat climate change by cultivating healthy soil to sequester carbon in the atmosphere. Kiss the Ground focuses on public engagement through media and educational curriculum, and works to help farmers build healthy soil.
Growing up in rural West Virginia surrounded by conventional corn and soy fields, Tucker realized that despite being surrounded by an agrarian community,  people in the United States were disconnected from their land. She was inspired to help people and the planet and has spent her adult life learning about and sharing the connection between humans and the earth we live on.
Tucker graduated with a B.A. from the Honors program at American University in Psychology and International Studies, and then became a UC Master Gardener and earned her Permaculture Design Certificate. Tucker has extensive experience working with national and international non-profits, including Green Light New Orleans and Angel Flight West, and has worked as a chef and organizer for local farm dinners.
Food Tank spoke with Lauren about the importance of soil health, regenerative farming, and how consumer knowledge of our food system can help solve environmental and human health crises.
Food Tank (FT): What originally inspired you to get involved in your work?
Lauren Tucker (LT): I started studying nutrition and then realized that nutrition is so much more than the right mix of minerals, proteins, carbs and fats. I discovered that soil and how we grow food is the basis for nutrition. Along the way I met Ryland Engelhart and Finian Makepeace, Kiss the Ground co-founders, who were inspired by healthy soil and plants' potential to draw carbon out of the atmosphere. Healthy soils and regenerative farming have become my full passion as they provide a solution to global warming human health.
FT: How are you helping to build a better food system?
LT: We create educational materials (films, book, social media, and middle school curriculum) on soil as a carbon sequestration solution. We also raise money for farmer training and work with businesses to invest in healthy soils in their supply chains. Everything we do is helping to achieve our mission: to inspire participation in the global movement to restore soils.
FT: What's the most pressing issue in food and agriculture that you'd like to see solved?
LT:  We need there to be a common understanding about the importance of soil health and debunk the myth that conventional agriculture (and the chemicals that destroy soil health) are needed to feed the world. We also need laws supporting small farms instead of large agro-businesses, which make it almost impossible to stay in business as a small farmer.
FT: What innovations in food and agriculture are you most excited about?
LT: I'm excited about the agricultural industry returning to simple soil health practices that regenerate land and draw carbon out of the atmosphere, as well as large companies that are starting to invest in the farmers they source from.
FT: What is one small change every person can make in their daily lives to make a big difference?
LT: Ask questions about every piece of food you purchase and put into your body.
FT:  What is the best opportunity for young or aspiring farmers and entrepreneurs to get a foothold in America's agricultural future?
LT: Go farm! Find a mentor in your area, volunteer, and learn from innovative regenerative agricultural programs, like Soil Health Consulting, Maharishi University, and CSU Chico.
FT: How can we best stimulate young people's curiosity about food and agriculture and encourage their participation in building healthier food systems?
LT: They should start visiting farmers that grow their food, ask questions, send letters, and call companies to ask questions about their products. They should also learn how to garden or start composting. Get your hands dirty and you'll never go back!
Tickets for the 2018 D.C. Food Tank Summit are selling out quickly! Join us in Washington D.C. on February 28th as we discuss cultivating the next generation of food leaders. Apply to attend 
HERE
.