Photographs courtesy of Suzanna Denison

Raised on a farm and deeply concerned about farmland preservation, Suzanna Denison connects landless, aspiring farmers with landowners through her work as the director of Western North Carolina FarmLink. In addition to this matchmaking, she speaks at conferences across the United States about her work on farmland transition issues, highlighting the need to address the challenges facing both beginning farmers and retiring farmers.
According to a 2014 report by the Oakland Institute, 400 million acres—or close to half of the total farmland—in the U.S. is expected to change ownership over the next 20 years, as an aging generation of farmers retires. While the issue has captured the attention of many in the country's more agrarian-minded communities, one day it may be on the radar of any American who likes to eat fresh food.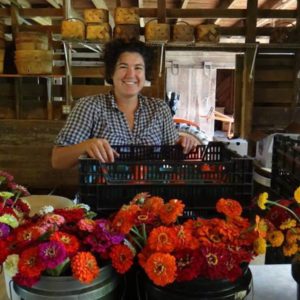 In that light, it seems fitting that I first met Suzanna not in North Carolina, a state we've both called home for several years, but in Colorado at a conference organized by the New Hampshire-based nonprofit Land For Good—because if  anything is of national interest, it's where our food comes from.
Jean Willoughby (JW): In your experience, how do farmlink programs generally work? 
Suzanna Denison (SD): Honestly, my understanding of what the programs are capable of continues to evolve. But in a nutshell, we're there to help with land access barriers and farmland preservation. We make matches between farm-seekers who are looking for land and either retiring farmers or landowners with surplus land who lack the time or the means to farm it. It's e-Farmony.
The longer farmland is dormant and not in production, the higher the risk that it ends up in non-agricultural use. I see farmlink programs as effective at using current landowners and farmers to secure land. We're addressing farmland preservation in the U.S., and part of our strategy is putting farmers back on land to maintain it.
I've worked in the farm-linking world for about four years now. Across the country, I've seen different goals or expectations for what the programs can attain. Of course, these programs help directly with farmland access. If land prices are too high or if the farmers are in debt, those are barriers. But it's not just a real estate listing service. We have all kinds land tenure arrangements.
JW: Could you share a few examples?
SD: To start with, a lot of land tenure opportunities that we list don't entail buying the land outright. That's just pretty unrealistic in the 21st century, in terms of land prices. We have to think outside the box and look at management, employment, short-term and long-term leases, work trade or barter, and owner financing, as well as standard sale.
JW: Tell us more about your approach and the kinds of assistance you offer to farmers.
SD: The two main support services I offer are initial site visits and contract negotiation. I also give lots of educational workshops on farmland access and drafting effective leases. But the majority of my job is offering support to make the land matches as successful, sustainable, and viable as possible. I'm constantly vetting and making sure it's a workable relationship. It rarely hinges on the land and what it's capable of; it's more about what the people are capable of. The biggest question is, 'Are they able to communicate effectively?'
JW: What are some promising paths for beginning farmers who are trying to gain access to land?
SD: I think, in America, we over-associate farming with owning land. But with the majority of the farms I work with, just owning land is not the case. Often it's a combination of land tenure opportunities. There are a lot of different ways to access farmland. For beginning farmers, I highly recommend managing another farmer's or landowner's farm to get experience. I also recommend short and long-term leases. There's no such thing as a typical American farm, and most farmers lease land. So, I try to get people to think beyond standard sale.
JW: What's the first step for you in helping a typical land seeker?
SD: The first step for any land seeker who I'm working with is to find the land they're interested in and contact the landowner. I then go with them and act as a third-party with more of an objective view. I can help steer conversation in the hopes that we'll have a land match. I can help clarify things. At first, it's just people getting to know each other and establishing trust.
JW: Tell us a little about your upbringing on a farm and how that shapes your outlook.
SD: I grew up on a mid-scale, conventional vegetable farm in Maine, which transitioned to organic in the mid-1990s. So, most definitely, growing up on a farm has shaped my opinions, ideas, and my biases. This is a world I grew up in. What I gained most from my upbringing was this real passion around land. I'm indebted to growing up in a conventional agricultural community and having experienced the transition to organic, and now I'm working in more of a local foods-oriented, small-scale ag world.
JW: Could you give us a story about a match you've helped to make?
SD: Lexie Baker is a beginning farmer who contacted me in early 2016. She wanted to find land where she could grow heirloom corn and legume varieties. She'd worked with a seed saver at Berea College and was passionate about it. But she was also practical about finding niche crops to grow profitably in a relatively saturated market. She gave me a business plan, and I could see that she was serious. She had spent a year experimenting and building up her knowledge. We also worked together on financing questions and markets. I connected her with a mill and bakeries interested in sourcing locally grown grain.
Flash forward to this fall: She signed a new lease with the landowner and expanded to a few more acres. That's a success in itself, not just maintaining but expanding. I also wrote her a letter of support for a grant to help with the expansion this year. The name of her farm is Dreamy Bean Farm. She's doing amazing things, and her website is excellent! It's really killer. Check it out. I'm very proud.