Jude Medeiros, Regional Vice President for Sodexo, will be speaking at the inaugural New York City Food Tank Summit, "Focusing on Food Loss and Food Waste," which will be held in partnership with Rethink Food Waste Through Economics and Data (ReFED) and with support from The Rockefeller Foundation and The Fink Family Foundation on September 13, 2017.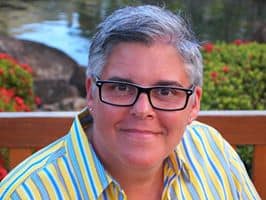 Medeiros leads a team of five District Managers dedicated to providing student well-being solutions and supporting student achievement, serving more than 60 school districts in California and Arizona. Jude is passionate about ensuring students receive quality meals in schools and are learning ways to make healthy, informed choices about the food they eat and the environment in which they live.
In her 15 years with Sodexo, Jude has been actively involved in and committed to professional development by mentoring others and helping address the diverse needs of the communities Sodexo serves. To that end, Jude is a Sodexo Stop Hunger Champion and sits on the Sodexo North America Executive Committee in the Office of Sustainability and Corporate Responsibility. A lifelong advocate for diversity and inclusion in the workplace, Jude also has held key positions within Sodexo Employee Business Resource Groups.
Jude was born and raised in New York and now calls San Francisco her home, where she and her wife Jean-Marie care for a colony of feral cats living in their backyard. Food Tank had the opportunity to talk to Jude about her efforts to be part of the solution to reducing food insecurity and food waste.
Food Tank (FT): What originally inspired you to get involved in your work?
Jude Medeiros (JM): Statistics and stories. I had the privilege of working with the Alameda County Food Bank in California, which exposed me to peoples' stories about food insecurity and the very specific ways we can change our systems to end it. And in my professional role, knowing how many children in California are food insecure vs. the amount of food wasted in the state each year pushed me to take action.
FT: What makes you continue to want to be involved in this kind of work?
JM: What's the old saying? If you're not part of the solution then you're part of the problem? It comes down to that. Once you know about how urgent ensuring that everyone has enough food—and healthy, nutritious options—is, it is hard to not want to be involved. And, working in schools, I get to help make sure that kids are raised with healthy food and education about how to feed themselves while being socially responsible about their actions. That's exciting stuff.
FT: Who inspired you as a kid?
JM: As a child, seeing my mother's love of cooking and eating, even though we didn't have a lot of money for any kind of extravagant foods, made me love cooking! She engaged me as her helper early on, and I was hooked! Her use of basic, clean, and fresh ingredients was—and continues to be—my frame of reference for good, nourishing food. Because of the example she set, I got my very first job at age 13 working a counter in a café, and I have served the public ever since.
FT: What do you see as the biggest opportunity to fix the food system?
JM: This is just the kind of challenge that people can solve, and helping them see how easy it can be and the huge impact it has inspires me to find ways to make that connection happen. This is something we can teach, we can make fun, and we can help people feel good about the role that they play. Even better, when you develop one new advocate for food sustainability, that new advocate can teach another person, who teaches another person. That's how you create sustained change.
FT: Can you share a story about a food hero who inspired you?
JM: Selina Juul, who is a Russian woman based in Denmark. She's an everyday person who saw what the impact of food waste means in very real tangible terms and decided to do something about it. She's worked with grocers and the government to help organizations change the way they do business in small ways that have big impacts, like utilizing 'imperfect' produce and selling single pieces of fruit so people only buy what they'll consume. It has also led to people starting to take responsibility and make better choices when they shop and dine. As a result, she's helped the country reduce food waste by 25 percent.
FT: What's the most pressing issue in food and agriculture that you'd like to see solved?
JM: I think it is eliminating food waste along the value chain. So much is lost between the time a seed is planted, for example, and the time that the fruit or vegetable makes it to consumers. How do we grow responsibly? How do we stop wasting 'imperfect' items? How do we ensure that food isn't being purged for the wrong reasons? How do we make people buy and use responsibly? The biggest part of our carbon footprint is our food purchases. If we could eliminate even a small percentage of waste, we could literally change the game. That is a huge focus for our company with Sodexo's Global CEO, Michelle Landel, signing on to the U.N. Sustainable Development Goal (Target 1,2,3).
FT: What is one small change every person can make in their daily lives to make a big difference?
JM: Here's the easiest one: Eat what you buy, and stop buying more than you'll eat. Really, changing the world can be that simple.
The NYC Food Tank Summit is now sold out. Register HERE to watch the livestream on Facebook. A few tickets remain for the Summit Dinner at Blue Hill Restaurant with a special menu from Chef Dan Barber. Apply to attend HERE. If you live in New York City, join us on September 14 for our FREE outdoor dance workout led by Broadway performers, called Garjana, featuring many great speakers raising awareness about food waste issues. Register HERE.