Gigi Lee Chang, Managing Director of FoodFutureCo, will be speaking at the inaugural New York City Food Tank Summit, "Focusing on Food Loss and Food Waste," which will be held in partnership with Rethink Food Waste Through Economics and Data (ReFED) and with support from The Rockefeller Foundation and The Fink Family Foundation on September 13, 2017.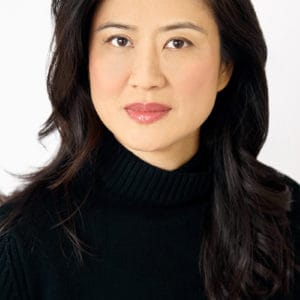 Chang is passionate about food and children and works as an advisor to both early stage companies as well as nonprofits in the food, health, wellness, and sustainability space. Chang founded of Plum Organics, was the CEO of the nonprofit Healthy Child Healthy World, and was an advisor to the nonprofit B LAb. Prior to founding Plum Organics, Chang was the Director of Strategic Planning & Integrated Marketing at Euro RSCG/Havas as part of the global brand team for Intel.
Chang is an advisor and board member to numerous early-stage food companies and the Managing Director of FoodFutureCo, an accelerator that helps grow companies that are making impacts across the food ecosystem.
Food Tank had the opportunity to talk with Gigi Lee Chang about opportunities in business to create a more sustainable society.
Food Tank (FT): What originally inspired you to get involved in your work?
Gigi Lee Chang (GLC): My journey in sustainability, specifically in food, began when I started my company Plum Organics in 2005 shortly after my son was born. I never looked back. The natural and organics industry has grown and evolved a lot these past 12 years and I am fortunate to have been able to work with entrepreneurs and companies innovating new solutions, products, and business models every day.
FT: What makes you continue to want to be involved in this kind of work?
GLC: Having come from the consumer packaged goods (CPG) side of the industry, I see how increasingly important it is to work further upstream. This is evidenced by the enormous number of companies focusing on all aspects of the value chain from food tech to agtech to marketplace solutions, etc. It's really inspiring!
FT: Who inspired you as a kid?
GLC: My grandmother was my inspiration when I was young. She was an orphan and a survivor. Having been part of a generation when women weren't allowed many options, she found ways to create opportunities for herself and her family.
FT: What do you see as the biggest opportunity to fix the food system?
GLC: One of the biggest opportunities to fix the food system is food waste. There are many different approaches to reclaiming, repurposing, and diverting food waste. Some are consumer facing, but I think there can be the biggest impact through industrial and business-to-business solutions.
FT: Can you share a story about a food hero who inspired you?
GLC: Robyn O'Brien of Allergy Kids Foundation is one of my food heroes. I admire how Robyn approaches the movement through research and facts as well as her ability to navigate the landscape and work with big food companies and innovative start-ups. She inspires us all to think deeply about the future of our food system and what it means for generations to come.
FT: What's the most pressing issue in food and agriculture that you'd like to see solved?
GLC: I believe food access is the most pressing food issue in America today. Despite the growing efforts put toward 'better for you' and sustainable food options, lower income and certain socio-economic groups still do not have access to higher quality, nutritious food. This is why solving food waste challenges is so critical.
FT: What is one small change every person can make in their daily lives to make a big difference?
GLC: Support companies that are practicing sustainability and transparency. Use the 'power of the purse' to make your purchases count. The more these companies succeed, the more the incumbents will take notice. Over time, these small changes will add up to big impacts.
The NYC Food Tank Summit is now sold out. Register HERE to watch the livestream on Facebook. A few tickets remain for the Summit Dinner at Blue Hill Restaurant with a special menu from Chef Dan Barber. Apply to attend HERE. If you live in New York City, join us on September 14 for our FREE outdoor dance workout led by Broadway performers called Garjana featuring many great speakers raising awareness about food waste issues. Register HERE.