The fifth New York African Restaurant Week (NYARW), a citywide urban festival to promote African cuisine and culture, will run from October 1 to October 21, 2017. With 75 events involving more than 25 restaurants throughout New York City, restaurants and chefs will create special menus reflecting cuisines and flavors from various parts of Africa.
"New York African Restaurant Week emerges from the culture of taste and seeks to expose both Africans in the Diaspora and those curious about exotic foods to the intricacies of African cuisine," according to NYARW, "African Restaurant Week is a movement, creating cultural dialogues that develop more understanding and bridge the social polarities of a diverse society like New York."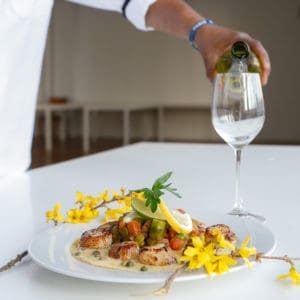 Launched in 2013, the objectives of NYARW are to promote African cuisine in the global culinary movement, foster communal and cultural ties in the Greater New York Metropolitan Area, support economic development and locally owned food businesses, and increase availability of and access to healthy food. Events are geared toward advancing the conversation between food and art, culture, community development, and entrepreneurship. They include chef-hosted dinners and visiting chef food tours, a brunch series, community initiatives, business pitch competitions, and cooking classes. The hallmark event, a food festival and pop-up market, is on Sunday, October 8, at Industry City in Brooklyn.
Food Tank had the opportunity to talk with several chefs participating in NYARW about what influences their cuisine and their commitment to sustainability.
Victor Bongo, Celebrity Chef and Author based in Vancouver, Canada
Food Tank (FT): What are the inspirations and traditions behind your cuisine?
Victor Bongo (VB): My inspiration comes from my love for cooking and the multitude of cultural and global influences from around the globe that I've studied and visited, cooking alongside great cooks and Chefs. I have a passion for global cuisine and found myself naturally blending these flavours, spices, herbs, and techniques with my unique cultural edge being African. Africa is my heart and soul and I always look to bring a touch of my country, the Congo, and culture to the plate. However, with my french culinary training I've learned to refine and balance flavor, ever-so subtly incorporating some of the most amazing offerings that our planet has to offer. I look to challenge my guests and satisfy their soul, not only their palate and their appetite. In the Congo, sharing food among family and friends is sacred and special. This is what I seek to create for my guests every time I cook.
FT: How do sustainability and nutrition influence your work?
VB: Sustainability and ethical cooking are so important. I come from a very poor country, so we make do with what we have. Waste and sustainability are very important to me in my menu planning. I am committed to Ocean Wise and source locally whenever possible. Nutrition is close to my heart, and I have worked diligently teaching young people about nutrition and obesity issues as a member of Super Chefs of the Universe, a nonprofit organization aimed at healthy eating for kids.
Ejhadji Cisse, Chef at Ponty Bistro in Harlem, NYC
FT: What are the inspirations and traditions behind your cuisine?
Ejhadji Cisse (EC): My influences growing up in Senegal are from the French style of cooking. Senegal was colonized by the French and many of the dishes are a fusion of French and African cooking. Having studied under world-renowned Chefs such as Daniel Boulud, I have continued in the tradition of French cooking techniques combined with the African traditions of savory spices and seasonings.  
FT: How do sustainability and nutrition influence your work?
EC: At Ponty Bistro, I understand that sustainability is a topic of increasing importance as our customers are more aware about food beyond what is sold at their local supermarket. Where was our food grown, and how did they grow it? Where did they grow it?
In Senegal, where I was born and raised, food is naturally and organically produced providing fresh, sustainable ingredients for the local people.
I hold on to those traditions of my childhood and try bringing this type of high-quality, nutritious food to my customers at Ponty Bistro. I understand that it is my duty to prepare fresh and nutritious dishes in all of my restaurants. While it is not always easy here in the U.S. to source high-quality, organic, and sustainable food, it is important that every day we make strides in order to do so. I believe food is life, and that in life, there needs to be a balance. In saying that, it is also important to know it is okay to sometimes indulge and enjoy foods, as well! This is what makes the restaurant experience an adventure for the palate.
The idea of sustainability and balancing nutrition can be challenging and not always cost effective for many restaurants, so it is an interesting topic amongst chefs and food industry people.
Charmain Sithappah, Chef at The Seasoned Pot in Brooklyn, NYC
FT: What are the inspirations and traditions behind your cuisine?
Charmain Sithappah (CS): I grew up in the very beautiful sub-tropical east coast of Kwa Zulu Natal. This luscious sugarcane belt and ancestral home of the Zulus also has the Indian ocean as a coastline. South Africa is a Rainbow Nation, so this region is predominantly populated by Zulus and Indians, who came as indentured laborers from India in the early 1800s. My passion and food inspirations came in my early childhood as I watched my mom and aunts. I followed the women around in our gardens planting and using all the ingredients that were available to them to make wonderful meals on outside wood stoves. If they missed an ingredient or spice, they knew that the neighbor's garden would have it, and we learned to barter and trade vegetables and meat so everyone got to share and enjoy.
I love that connection so much. Farmers' markets feel that way and I also enjoy knowing who they are and that they touched the soil. I was very blessed as my mom was born and grew up in the Cape, so she was an excellent cook and home farmer. I learned Cape Malay and Dutch (Afrikaans) cooking in addition to Indian, my traditional food, and Zulu and Xhosa dishes from my aunts and any person who was cooking. I was so intrigued that I had to taste, learn, and cook. I loved stories, picking wild herbs and flowers, berries for medical use. I still like to stay close to my roots. I have been cooking professionally for the past 14 years and cater to the South African Consulate General, United Nations, and many others specializing in our very traditional Zulu, Xhosa, Indian, Cape Malay, and Mozambique foods, the heart and soul of our rainbow nation.
FT: How do sustainability and nutrition influence your work?
CS: I believe we have more power than we think, so small changes to lifestyle are huge changes to our environment. This also starts with our family and our children—teaching, explaining, and experimenting, allowing them to explore local farms and markets and taste organic food. Brooklyn alone has urban farming and beehives to get involved in. I love to keep it simple. Less is still more in food, too. Local, local organic when possible; the closer to home, the richer in nutrition and freshness. Growing up in South Africa, everything was seasonal, even fishing. We knew what we would be fishing for, so seasonal produce is still my big selling point. Fruit, vegetables full of color—ripe, bursting with favors. I think as chefs, our priorities have shifted back to the beginning.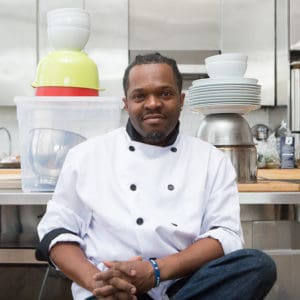 Serge Pambo, Chef at Pure Kitchen Culinary Concept in Washington, D.C.
FT: What are the inspirations and traditions behind your cuisine?
Serge Pambo (SP): My mother was my first teacher, she just did not know it. Then, after my father died, came my uncle, her baby brother. These two people really influenced my decision to be a chef. Africa is a place with a very old tradition of cooking that is either unknown or superficially known. I was born in Gabon, grew up in France, and now travel the world. My cooking style and my cuisine has always been French. These past two years, I've changed. I worked with a Korean  chef, and after 17 years I went back to Gabon to understand the cuisine, and fell in love with both. Today, the foundation of my cuisine is still French, but with a great Afro-Asian flair.
FT: How do sustainability and nutrition influence your work?
SP: The whole world is in a quest for better health, and food is one main key. Afro-cuisine has not yet reached its full potential. For us as chefs, it is very important to work a little more closely with natural elements. As farmers, nutritionists, grocery stores, and everyday people, we all are a part of that chain. Helping people to eat better and healing people, but also creating a healthier food environment for all of us. I really want to be a part of that movement. I want to be a chef who values his heritage in a healthy way to help others.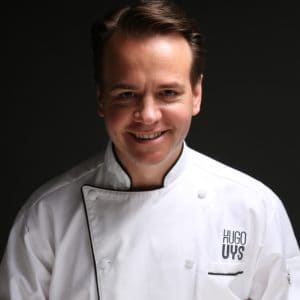 Hugo Uys, Chef, Entrepreneur, Consultant in NYC
FT: What are the inspirations and traditions behind your cuisine?
Hugo Uys (HU): My cuisine is dynamic. I'm constantly pushing myself to create food that celebrates the environment that I'm in, using fresh product that shows off the integrity and nuances of each ingredient. I was born and raised in South Africa—a cultural mixing pot thanks to its key location along the spice route—and have become enamored with crafting dishes that are bold, inventive, and, of course, packed with global flavors.
FT: How do sustainability and nutrition influence your work?
HU: I believe good food should taste good. Using ingredients that are in season and sustainably sourced not only impacts the flavors of each ingredient, but also its nutrition. I don't cook off menus or recipes, I cook by sight, smell, and touch, choosing ingredients that are ripe for the picking.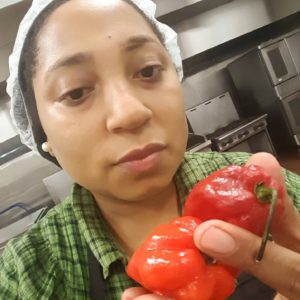 Bintou N'daw, Chef at Nafis in Harlem, NYC
FT: What are the inspirations and traditions behind your cuisine?
Bintou N'daw (BN): Nafis is a family owned and run business. Our family is from a mixed heritage, so we were raised with the influences of two continents: the highly respected French culinary world on the maternal side and the not so known bold Senegalese food from the Paternal side. We use french techniques in our African dishes and products while respecting the African tradition by always making sure we use bright colors and taking pride in the presentation and the packaging that we use.
FT: How do sustainability and nutrition influence your work?
BN: We have to be responsible for the earth. In Africa, we take only what we need. Waste is considered an insult, so every ingredient is used fully. From our town in Senegal to our village in France, we buy directly from local farmers and use only what is seasonal. There is almost no prepackaged food with preservatives or other chemicals added, so we cook three times a day.
Now that we are producing products in America, we are looking for this kind of relationship with food. Only premium ingredients, natural and safe for consumption for all.
Nadine Nelson, Chef at Global Local Gourmet (roving kitchen) in NYC
FT: What are the inspirations and traditions behind your cuisine?
Nadine Nelson (NN): Food is living. As owner of an interactive culinary event company, my mission is to use food as a catalyst to not only nourish our bellies, but also our hearts and our minds. I specialize in showing people how to combine global flavors with local ingredients and in the process help to translate culture and preventative cooking techniques that promote sustainability, wellness, and unity.
What has shaped me is being born of Jamaican Heritage in Toronto, Canada. Toronto is the most multicultural city in the world, having over 140 languages and dialects. Jamaica's motto is 'out of many, one people.' Thus, diversity and all that it has to offer has been central in my life. Jamaican food is a melange of cooking methods, distinctive tastes, ingredients, and spices from indigenous people (Tainos Tribe, Arawaks Tribe), African enslaved people, the Spanish, Irish, British, Chinese, Indian, German, Middle Eastern, and Jewish immigrants.
My family is also a mixture of cultures. Growing up in a heterogeneous apartment complex, my friends were from all over the world. I would hang out in kitchens and they could share their culture without me understanding their language. Food was able to translate love, community, and togetherness. I would attend Black History school. Most Torontonian Blacks were from the Caribbean and West Africa and the school taught the history and culture of the African continent.
Additionally, I grew up Seventh Day Adventist, where health and nature are central to faith. The only segment in North America to be part of the Blue Zone study on longevity practices, Seventh-day Adventists have a lower risk than other Americans of certain diseases, and many researchers hypothesize that this is due to dietary and other lifestyle habits. Many of them are vegetarian and vegan.
My mom kept it very traditional in her home cooking. She came to Canada and was a single parent, however she kept to her Jamaican heritage. My grandparents were farmers and my grandfather was also a fisherman, so [my mom] knew how to garden, cook, and eat nutritiously. I spent significant time in Jamaica during my holidays experiencing the agrarian life in my seaside ancestral home. I was not raised on processed food and continue that legacy with my students, clients, and, most importantly, my daughter.
Africa is not only the birthplace of mankind, it has a formative influence on cuisine all around the globe. African food plays a central role in the family and community life of all groups in the motherland. You can see the continent's influence through the West African dish Jollof, that has countries battling for whose is best. Originating from Senegal, made of broken rice, tomatoes, vegetables, and protein (usually fish), it serves as the basis of many variations around the world including the American Lowcountry Gullah Red Rice, New Orleans Jambalaya, Spanish Paella, and others.
I would say African-derived, Asian, Mediterranean, and Latin American foods have provided the most inspiration and tradition behind the way I approach my cuisine. I draw culinary creativity from these cuisines based on their health, people I had in my life, populations with which I have authentic interactions, and my interest of food cultural studies. I love all food and welcome opportunities to try any and all as a gourmet savant.
FT: How do sustainability and nutrition influence your work?
NN: I seek to use cooking as an impetus for wellness and bringing people together. I use my experience and travels to teach people how to cook and feel empowered in the kitchen. In the United States, only one third of the population knows how to cook and more than half of our food dollars are spent on other people preparing our meals. The de-skilling of our nation's cooks can be tied to the increase in obesity and diet-related disease, a degradation of local food communities, suspect working conditions, and environmental instability. The dire conditions of our food system are all interrelated.
Food waste is one of the most severe social, economic, and ecological pathologies among those facing our planet. According to the U.S. Department of Agriculture, we waste 40 percent of our food in the United States, or over 60 billion kilograms (133 billion pounds) of food annually. Nearly 1 billion people are dying of hunger or malnourished. The irony is there are more overweight and obese people than underweight or malnourished in the world. Perhaps the biggest problem with food waste in the United States is that most Americans are oblivious to it. This has always been irksome to me because as people starve, food is rotting in landfills.
As a person of color that had an environmentally conscious and highly nourished upbringing, I think it is important to share that knowledge of wellness in all communities, especially those that are most vulnerable. As white supremacy labels poor, black, and brown communities with unhelpful assertions, I showcase the food oases and assets—the community garden, the family that canned every summer, the neighbor that fished and shared with the block during weekly fish fries, the grandmother who has always made the family home bread. Our cultures have not failed us, we have deviated from them. How we eat determines our health. With our health being our wealth, I share secrets from different cultures on how they eat for longevity and quality of life.
Soul Food is an example of material culture and helps to signify the values, norms, and social conditions of a group. Soul Food is the spirit of foods from Africa and her Diaspora, bringing recipes to life by blending spices, stirring sauces, and building community through food. The cuisine of Africa uses a synthesis of locally available fruits, grains, vegetables, milk, and protein products.
I use the acronym SOUL Squared Lifestyle, which stands for Sustainable/Seasonal, Organic/Occasional, Unprocessed/Universal, and Local/Light, in regard to preparing and eating food and ways of living. These are the principals I try to infuse in my teaching for people to feel they can make modest changes in their diet and enhance the quality of their lives through the creation and consuming of healthy, wholesome, nutritious, traditional foods our ancestors grew and ate before the convenience of processed foods.
Food is an asset and needs to be safeguarded and repurposed just like any other recyclable. If more people can learn to garden and be mindful of waste like their foreparents, cooking traditionally and more often, and using food to bring us together and learn about the similarities we take for granted, our world would be the vibrant utopia it has the potential to be.
Through my events for New York African Restaurant Week, I seek to showcase the splendor and diversity in African cuisine. There is a Pan African cooking class, farm dinner, African-themed Oktoberfest, and high tea. As my cooking hero, culinary historian, and author Jessica B. Harris stated, 'Food traditions hold symbols and meaning that serve as a historical road map.' In Senegal, there is the tradition of 'Teranga' that translated in English means 'hospitality.' African cuisine and the way it is delivered welcomes all people by showing love through the plate and sharing tables with friends and strangers.
Food Tank is a sponsor of NYARW. For more details on the event, please visit their website. Tickets can be purchased online at eventbrite.