Edie Mukiibi is the Vice President of Slow Food International and Coordinator of Slow Food Uganda Activities. He works with farming communities and young people to revitalize traditional farming techniques and promote African biodiversity.
Slow Food International is a grassroots movement with chapters in over 160 countries that focuses on creating a world with full access to food that is good for consumers, good for those who grow it, and good for the planet. The Slow Food Philosophy is that food should be good (quality, flavorful, and nutritious), clean (sustainable production), and fair (affordable for consumers with fair conditions and pay for producers).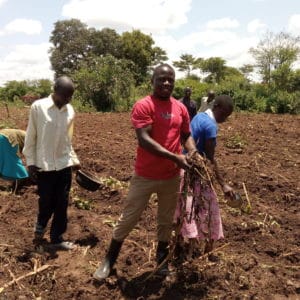 Mukiibi grew up in Uganda and is an agronomist. He developed and leads several initiatives including the Developing Innovations in School and Community Gardens (DISC) project and the 10,000 Gardens in Africa project. When appointed to his current position at Slow Food in 2014, Mukiibi said, "This is our time in Africa to promote our own food and gastronomy, to strengthen our traditional food systems and communities, and to defend our African biodiversity."
Food Tank had the opportunity to discuss African agriculture and biodiversity with Mukiibi.
Food Tank (FT): How have industrialized agricultural systems affected sub-Saharan Africa? You grew up in Uganda, do you see farmers shifting their practices to more commodity crops?
Edie Mukiibi (EM): The most common form of industrialized agriculture in sub-Saharan Africa is mono-crop plantation agriculture for crops like sugarcane, tea, palm oil, and biodiesel crops like soy and corn. This system has not only aided in land grabs from the people but also is to blame for the clearance of millions of hectares of forests and arable lands, which are the main sources of the rich African food biodiversity. On top of that, this creates a very fragile environment that solely depends on external inputs like chemicals and imported seeds, as well as imported skilled labor. In the end, the much-anticipated progress cited by corporations as these investments are being setup leads to a breakdown of communities and destruction of local economic independence systems. Sometimes people find jobs in these industrial agriculture establishments, but I must say they are not the best working conditions for the local people considering the health risks and violation of work, social, and occupational standards. The former landowners who used to choose what to grow or keep on their land, in the end, turn into laborers.  
FT: You have talked about how Africa is incredibly rich in food, but that very little of this food actually reaches consumers. Can you talk about what's needed to increase access and affordability of nutritious foods for Africans?  What are the major obstacles to food access and distribution and how can they be overcome?
EM: The greatest obstacle to food access and distribution is lack of political will by those in authority to do the right things for their people. Many African communities and families are striving day by day to grow nutritious, local, and traditional food for their families based on the local biodiversity available. However, the people with authority frustrate these legitimate efforts by dealing with a few corporations to enact laws and regulations that criminalize local seed and food systems for the sake of making profits. In most cases, the hunger and malnutrition looming in Africa are created out of political negligence and poor planning. This political problem, once coupled with declining traditional knowledge on food and nutrition, reduces food choices in all communities due to declining food biodiversity. The absence of properly managed subsidies to small-scale farmers and civil and political conflicts all make food access and the state of nutrition in Africa worse.
FT: Can you give an example or two of why local food traditions are important?
EM: Local food traditions are very important in ensuring sustainable diets and creating resilience to climate change in many different communities. One of Africa's most important traditional farming and food-producing systems is intercropping different varieties and species of plants together in a mixed stand. This tradition created what we call lean seasons and eliminates hungry seasons from communities. Throughout the year, the family or community will have a diversity of food and cash crops to feed on. The mixed intercropped system also creates a calm microclimate on the farm which is less affected by the changing climate.
FT: In the 10,000 Gardens in Africa project, Slow Food hopes to educate youth on the importance of food biodiversity while providing access to healthy, fresh food. How is the project changing communities and the food system in sub-Saharan Africa?
EM: The 10,000 Gardens in Africa project works to revive hope and return the power of food production to African communities. The project not only focuses on the production of fresh food and vegetables for African communities but is also a very important tool for learning about and preserving African food biodiversity, which differs from one geographical territory to another. The project is created and run by the Slow Food network in Africa but supported and facilitated by the global community that believes in Africa. The gardens are also emblems of resistance to the ongoing land grabs in most agricultural zones of our countries. Another important component of the gardens is rebuilding communities that were destroyed by the green revolution. This means preaching peace while sharing resources and ideas. The project is bringing African families and communities closer to each other, offering cross-generational knowledge and skills transfer to the younger generation.
FT: Can you discuss why your own work has focused on creating gardens at schools?
EM: Creating gardens in schools and communities is one of the most fulfilling things I have done. It comes from the fact that we need to realize our potential and comparative advantage. Every child deserves to know how and where their food comes from and, from this, respect can be given to farmers and other producers. This is the work I have done for the last 10 years, with great attention to the self-motivation of learners while making food production a joyful learning and ecological journey. I believe that we young Africans carry the greatest responsibility to ensure the sustainable development of our continent. Through simple activities like educating children in schools about the future of our food, we can help liberate Africa from the food and agriculture neo-colonialism currently being promoted by industrial agribusiness actors in the form of direct foreign investments.   
FT: Famine is once more a concern in several areas of Africa as food shortages, resulting from armed conflict and human displacement, worsen. How can the Slow Food movement address and help create resilience against these sorts of tragedies?
EM: The Slow Food Movement uses simple grass root initiatives to engage local, regional, and global complex solutions. We believe that solutions to food problems reside within the communities where we stay and the solutions are in the local resources we have. The realization of the value and relevance of local food biodiversity as well as the value of local knowledge should be the first step in eliminating hunger and famine from the different hotspots. The Slow Food communities world-over do not look for solutions from the global seed companies, neither do they look for solutions from the world's leading agrochemical companies. Rather, it employs the Slow Food Philosophy that values the local food systems, local knowledge on pest and disease management, and promotes traditional farming systems that do not create hungry seasons but respect and promote the existence of the traditional lean seasons that have existed in Africa for millennia. Hunger and famine are conditions that do not only mean the absence of food but also the absence of the production resources like land, seeds, and water, as well as the erosion of food-producing knowledge. That is why the Slow Food Movement's approach is a holistic one that re-roots people with biodiversity, promotes traditional knowledge systems, and defends the land, water resources, animal breeds, and seeds from speculators.