Moving up the value chain through processing
Dr. David Bergvinson is the Director General of the International Crops Research Institute for the Semi-Arid Tropics (ICRISAT), which conducts agricultural research for rural development in Asia and sub-Saharan Africa. Bergvinson has worked in international agriculture research for over 25 years and focuses on applying technology to improve lives and crops.
The original goal of ICRISAT was to improve food availability in drought-prone areas. More recently, this goal has shifted to include creating and sustaining rural livelihoods. The organization combines crop commodity research, including specialized breeding and integrated genetics, with natural resource management practices.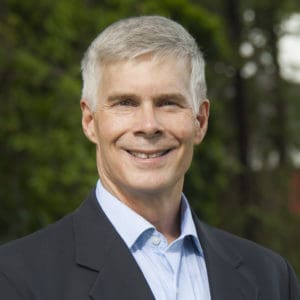 Bergvinson holds an M.S. in Pest Management and Forest Entomology and a Ph.D. in Biology. As a scientific researcher, he helped develop new varieties of maize and wheat that are more resistant to insect infestation and more productive. He joined the Bill & Melinda Gates Foundation in 2007, where he worked on the Agriculture Development team and led the Digital Design for Agriculture initiative developing digital tools for farmers. In January 2015, Bergvinson joined ICRISAT to lead its strategy development and build partnerships to translate science and apply digital technology to improve consumer nutrition and the lives of farmers.
Food Tank had the opportunity to discuss agricultural challenges and potential solutions in semi-arid tropical regions with Bergvinson.
Food Tank (FT): What are some of the challenges faced by farmers in the semi-arid tropics and how is ICRISAT working to overcome them?
David Bergvinson (DB): Dryland areas of the world face high levels of poverty, malnutrition, and environmental degradation. The challenges faced by farmers in the drylands of sub-Saharan Africa and Asia are many. Climate variability manifests in extreme weather events and shifts rainfall patterns (intensity, onset, and duration). Arable land loss and depleting soil nutrients on available land. Water stress as agriculture consumes over 70 percent of the available fresh water. Lack of access to improved seeds, fertilizers, farm equipment, and other essential inputs, such as extension services, to optimally use inputs to maximize profit and reduce risk. Lack of access to credit, insurance, and markets. Resource scarcity as farmers lack the means to invest in technology. High transaction costs due to information asymmetry. Lastly, agriculture is not attractive to youth—we urgently need to make the agrifood sector a viable business for women and youth.
ICRISAT works on multiple fronts using a holistic approach as shown in the diagram below:
We work along the continuum from the science of discovery to the science of delivery to improve the profitability and livelihood of farmers.
Genomics & biotechnology: Analysis of genetic variability in pearl millet has led to a better understanding of how it can survive temperatures above 42 degrees Celsius and its exceptional drought tolerance. A biotechnology breakthrough using Host-Induced Gene Silencing technology can make groundnuts resistant to aflatoxin.
Crop Improvement: Developing varieties with improved nutritional value (higher density of micronutrients and protein) and yields; early maturing varieties which can escape terminal droughts and fit into short fallow rotations with other crops; varieties which can withstand pest and disease attacks. Machine harvestable varieties are being developed to bring down input costs and decrease time and labor required for harvesting.
Soil Health Maps: Soil health maps at a regional or national level are a decision-support tool for policymakers and farmers alike by providing targeted fertilizer recommendations and balanced fertilizer application for sustainable intensification.
Improving water availability: Watershed management, on-farm water conservation through farm ponds, and building rainwater harvesting structures to conserve rainwater help provide water for irrigation during the dry season or when rains fail.
We are encouraging farmers to diversify by growing legumes in rotation or intercropped with cereals to improve soil fertility and yields and reduce fertilizer costs. There is a package of agronomic practices developed and disseminated to farmers to improve yield, control pest attacks, and conserve soil and water resources. Digital Agriculture tools, developed within ICRISAT's ihub ecosystem, are being deployed to provide scalable, low-cost solutions tailored to the specific needs of an individual farmer. ICRISAT's agribusiness incubator encourages and supports entrepreneurs to attract youth back to farming.
FT: ICRISAT focuses on the entire agricultural value chain. Why is this important instead of just focusing on production?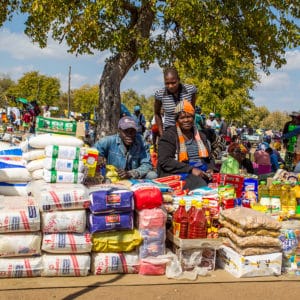 DB: ICRISAT works on dryland cereals (finger millet, pearl millet, and sorghum) and legumes (chickpea, pigeon pea, and groundnut) which have poorly developed value chains and weak markets. Farmers growing these crops face poorly structured value chains and markets that lead to high transaction costs and poor and unpredictable returns. As depicted in the diagram above, productivity improvements offer up to a 50 percent increase in incomes, while value addition and market integration can double farmers' incomes. This is also in line with the call from Indian Prime Minister Narendra Modi to double farmers' incomes by 2022. When farmers move up the value chain they are able to capture more value, which is currently cornered by intermediaries.
FT: How can digital technology improve the lives of smallholder farmers and consumers?
DB: Agriculture is a data-intensive enterprise when one considers soil variability, moisture and nutrient levels, rainfall variability, timing of key operations like planting and harvesting, and market price volatility. Digital Agriculture can help farmers manage these production and market risks through the application of spatial/temporal databases that are cloud-enabled and integrated through Application Programming Interfaces (APIs). This creates a rich and dynamic data ecosystem that enables advanced analytics to support and inform farmers of the best economic options to maximize profitability and minimize risk—two critical variables farmers in the drylands of sub-Saharan Africa and Asia would like to manage.
Smartphones are another key intervention as they are equipped with GPS to track where photos of field infestations or hail damage were taken for technical support or insurance claims. Mobile phones enable farmers to integrate into structured markets based on approved grades and standards that can be verified using calibrated photos and settlements made through mobile money. Digital technology will be key to increasing agriculture productivity by delivering tailored recommendations to farmers based on crop, planting date, variety sown, real-time localized observed weather, and projected market prices to optimize recommendations. These recommendations will be based on advanced big data analytics related to down-scaled daily observed weather that will soon be under 1 km x 1 km to feed into crop growth models to estimate yields, harvest date and potential pest and disease outbreaks, and optimize crop management measures.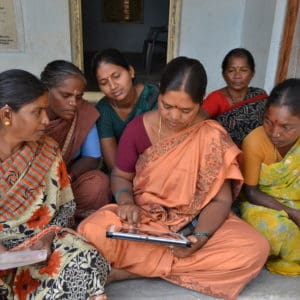 Remote sensing is another big data resource to support the development of derived weather products (radar), improved hydrology and watershed management, soil health, crop coverage, and crop health estimates among other applications. This is now complemented by Unmanned Aerial Vehicles (UAVs) that can capture multispectral, high-resolution images to assess crop health, damage, and yield far more accurately than satellites. The greatest impact of Digital Agriculture will be on democratization of market pricing and compressing transaction costs so farmers capture a higher portion of the produce's marketable value.
FT: How is climate change expected to affect agriculture in the semi-arid tropics and how can farmers adapt?
DB: Climate change affects agriculture in a number of ways. These include changes in day and night temperatures (including intensified heat waves or cold spells), changes in rainfall intensity, timing and duration, and changes in spatial and temporal distribution of pest and diseases. Resource-poor farmers of the drylands lack the ability to cope with and the resilience to recover from such climate-induced shocks. Efforts by ICRISAT and partners include creating climate-smart communities using different approaches (see diagram below) and using digital technology tools to provide an ecosystem of solutions ranging from optimal time to plant (Sowing app by Microsoft and aWhere) to pest and disease recognition and remedies (Plantix app) to market integration for which multiple solutions are available through ICRISAT ihub partners.
FT: A focus of international agriculture development is on providing cheap calories at the expense of a diverse, nutritious food supply. How can this system be improved?
DB: Consumers, companies, and governments are now beginning to realize the importance of diversity on farms as well as on the plate. ICRISAT is spearheading the Smart Food campaign, which aims to increase awareness about the importance of cereals like millets and sorghum for consumers, farmers, and the planet. As part of the campaign, we are working with food processors to incorporate millets in ready-to-eat snacks and foods such as breakfast cereals, malt drinks, etc. A Smart Food show aired on national television in Kenya that saw the viewership go up from 20,000 to 1 million by the end of the season. We are also working to declare 2018 as the International Year of Millets. This has found support at the highest levels, with the Agriculture Minister of the Government of India and stalwarts like Professor MS Swaminathan and Kofi Annan endorsing ICRISAT's call. At the policy level, we are working with policymakers in India to introduce millets in the school mid-day meal programme and the Integrated Child Development Scheme (ICDS), which provides supplementary nutrition for infants, pregnant women, and adolescent girls.
FT: How can smallholder agriculture compete with international companies?
DB: A win-win situation is for smallholder farmers to come together to set up Farmer Producer Organisations (FPOs) and move up the value chain to become reliable suppliers to national and international agribusiness companies. ICRISAT is already working with FPOs in the states of Andhra Pradesh and Telangana in India to facilitate this process. In Africa, ICRISAT is doing extensive work in connecting farmers' groups with large seed companies so that both parties benefit from a relationship based on principles of fairness and transparency. Farmers get a remunerative price while companies get quality seeds.  
FT: With increased urbanization and globalization, what do you think is the future of semi-arid tropical agriculture?
DB: The world population is expected to be over 9.2 billion by 2050 with more than 60 percent of them residing in urban areas. To feed the burgeoning population, smallholder agriculture will have to rise to the challenge. Agriculture in the drylands will need to produce more with less water through intensive watershed management and water use efficient irrigation systems to cultivate climate-smart crops that offer greater nutrition and resilience. Crops that use less water and are highly nutritious—such as millets (including sorghum)—should be promoted with appropriate policy support and consumer awareness that their food decisions in the grocery store are a vote towards sustainable food systems. Post-harvest losses will have to be reduced dramatically using efficient cold chains, local processing and storage and value chains, and consumer awareness raised on the true cost of food waste so we all live within the ecological boundaries of the planet.