Melony Edwards, Farm Manager at Willowood Farm of Ebey's Prairie, will be speaking at the Inaugural Seattle Food Tank Summit, "Growing Food Policy," which will be held in partnership with the Environmental Working Group, Food Action, Garden-Raised Bounty, the Natural Resources Defense Council, and Seattle University's Center for Environmental Justice and Sustainability on March 17, 2018.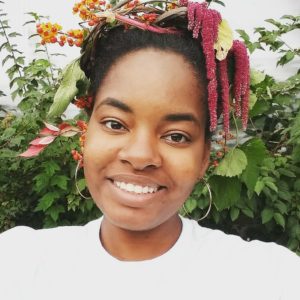 Melony Edwards is a first-generation farmer currently working as Farm Manager at Willowood Farm of Ebey's Prairie on Whidbey Island, north of Seattle. Bringing her unique perspective as a young, African American woman working on a small farm, Edwards started her food journey in the culinary and hospitality field. Driven by her personal love for food and insatiable curiosity, Edwards has worked in many different aspects of the culinary world, quickly climbing the industry ladder. Starting out as an intern in a four-star Seattle restaurant, Edwards has also worked on cruise ships, managed the ordering and event details for a division of Boeing's Eurest catering program, and worked at  Whole Foods Market. Since starting at Willowood Farm in 2016, Edwards immediately immersed herself in the small farming community she now calls home. She quickly rose through the ranks at Willowood, starting out as a field crew grunt hand, which lead her to her current farm management role. Edwards has been involved in local efforts to relaunch the Whidbey Island Grown brand, helping to promote Whidbey as a unique culinary and agricultural destination. In addition, Edwards is currently working on a program in collaboration with Finnriver Farm and Cidery and Port Townsend Land Trust to bring more young African American students interested in farming to local Pacific Northwest farms so they can experience farming and get their hands dirty.  
Edwards holds a degree in hospitality and restaurant management from Johnson & Wales University Miami as well as a degree in culinary arts from Le Cordon Bleu.  
Food Tank spoke with Edwards about her ongoing efforts to encourage young aspiring farmers:
Food Tank (FT): What originally inspired you to get involved in your work?
Melony Edwards (ME): I studied culinary arts and hospitality and have worked in fine dining restaurants and high-end hotels and cruise ships. I began wondering where our food comes from. When I was told our food was sourced from a major distributor, I wondered where they got the food from? Oftentimes as a culinary student and a new chef you are tasked with creating seasonal menus, but how can one understand seasonality without first-hand experience of growing food or raising animals for meat and then processing them?  I kept finding myself thinking, "How can I call myself a chef when I don't even know how to grow my own food?" And I began exploring that question. First, I signed up for local farm classes, then volunteered at local small farms, and eventually landed a full-season internship at Willowood Farm of Ebey's Prairie, a high volume mixed vegetable farm selling directly to some of Seattle's best restaurants. I remained at Willowood Farm of Ebey's Prairie and now work as the farm manager.
FT: How are you helping to build a better food system?
ME: I actually grow and produce food. I like to lead by example, and I have found that while there are more conversations about food and food systems, those conversations often lack the voices of real farmers who are typically more comfortable working in the field than attending food conferences and posting on social media. I help to bridge the gap for the farming community. Additionally, I am very passionate about educating my own Black American community about the need for healthy, well-grown food for our communities, and about the principle that working in agriculture is not demeaning, as perceived by many Black Americans. I want to bring pride in farming back to the Black American community because I know we have a lot to give and an unique history of agriculture and culinary food traditions.
FT: What's the most pressing issue in food and agriculture that you'd like to see solved?
ME: I see three distinct issues. The first issue is the lack of racial diversity in land ownership and access, particularly for Black Americans. Agricultural land is a great natural resource, and Black Americans simply do not have a seat at that table, especially when it comes to farmlands.  In the last few years, Black Americans have started to become a more powerful presence in the farming movement; however, that typically is in regards to urban farming. And while urban farming holds much promise, especially as an initial introduction to agriculture for many Black Americans, we need to reach beyond rooftop and alleyway plots for real agricultural lands with real yield potentials. Black Americans are almost completely excluded from purchasing land in rural areas, including in our communities. I would like to see more Black Americans purchasing agricultural lands, and more resources, and encouragement and discussion that can help them to do so. And clearly, this is double-sided because it has to start with us! Black Americans need to stop thinking that farming is slave work. Before we were slaves in this country, we were great agriculturists in our homelands. Not only that, we were brought unwillingly to this land, yet we were the ones getting sweaty and dirty. Who were the true farmers that created the great Southern agricultural tradition? It was my people. Now we simply need to do it on our own terms, with our own lands. As Malcolm X said, "Revolution is based on land. Land is the basis of all independence. Land is the basis of freedom, justice, and equality."
The second issue is the concept that food needs to be cheaper. And this is a sentiment that seems to cross all racial boundaries.  As a real working farmer, I quickly learned that farming isn't about being rich. One of my farming mentors likes to say, "You don't farm to make a million dollars.  You farm because you find you cannot, not farm. Once you admit that, well then you figure out how to make it pay the bills." Whole, unprocessed food grown on farms and sold directly at farmers markets is usually sold at a fair price.  However, processed food is sold at an unbelievably low price due to farm subsidies. When a burger and fries from McDonalds cost less than a pound of broccoli, something is broken in our system. We need to stop underwriting the costs of cheap food that is harming our health, our agricultural communities, and our environment on so many levels, and we need to encourage a shift to fairly priced food.  With that said, it will not be an easy conversion to have, and this sort of change will take time. We need to find ways to make good, healthy food accessible for lower-income communities. Oftentimes, the very farmers growing our food can't afford to buy it.
The third issue is the notion that one farming practice is better than another farming practice: Conventional vs. Organic vs. Permaculture vs. Veganic vs. Bio-dynamic vs. Tilling vs. No-Till — the list goes on.  There is no one right way to farm. But there is one truth, when farms and farmlands are in the hands of their owners, rather than giant international corporate farms, they are inherently invested in creating sustainable farming systems and practices that foster good stewardship of their lands. We need to shift the conversation away from what is the latest trending on twitter farming movement and talk more about the basics of sustainable practices, ensuring that the land can keep being farmed by farmers that can afford to keep farming.
FT: What innovations in food and agriculture are you most excited about?
ME: This may not be innovative, but I really love the growing involvement of chefs and their demand to know where their food comes from. Many chefs have started going out to the farm to meet farmers and are actively engaging in the farming process. Impassioned chefs leading the farm-to-table movement can bring awareness and understanding to a larger audience more easily than most farmers can. And when those chefs serve local food, it can have a huge impact on those small farms they are purchasing from.
FT: What is one small change every person can make in their daily lives to make a big difference?
ME: I honestly think that all people need to go and volunteer on a farm! I think that this would help more people understand how difficult it is to grow food and perhaps help them understand why an heirloom tomato is sold for US$5 a pound at the Farmers Market.
FT: What is the best opportunity for young or aspiring farmers and entrepreneurs to get a foothold in America's agricultural future?
ME: Getting your foot in the door can be challenging as there is a highly romanticized notion about farming and sometimes people do not realize how hard the work is. Internet warriors may know how to post about and frame their experiences, but they don't know how to actually weed the onions. I think the best thing you can do is participate in a full season internship with a farm and learn as much as you can with an open mind. It definitely helps to stay for multiple seasons with the same farm if possible; being involved from seed to harvest is so beneficial. A great resource to find paid internships is ATTRA and Good Food Jobs.  I think anybody with even a perfunctory interest in any aspect of food would benefit highly from this. I would also definitely encourage aspiring farmers to attend either a farm school like the Organic Farm School on Whidbey Island or incubator programs like Viva Farms or Tilth Alliance's Farm Business Incubator.
FT: How can we best stimulate young people's curiosity about food and agriculture and encourage their participation in building healthier food systems?
ME: Start them young! Get their hands dirty! In your region, consider purchasing seasonally. Look up your area's food seasonality, go to your farmers market, and buy what is in season. Then go home and create a meal with only the seasonal ingredients. Be willing to seek out new experiences and new tastes, and the kids will follow suit (even if they protest a lot at first!). The two tweens on my farm know what a kohlrabi looks like. How many of you knew what a kohlrabi looked like when you were 10? Those are little things, but over a lifetime will make a huge difference.
Food Tank's 2018 Seattle Food Tank Summit is SOLD OUT! Please join us via livestream on our Facebook Page or FoodTank.com.