Dr. Cristina Tirado-von der Pahlen, DVM, PhD works at the interface between science and policy related to food, health, climate change and sustainable development with the UN, universities, governments, and NGOs worldwide.
Dr. Tirado is the Faculty at the Environmental Sciences Program at Loyola Marymount University (LMU) Los Angeles and Director of International Climate Initiatives at the LMU Center for Urban Resilience and serves as policy adviser for several UN organizations. She is a lead author of the International Panel of Climate Change 6th Assessment Report Health Chapter, moderates the UN Standing Committee on Nutrition's group on Climate Change and Nutrition, and is member of the International Union of Nutritional Sciences Task Force on Climate and Nutrition. She is a chapter author of the groundbreaking Economics of Ecosystems and Biodiversity for Agriculture and Food (TEEBAgriFood) report on how to evaluate our agriculture and food systems while considering a range of social, human, and environmental dimensions across the value chain. Her chapter in the TEEB Food report is focused on social equity, ethics, and justice as the missing links in eco-agri-food systems.
Food Tank had the opportunity to talk to Dr. Cristina Tirado about the lack of social values in the food system and TEEBAgriFood's role in solving complex, cross-sectoral issues.
Food Tank: What is the most interesting thing you learned from working with TEEBAgriFood?
Cristina Tirado (CT): I found out that there is real interest from different stakeholders, including economists, environmentalists, and farmers, in addressing the externalities of the food system related to health, social equity, social justice, and ethics.
FT: What is the most significant unintended consequence of our current food system that policymakers, funders, and donors ignore?
CT: There are many significant unintended consequences of our current food system that policymakers, funders, and donors usually ignore. The most significant are the impacts of the food system on social equity, social and environmental justice, ethics, and health equity. Globally, human rights, land rights, labor rights, gender equality, and health inequalities are often ignored, most often due to lack of awareness. There is limited information and understanding of global and local issues related to occupational health, environmental justice, waste, and health inequality outcomes in the eco-agri-food sector. There are also ethical dilemmas, such as the use of new, emerging technologies in the food system, issues related to corporation's seeds and patents, animal welfare and animal rights, and increasing meat consumption in high-income countries.
FT: Why is it important to incorporate social equity into an evaluation of the global food system?
CT: Social equity, social justice, and ethical considerations should be fundamental values underlying equitable and sustainable food systems. It is  critical to incorporate them into the framework for the evaluation of the global food system.
FT: What are the metrics for measuring social equity in the eco-agri-food system?
CT: Considering the multi-dimensional aspects of social equity, justice, and ethics related to food systems, evaluating  these outcomes is critical to achieving equitable eco-agri-food systems. In this context, there are many indicators and corresponding metrics for measuring social equity in the eco-agri-food system including income , labor rights, land rights, access to resources and to healthy food.
FT: How can the TEEBAgriFood report improve social equity in the global food system?
CT: It provides a conceptual framework for the analysis of the main social equity and social justice issues that could be impacted through different activities related to the food system such as production, processing, distribution, access, retailing, marketing, consumption, and waste management. TEEBAgriFood includes a discussion of selected ethical dilemmas in the social equity and eco-agri-food systems' context and presents policy options that could contribute to the promotion of more equitable global food systems.
FT: What do you want people to know most about the TEEBAgriFood report?
CT: The TEEBAgriFood report can be used to evaluate food systems in a comprehensive manner to address on-farm production functions and  other critical externalities of the food system related to the impacts on human health, social equity, social justice, and ethical issues.
Click HERE to download the TEEBAgriFood Report!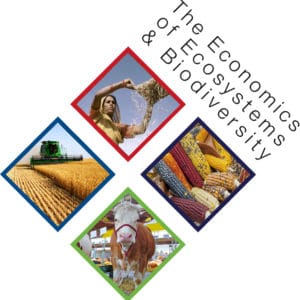 The goal of TEEBAgriFood is to more comprehensively determine the costs, benefits, and dependencies of agriculture and food production. What makes some produce less expensive in most supermarkets is in part the use of cheap—often subsidized—fertilizers and pesticides, but that retail price does not take into account hidden costs like environmental damage from runoff or human impacts on health and livelihood. Conversely, these prices do not recognize the positive benefits created by more sustainable forms of agriculture. To ensure the sustainability of agriculture and food systems, an important step is to account for the side effects, or externalities, through market mechanisms. TEEBAgriFood is creating a framework for looking at all the impacts of the 'eco-agri-food' value chain, from farm to fork to disposal, including effects on livelihoods, the environment, and health. This can help farmers, decision makers, and businesses more explicitly look at the impacts of different practices and policies.