Carina Millstone, the Executive Director of Feedback, will be speaking at the inaugural New York City Food Tank Summit, "Focusing on Food Loss and Food Waste," which will be held in partnership with Rethink Food Waste Through Economics and Data (ReFED) and with support from The Rockefeller Foundation and The Fink Family Foundation on September 13, 2017.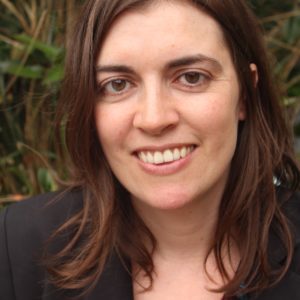 Millstone worked as a sustainability consultant for Environmental Resources Management before realizing that this wasn't how she felt the planetary ecological crisis would be solved. She has since worked with many system change campaigning and movement building organizations, including Changing Markets in the United Kingdom and the New Economy Coalition in the United States.
A permaculturalist, Millstone founded The Orchard Project, a charity working with community groups in cities across the U.K. to plant and nurture community orchards in public urban spaces. Millstone has also conducted research into systemic change for sustainability as a Visiting Research Fellow of the Global Development and Environment Institute at Tufts University and as a Research Fellow of the Schumacher Institute. Her book, Frugal Value: Designing Business for a Crowded Planet (Routledge, 2017), provides a blueprint for organizations in an ecologically viable system of production and consumption.
Food Tank spoke to Millstone about the impact of her decision to leave the private sector and work towards creating a more resilient food system.
Food Tank (FT): What originally inspired you to get involved in your work?
Carina Millstone (CM): I worked as a sustainability consultant for a British supermarket, tasked with improving the sustainability of fruit supply chains. I realized that a sustainable food system would not be achieved within our current economic system, and decided to leave the private sector to start my own community orchard project.
FT: What makes you continue to want to be involved in this kind of work?
CM: All Intergovernmental Panel on Climate Change (IPCC) projections point to widespread disruption to food security within our lifetime: if we want to avoid human suffering on an untold scale, it is imperative that we move toward a more resilient food system, which requires less energy and petrochemical inputs.
FT: Who inspired you as a kid?
CM: Doctors without Borders—they still do.
FT: What do you see as the biggest opportunity to fix the food system?
CM: The avoidance of food waste, and its repurposing in the form of animal feed or nutrient for soils, are immediate and impactful ways to shrink the dangerous encroachment of the food system on its planetary host.
FT: Can you share a story about a food hero who inspired you?
CM: Martin Crawford is an agroforestry pioneer, in Totnes, UK. He has a mature forest garden in which all crops are edible or support the functioning of the system. He feeds his family and friends from this forest garden, with minimal work other than harvesting.
FT: What's the most pressing issue in food and agriculture that you'd like to see solved?
CM: Sustainability in the food system will not be achieved with the concentration of power that we see today, with a handful of multinational agribusiness and food processing companies controlling seeds, fertilizers, the supply chain, and shaping diets. The question of who owns our food production and distribution must be resolved urgently for a secure, sustainable, and fair food system.
FT: What is one small change every person can make in their daily lives to make a big difference?
CM: Try and reduce consumption of red meat and lamb.
The NYC Food Tank Summit is now sold out. Register HERE to watch the livestream on Facebook. A few tickets remain for the Summit Dinner at Blue Hill Restaurant with a special menu from Chef Dan Barber. Apply to attend HERE. If you live in New York City, join us on September 14 for our FREE outdoor dance workout led by Broadway performers, called Garjana, featuring many great speakers raising awareness about food waste issues. Register HERE.