Jennifer Schmidt, sustainable farmer and community leader, will be speaking at the Washington, D.C. Food Tank Summit titled, "Cultivating the Next Generation of Young Food Leaders,"  held in partnership with The George Washington University, The World Resources Institute, the National Farmers Union, the National FFA Organization, and the National Young Farmers Coalition on February 28, 2018.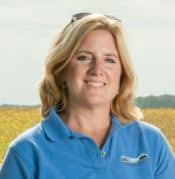 Jennie Schmidt wears many hats within the agriculture industry as a farmer and volunteer with numerous organizations within her community. At her family farm, Schmidt Farms Inc., Jennie assists with the daily operations of a 2,000-acre, third-generation diversified family farm; growing corn, soybeans, wheat, barley, vegetables, and grapes. Schmidt holds numerous leadership roles in community organizations, proudly serving as the first female president of the Maryland Grain Producers Utilization Board, the National Barley Association, the Global Farmers Network, and is active in her local church, 4H, and local food pantry.
Food Tank spoke with Schmidt about her work to promote sustainable solutions on her family farm:
Food Tank (FT): What originally inspired you to get involved in your work?
Jennifer Schmidt (JS): I'm a non-farm girl who married a farmer. When our children were born, I continued working as a Registered Dietitian part-time and helped out on the farm where I was needed. As I spent more and more time working on the farm, I realized that I loved the work I was doing and the life it provided our family more than I loved working in clinical dietetics at a hospital. I made myself indispensable on the farm, learning to do every job and drive every piece of equipment. I left the world of dietetics and applied my scientific training to plant and soil nutrition.
FT: How are you helping to build a better food system?
JS: We farm in one of the most sensitive watersheds in the country, the Chesapeake Bay. We practice synergistic farming, meaning we use best management practices from a variety of farming systems, combining conventional, biotech, and organic practices to build healthy soils and move our farm along the sustainability continuum. We implement precision technology as part of that equation, allowing us to use fewer natural resources, reduce our impact, and improve our soils for the next generation. There is no one cookie cutter model that defines sustainability. Instead, it is important to use the best tools for different soil types and growing regions that lend themselves to sustainable farming.
FT: What's the most pressing issue in food and agriculture that you'd like to see solved?
JS: Climate change will be the most pressing issue going forward in agriculture, and changing how and where food is grown will have large-scale effects. Climate change will also create a new need for technology to continue to produce sufficient, safe, and nutritious food.
FT: What innovations in food and agriculture are you most excited about?
JS: I am most excited about new technology in agriculture that allows us to farm more sustainably, reduce resources and inputs, and put more conservation on the ground.
FT: What is one small change every person can make in their daily lives to make a big difference?
JS: Every person can work to reduce food waste.
FT: What is the best opportunity for young or aspiring farmers and entrepreneurs to get a foothold in America's agricultural future?
JS: Aspiring farmers should go to college, study agriculture, and find a mentor. Farming isn't an easy field to enter nor an easy career. The more training and knowledge you have as a foundation, the more likely you are to find a farmer willing to take you on and give you a chance.
FT: How can we best stimulate young people's curiosity about food and agriculture and encourage their participation in building healthier food systems?
JS: My best experiences have always been through giving farm tours. Having young people actually step foot on the farm breaks down barriers and preconceived notions about what farmers do or do not do on their farms. Most often they say, "I had no idea," when I explain our family farm and how we have worked to build a sustainable business to pass on to our children.