Mara Fleishman, CEO of the Chef Ann Foundation, will be speaking at the 4th Annual Washington D.C. Food Tank Summit, "Cultivating the Next Generation of Young Food Leaders," which will be held in partnership with George Washington University, World Resources Institute, the National Farmers Union, Future Farmers of America, and the National Young Farmers Coalition on February 28, 2018.
In 2001, Fleishman turned her passion for healthy and sustainable food into a career, leading the marketing efforts for Whole Foods Market on the East Coast of the United States and in Europe. For nearly six years, she worked to raise awareness of the importance of eating fresh, healthy food. After moving to Boulder, CO, Mara joined her kindergartener for lunch at school one day. Shocked by the highly processed, high-sugar lunch that she and her daughter were served, she began her crusade to reform school food. Mara worked with a small group of concerned parents and administrators to change their local school food program. Simultaneously, she worked on Whole Foods Market's first national initiative to support school food reform in her role as Global Director of Partnerships.
In 2013, Fleishman left her position with Whole Foods Market to work on school food reform in a full-time capacity as CEO of the Chef Ann Foundation. With three kids aged 7–16, Mara brings a parent's awareness to her work and writes about school food through that lens. Her current and archived blog posts are available on The Lunch Line. In all, Fleishman has nearly 20 years of experience working in the natural products industry and is dedicated to educating people about the benefits of healthy food and sustainable business practices.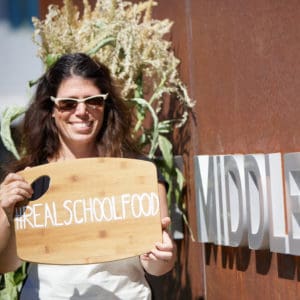 Food Tank had the opportunity to speak with Mara about her work, her inspiration, and her vision for school food in America.
Food Tank (FT): What originally inspired you to get involved in your work?
Mara Fleishman (MF): In 2006, I moved from Boston, MA, to Boulder, CO. I went to school lunch with my then kindergartner, who is now 16 years old. My daughter was in a class of 30 kids and had one teacher; the majority of the class were boys, and it was a pretty rowdy group. When I went to lunch with my daughter, the school was serving processed french toast sticks and pears in sugar-sweetened water. I thought, "How in the heck is one teacher going to teach these kids after lunch with this much sugar?" I knew I could always send my child to school with a healthy lunch, but what about the kids on free- and reduced-price lunch who didn't have a choice? The social justice piece hit me hard, and I have been involved in school food reform ever since.
FT: How are you helping to build a better food system?
MF: At the Chef Ann Foundation, we help schools move from processed heat-and-serve models to cook-from-scratch programs. In addition to the health benefits for kids from getting freshly cooked meals made with whole ingredients, there is a huge food systems benefit. Helping schools cook from scratch allows them control over ingredient purchases and enables them to use their limited food dollars more strategically; at times, it also enables them to purchase local, cleaner, and more sustainable ingredients. With 30 million school lunches served every day in America, moving the needle on school food can make a huge impact in food systems work.
FT: What's the most pressing issue in food and agriculture that you'd like to see solved?
MF: In my world of school food, one of the biggest pieces of the food systems puzzle is supporting schools in purchasing locally. In addition to providing training and support to help schools move to cook-from-scratch programs, we also need states to consider supporting schools ability to purchase locally through state-based subsidies. There is a handful of states that are already supporting local school purchases with state-based reimbursement; we need more research to look at the economic and environmental benefits for states that support this type of subsidy.
FT: What innovations in food and agriculture are you most excited about?
MF: I think that freight container growing and other forms of high-density/low-impact growing are really exciting when looking at year-round produce options for low-access areas.
FT: What is one small change every person can make in their daily lives to make a big difference?
MF: Replace one animal protein meal per week with a plant-based protein meal.
FT: What is the best opportunity for young or aspiring farmers and entrepreneurs to get a foothold in America's agricultural future?
MF: Get politically active! Help change the legislation. The Farm Bill is coming up this summer, and we need to spread some of the traditional subsidies around a bit. We need those dollars to go to smaller, more diverse crop farms to help support small farmers and help make healthier produce more affordable.
FT: How can we best stimulate young people's curiosity about food and agriculture and encourage their participation in building healthier food systems?
MF: Food and nutrition need to be mandated parts of the curriculum from kindergarten through 12th grade. Kids will eat three meals per day for the rest of their lives, and what they eat at those meals will determine their ability to thrive and meet their true potential. Kids need to be educated. We need to make the lunch rooms in schools learning environments. The lunch room is the only room in school where no learning occurs, except for the bathroom. Imagine if school food departments were responsible for more than filling bellies. Imagine if they were responsible for setting the foundation for a lifetime of health through food knowledge and experience.
The D.C. Food Tank Summit is SOLD OUT but tickets remain for our next two Summits. Register HERE for the Seattle Food Tank Summit, Growing Food Policy on March 17. Register HERE for the Boston Food Tank Summit, Exploring the Paradox of Hunger and Obesity on April 19. These events will sell out – register today!