Ross Duffield is the Farm Manager at the Rodale Institute, an independent research institute for organic farming. He helps aspiring and transitioning farmers by drawing on more than 20 years of farming experience and a background in teaching.
The Rodale Institute was founded in 1947 in Kutztown, PA by J.I. Rodale. Inspired by the nitrogen fertilizer shortages during World War II, Rodale wanted to develop practical methods of rebuilding soil fertility. Today, the institute focuses particularly on compost, soil health, weed and pest management, livestock operations, organic certification, wastewater treatment, and climate change. It is home to the longest running comparative study of organic and chemical agriculture, started in 1981.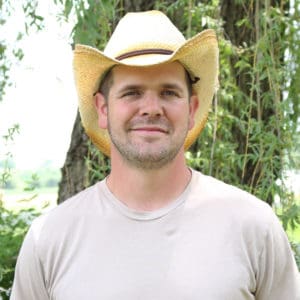 Duffield grew up on a dairy farm and temporarily pursued teaching before returning to organic agriculture. In 2013, he joined the Rodale Institute, where he is responsible for field and equipment maintenance, and expanding livestock operations. Duffield has been particularly involved in the vertical integration of poultry and hog operations into crop rotations and the construction and operation of a new hog facility.
Food Tank had the opportunity to discuss organic farming practices with Ross Duffield.
Food Tank (FT): Eliminating the use of chemicals presents a variety of problems for farmers. What are some of those issues and how do you solve them?
Ross Duffield (RD): Some of the issues are weeds, limited tillage, and the idea that yield is the true determining factor of farming success.
Weeds are always an issue whether it is a conventional farm or an organic farm. Limiting tillage and using cover crops are great ways to reduce weeds over time. Diversifying a crop rotation using a combination of cover crops, row crops, small grains, hay/grass, and incorporating livestock into the systems are great ways to combat weeds taking over as well as improving the health of the soil. We as farmers should be good stewards of the planet and improving the soil over time should be the way we look at farming practices. Yield does not tell the whole story because massive inputs can increase yields but may not benefit the health of the soil.
FT: RI recently started a hemp project to explore its use as a cover and cash crop. How successful is this project so far and what obstacles does it face for broad application?
RD: The hemp project has been successful firstly since we were able to plan it and harvest it legally in PA. You can find more information on this here, here, and here.
FT: What is different about the new hog facility at RI?
RD: Our hog facility is a blend of several management techniques. We use confinement feeding and handling systems to manage our hogs, reducing labor and costs over time. The straw bedding system allows for animal comfort and clean-living conditions which we then can remove and compost and in turn allow us to add fertility to our soils. Our pasture system allows hogs to do what they naturally enjoy while at the same time reducing cost by supplementing feed. We are able to rotationally graze the hogs and limit the destruction they can have on the landscape by cover cropping and managing their grazing.
FT: What do you think is the future of farming?
RD: Not hydroponic. More organic farms will be on the landscape due to the fact that so many landowners will be passing their land to new family or farmers nationwide.