Congressman Earl Blumenauer has devoted his entire career to public service and will be speaking at the Seattle Food Tank Summit titled, "Growing Food Policy," which will be held in partnership with the Environmental Working Group, Food Action, Garden-Raised Bounty (GRuB), the Natural Resources Defense Council, and Seattle University's Center for Environmental Justice and Sustainability on March 17, 2018.
Through his years as a local official in the Oregon Legislature, Multnomah County Commission, and on Portland's City Council, Blumenauer developed a national reputation for his advocacy on public transportation, land use planning, protection of the environment, and school funding.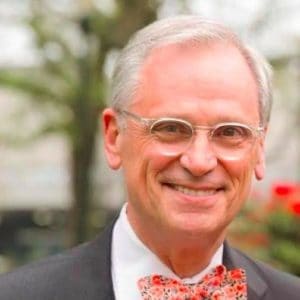 In Congress, he has focused his efforts on making the federal government an effective partner in improving and sustaining the health of the nation's land, water, and communities. Blumenauer is committed to reforming agriculture policy to improve access to safe, healthy food for all communities, protecting farmland, and increasing market opportunities for family farmers.
Blumenauer has authored a report, Growing Opportunities, that details needed reforms of the federal Farm Bill. Additionally, he has also sponsored and co-sponsored several pieces of legislation, including The Food and Farm Act, that would reduce spending and focus resources on those who need it the most, foster innovation, encourage sound conservation practices, and ensure access to healthy foods.
Food Tank spoke with Congressman Blumenauer on the ways food policy can create an equitable food system that supports small farmers, improves the environment, and increases access to food.
Food Tank (FT):  What originally inspired you to get involved in your work?
Earl Blumenauer (EB): Food and farm policy touches us all. There is no area more fundamental to the health and wellbeing of the country, nor where the path forward is more clear. Everyone is affected by how federal resources are distributed to support farmers, the environment, and communities. As such, we need cost-effective spending that maximizes taxpayer dollars on programs that actually work. Everyone should have a seat at the table when it comes to our food and farm policy. These policies have the power to bring people together in a truly bipartisan way. I have always been passionate about legislation that supports small and beginning farmers, encourages food systems that provide everyone access to healthy food, and fosters innovation in agricultural operations. By getting the federal food and farm policy equation right, we can touch people's lives every day at home, restore the environment, improve water quality, promote health, and advance equity.
FT: How are you helping to build a better food system?
EB: I have been involved with food and farm policy since I first arrived in Congress. It was immediately apparent to me that our current system is flawed, and that we needed to find a way to harness a growing interest in and passion for reform. After years of work behind the scenes, I determined that to make real change, we needed to widen the range of people involved, expand the issues under discussion, and put forward a vision for an alternative policy.
Since 2015, I have been meeting with a wide variety of stakeholders in Oregon and across the country, from nutrition advocates to farmers and ranchers to conservationists; all people who have a stake in the federal Farm Bill. I presented my concepts for reform to thousands of people, then synthesized their feedback into a report with legislation that reflects what a Farm Bill would look like to meet the needs in Oregon. This effort has united unlikely allies, from fiscal hawks to food and agricultural policy experts, to environmentalists and animal welfare advocates, and many others necessary to achieve reform of the Farm Bill. It is one of my top legislative priorities and one of my most important political objectives. I am committed to carrying this message around the country, further uniting and amplifying these voices.
FT: What's the most pressing issue in food and agriculture that you'd like to see solved?
EB: Our food and farm system rests upon an inequitable allocation of resources. Currently, we pay too much for the wrong people to grow the wrong crops in the wrong places, often the wrong way. We shortchange communities in need of access to healthy food and agriculture opportunities. We don't do enough to provide incentives for people to take risks to make their operations more sustainable, or to innovate, betting on performance. We subsidize manufactured food at the expense of fruits and vegetables. We lavish resources on large agri-businesses that don't need them, while family farms and ranches, and beginning and underserved farmers, get crumbs. Instead, they should receive more support to get started, advance environmental stewardship, and build agricultural infrastructure so that they can thrive and serve as a strong counterpoint to Big Food.
FT: What innovations in food and agriculture are you most excited about?
EB: I'm particularly excited by the grassroots energy and organization that has led to new programs and projects in Oregon to remedy this deep imbalance. These are projects that help connect farmers in both urban and rural areas with communities in need of better access to healthy food. There are exciting training programs and capacity building for farmers of color and other underserved populations. There is real progress being made to be lighter on our farmland while maximizing productivity – without adversely impacting the environment – through technology and environmental best practices. This new energy gives me hope for the future.
FT: What is one small change every person can make in their daily lives to make a big difference?
EB: People can focus on what their food is, where their food comes from, and buying local products to support entrepreneurs. This action alone can make a huge difference in communities, provide certainty for food businesses, and help nurture local and regional food systems and their grassroots organizers. It would be nice if our overseas aid would employ the same principle. We can strengthen local food systems in areas in need rather than undercutting local production with cheap, heavily subsidized American food.
FT: How can we make food policy more relevant to eaters so that the politicians representing them feel a mandate to act?
EB: This is already starting to happen! Keep in mind, I'm from Portland, where it's not uncommon for chefs to partner with local farms to showcase seasonal produce, or to hear diners asking how humanely their chicken dinner was raised. We need more programs and projects that support and draw attention to how our food is produced, the resources involved, and the farming and ranching communities that are responsible. Every bite has a story and an impact on families, the environment, and our farmers. We need to be talking about these connections and involving more people – and broader coalitions – in the push for a more visionary, equitable, and cost-effective food and farm policy. Politicians will pay attention to what their constituents care about when it comes to food.
FT: What policy areas or ideas would you like to see an increased focus on as the 2018 Farm Bill negotiations kick off?
EB: My Food and Farm Act (H.R. 4425) is full of ideas that I have heard from stakeholders across the country that, if implemented, would fundamentally shift our food and farm policies. It resets spending priorities, promotes healthy food and more equitable access to agricultural opportunities, and provides innovative, performance-based solutions to environmental challenges. Combining my Food and Farm Act with several other bills, such as the Farm to School Act (H.R. 3687), Healthy Breakfasts Help Kids Learn Act (H.R. 3738), the Closing the Meal Gap Act (H.R. 1276), the Agricultural Worker Program Act (H.R. 2690), the Local FARMS Act (H.R. 3941), and others, will make a real difference in the sustainability and equitability of our food system.
Food Tank's 2018 Seattle Food Tank Summit is SOLD OUT! Please join us via livestream on our Facebook Page or FoodTank.com