Photograph courtesy of Rebekah Vigil.
John Piotti, President of American Farmland Trust, will be speaking at the Inaugural Seattle Food Tank Summit, titled "Growing Food Policy," which will be held in partnership with the Environmental Working Group, Food Action, Garden-Raised Bounty (GRuB), the Natural Resources Defense Council, and Seattle University's Center for Environmental Justice and Sustainability on March 17, 2018.  
As President of American Farmland Trust,  Piotti has brought more than 20 years of management, public policy experience, and a strong passion for saving the nation's farm and ranch lands being lost to development. Prior to joining American Farmland Trust, Piotti served as President and CEO of Maine Farmland Trust for the previous 10 years. Until 2006, Piotti managed all the farm programs for Coastal Enterprises, Inc. (CEI), Maine's premier community development organization. He has also served as chair of the Northeast Sustainable Agriculture Working Group (NESAWG).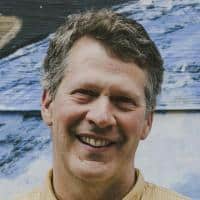 From 2002 until he termed-out in 2010, Piotti served in Maine's state legislature, representing eight rural communities and serving as House Majority Leader, chair of Committee on Taxation and chair of Committee on Agriculture, Conservation, & Forestry. As a legislator, Piotti gained a reputation as a non-partisan problem-solver, leading successful efforts to stabilize Maine's dairy industry and provide new state funding to protect working waterfront and preserve natural lands.
Piotti holds three degrees from MIT in engineering, public policy, and management and in 2013, was named one of the 50 people who have done the most for Maine.
Food Tank had the opportunity to speak with John about his work, inspiration, and ideas on food and agricultural policy.
Food Tank: What originally inspired you to get involved in your work?
John Piotti: Thirty years ago, I found myself co-chairing a planning committee in a small town with a local dairy farmer who challenged me to think about what farming meant and what it could mean for our community. He became the first of several mentors who moved me from being relatively unaware of farming to believing that farming is our future, and that any kind of sustainable future depends on sustainable agriculture.
FT: How are you helping to build a better food system?
JP: The organization that I run, American Farmland Trust (AFT), has been a powerful force behind conservation agriculture for almost 40 years. AFT is the only national farm organization that takes a truly holistic approach to agriculture, recognizing the powerful connections between the land, good farming practices, and the farmers and ranchers who do the work.
FT: What's the most pressing issue in food and agriculture that you'd like to see solved?
JP: I see three interrelated issues: 1) The loss of our best farmland to development, 2) the need to advance smarter conservation practices among more farmers, and 3) the need to attract and assist the next generation of farmers. These three issues are interconnected because we will only save our land and rebuild our soil if we have farmers to steward that land.
FT: What innovations in food and agriculture are you most excited about?
JP: As we learn more about soil science and experiment more with innovative farming practices, we are learning how we can rebuild soil health in ways that simultaneously help farmers and enhance the environment. Roughly half of all the carbon that has been released to our atmosphere since the dawn of the Industrial Revolution has come from the soil due to poor farming practices. We can put that carbon back into the soil by following smarter farming practices.
FT: What is one small change every person can make in their daily lives to make a big difference?
JP: I don't think there are small changes that can make a big difference. I'd suggest that people try to make big changes in their lives to try to make a big difference. If you tackle each
of the following with energy, that would be big help 1) eat more responsibly, 2) raise more of your own food, 3) give your time and money to organizations doing work you can't do
alone, 4) demand that your city or town has policies in place that protect farmland and support farmers, and 5) work for candidates for statewide and national office who put food and farm issues front and center.
FT: How can we make food policy more relevant to eaters so that the politicians representing them feel a mandate to act?
JP: I do think that a lot of it comes down to eaters and voters taking a deeper dive into food and farm issues. I've been impressed by the growing public awareness of these issues over the last 10 years, but a lot of that interest is still superficial. With such a small percentage of the population farming, our elected officials will never get agricultural policy right unless a large number of their non-farming constituents gain sufficient knowledge of farming to demand that the right actions be taken.
FT: What policy areas or ideas would you like to see an increased focus on as the 2018 Farm Bill negotiations kick off?
JP: There are many policy changes I'd love to see included in the 2018 Farm Bill, but they are unrealistic to hope for. My realistic hope is that the conservation title will be fully funded, retaining some of the innovative and successful programs that were created over the last two decades to make it possible for more farmers to do what's right by the land.
Food Tank's 2018 Seattle Food Tank Summit is SOLD OUT! Please join us via livestream on our Facebook Page or FoodTank.com.