High up in the mountain regions of Northwest Nepal, winter has always meant long days with little to eat from November through March. Temperatures rarely creep above freezing, making growing anything except winter wheat a near-impossible task.
This is starting to change thanks to the Nepal Agriculture Food Security Project, a US$58 million project funded by the Global Agriculture and Food Security Program (GAFSP) and the Government of Nepal. For the first time in Nepal, three government ministries—the Ministry of Agricultural Development, the Ministry of Health, and the Ministry of Livestock Development—are working closely to jointly implement the project with technical support from the U.N. Food and Agriculture Organization (FAO). Through the project, farmers are receiving support to diversify the crops and breeds of animals they are working with, and nutrition training has helped reduce maternal and child malnutrition—a serious problem in these remote rural villages.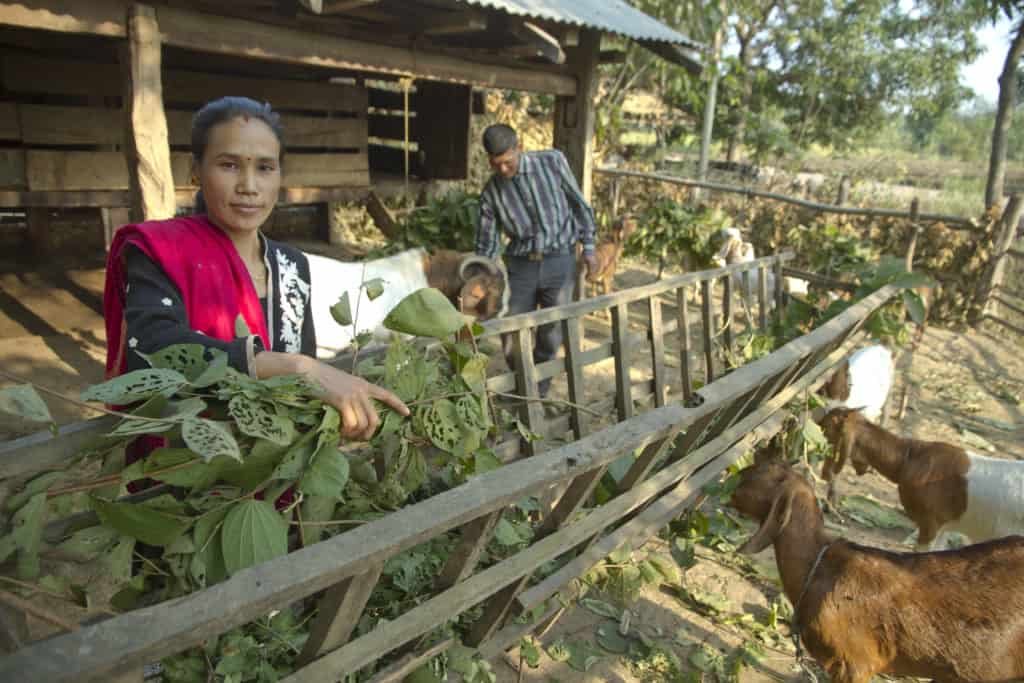 The project has made funding available to farmers to set up plastic polytunnels or greenhouses in the most remote mountain areas. These greenhouses—often perched on tiny terraces that are no more than 4.5 meters (15 feet) wide—allow farmers to grow spinach and other green vegetables year-round. Combined with the introduction of new breeds of chickens that produce more meat and eggs, a reliable source of protein to farming families, nutrition levels in the project communities are starting to improve.
But producing more food is only one part of the solution. Women from within the communities have formed groups that meet regularly, usually convened by a local nutrition expert. During these meetings, they share recipes and techniques they have developed to incorporate the new foods into their diets. This has helped raise awareness among people within the communities on the importance of balanced diets. Now that farmers are seeing the benefits of a more nutritious diet, they are including vegetables when planning what to grow and can produce them year-round in the greenhouses.
Boosting incomes vital for long-term change
With 25.2 percent of Nepal's population living below the poverty line and agriculture by far the largest source of livelihood in the country, investing in agriculture is key to eradicating hunger but is also vital for boosting incomes. Women make up 65 percent of the agricultural workforce in Nepal, but their access to health care, nutrition, and education, and their ability to participate in decisionmaking within their communities is significantly less than men.
By supporting local seed cooperatives and introducing new breeds of goats that command a much better price in the markets across Nepal, the project is helping farmers to establish a regular source of income.
Kaushila Thapa, a seed farmer who is part of the project, says, "I barely had enough money for household costs and for savings. But now, both my husband and I save money every month." With the money, she has been able to get access to health services and send her kids to school—something that previously she could not afford to do.
Kaushila and other women in her community have found that having their own income has changed the power dynamics within their families. "It used to be only men who worked outside and in the fields. But now women know that they can do anything," she says.
Her experience was echoed by Hastikala Birkatta Magar who runs a goat farm, a job typically done by men. She explained that her husband used to keep the money raised from selling their goats, but she is now expanding the farm and investing in the local farming cooperative. She has plans to register her company and make the farm bigger. Not only can she put food on the table for her family but she has gained independence, something she values highly.
The GAFSP: One of the most efficient multi-stakeholder funds
 In total, 93 percent of available GAFSP programs go into grants to the world's poorest countries, making it one of the most efficient multi-stakeholder funds and able to reach the local farmers that produce the majority of the world's food. But despite the successes in Nepal, the future of the GAFSP is uncertain. It was set up at the 2009 G-20 Summit in Pittsburgh in response to the global food price crisis, when world leaders recognized that investment in local agriculture in countries where food insecurity was highest was urgently needed to tackle global hunger.
Despite having supported projects in more than 30 countries across Africa, Asia, and the Americas, the U.S. Under Secretary of the Treasury for International Affairs announced in November 2017 that the U.S. is not expecting to make any future contributions to GAFSP. As the main investor in the fund, the U.S. withdrawal will significantly impact efforts to fight poverty in some of the world's poorest countries.
Given the right support, local communities know what is needed to reduce hunger and poverty. But the number of people going hungry around the world has increased in the past couple of years and fears are being raised about a new food crisis. It's vital that funds like the GAFSP that give local farmers more control over how the money is spent can continue. By investing in local farmers, not big agribusiness, we can eradicate global hunger and reduce poverty. World leaders recognized it when the last food crisis hit. Now they need to act to make sure these investments can continue.