Itamar Gilboa created a pop-up supermarket made entirely of sculptural groceries, called the Food Chain Project, which represents his consumption over 365 days. An Israeli-Dutch artist from Amsterdam, Netherlands, Gilboa's installation consists of 8,000 white porcelain and crystacast plaster products available for sale. When sold, a percentage of its profits are donated to NGOs working with the issues of food.
Now, Gilboa will be showcasing his Food Chain Project in the Special Exhibition program at the 2017 Chicago Expo in Illinois. As part of a collaboration, proceeds from the exhibition will benefit Food Tank. Gilboa first displayed this project in 2014, and he has since participated in art fairs and discussion platforms such as the Amsterdam Art Fair 2015 and TEDxEde 2014.
A part of the Food Chain Project will become a permanent collection at the LAM Lisser museum, Netherlands, in 2018. Built by the VandenBroek Foundation, this new museum will display permanent collections, free of charge, focusing on the themes of consumption and food. Instead of the supermarket-style exhibition which will be displayed in Chicago, 6,000 white porcelain and crystacast plaster products from the Food Chain Project will be displayed on two huge walls in the museum. "This will allow people to sit, look, and observe the quantity on one scale and get more information on the work, awareness, and message the project highlights," Gilboa says.
Food Tank had the opportunity to talk with Itamar Gilboa about the inspiration, impact, collaboration with Food Tank, and a rendition of his work that he will be displaying at the 2017 Chicago Expo.
Food Tank (FT): What was the inspiration behind the Food Chain Project?
Itamar Gilboa (IG): I moved from Tel Aviv to Amsterdam to study in the Art Academy. As the years went by, I started to develop my artistic approach on what kind of work I was interested in, which was one of the pillars for this project. The second one was my diet and eating habits. It changed slowly but surely. The food that I ate in Israel was different from what I was eating in Amsterdam, in those days when I was a student. I think these two processes were what built up this idea of writing the diary and following my eating habits.
During my art work, I have mostly used paintings and videos, and was touching topics such as immigration and borders, and my memories in relation to Israel by the years. I also found out that my diet had totally changed with the high intake of dairy foods, less vegetables, more meat, and alcohol, soft drinks, and sweetened drinks, which made me very curious. Then one day I realized how interesting it would be to see in one space, one-year consumption of one person. So that was the vision and that's how I started the diary.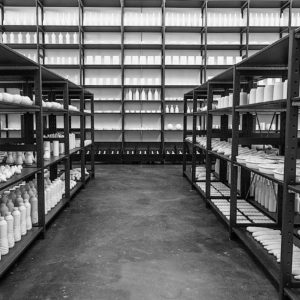 FT: Can you describe the yearlong process and your artistic journey of establishing and installing the Food Chain Project?
IG: First of all, I had to decide to go for it because it was frightening and it would not have worked out for a year. Secondly, I had one restriction that I told myself in the beginning that I will not check the diary until the end of year. I am not going to do any calculations or look back. I am just going to write down every day what I eat because I did not want to change anything I ate. I wanted to keep it innocent, let's say. I had an A5 diary and started on September 1 writing everything that I was eating. I started writing the diary in 2008–2009. I had started thinking about the idea almost two or three years before that already. I would make records of my dinner and late-night eating in the mornings sometimes. If I went to restaurants, which were very few times, I tried to break down food into its ingredients. For instance, if I went to an Italian restaurant and had a Bolognese I would divide it into garlic, sugar, tomato sauce, pasta, minced meat. It was difficult and sometimes annoying but all my work is about repetition so I am used to it and I tried to do it playfully.
I decided to make sculpture installation of my consumption. When I did all the calculation of data from my diary I found out that I have 160 different products repeated 8,000 times. I decided to make prototype of 160 food products and make molds out of it and produce all my consumption. I decided to clean out the branding so what you can see is white clean sculpture. It can be tuna can, burgers, lettuce, no matter what. The products are sometimes in packaging or sometimes in its natural form of fruits and vegetables and displayed as you find in the supermarket. That process took me many years to complete, finding proper materials, funds, and space for exhibition in Amsterdam.
While I was busy with that, I also realized that it has really inspired my own journey and I wanted to share it with the people who would come to visit this exhibition. I also wanted the viewers to be involved with the exhibition. So, I came across two amazing organizations based in Netherlands with whom I collaborated. The first is Fair Food International, who focus on putting pressure on corporations and governments to make food systems more environmentally friendly and employment friendly. The other organization is called the Youth Food Movement, it is based out of Slow Food Movement from Italy. This is a Dutch Chapter which focuses on education of youth on awareness of the food system—how to grow your own food and how to be eco-friendly. With these two organizations, I covered all the aspects that were interesting and related to my project.
So, I built this supermarket and people can buy these products as they buy in any supermarket and support these organizations. This is the Food Chain Project. I called it Food Chain because the idea was that I take this food ahead, turn into art, people buy these products, and money from the sale returns to the food system, through these organizations working on issues related to the food system.
FT: How different were your food habits from your time in Israel and in Netherlands?
IG: It's very important to mention that I moved to Amsterdam from Tel Aviv in 2000. At that time, the variety of food products in Netherlands was much lower than in Israel. Israel already had huge awareness about diversity of food, like things with low calories, fat, and sugar, accessible and visible vegetables and fruits, compared to Netherlands in those days. But now it has become opposite. Here it is much more developed than in Israel. So just to put it in perspective. Netherlands did a huge job in the last seven to eight years.
But then again, when I came here in 2000, what I found most common were dairy products with high fat content and lot of snack bars, which are very popular here as compared to Israel. For example, if I used to eat more vegetables, tahini, or hummus in Israel, here I found myself eating more Gouda cheese and breads, which also helps you with the weather. Secondly, I also found myself drinking lot of red wine. That is also probably because of my profession. I am an artist and while working in studio I might open a bottle of red wine every day or every other day. That also made a big difference, because in Israel, I did not drink alcohol so much.
FT: How has your relationship with food changed since the project?
IG: First, it took a long time to make this project happen. I managed to show this at the end of 2014. It was a seven-year process from diary to the final exhibition. So, the influence of the project on me was in steps. I took my time to dive into the data; maybe because I was afraid, maybe I did not want to confront it, and because I was busy with other projects in those days after finishing the diary.  However, when I did all the calculations and saw the results, it was shocking. I am used to eating almost the same things every day. It's not in high quantities, it's not that I am obese or fat. But again, I gained a few kilos. But if you drink two glasses of wine every day, or drink diet cola and have two or three cookies and little piece of chocolate, it mounts to something very shocking. The amount of liters of alcohol consumption that I had to confront with, or cans of diet Coke, I immediately realized that my liver and kidney were in shock. It was not a conscious decision to change the diet, but every time I had a diet Coke or wanted to have fries, burgers, or drink alcohol, I had a process to block myself. So, my relationship with food has changed and my consumption has reduced.
There was also a phase in the project, once I was done with the diary, where I was thinking about what I wanted to do with this data. First, I wanted to show all the consumption of one person. But it was not possible that I would buy all the products and throw them in a building and let it rot. It would have been waste of food. Then I thought of making sculptures of the food products. While doing so I also wanted to share this story and try to inspire people to think about what they eat and how much they eat. So, I dived more into statistics and the environment. This was not the subject that was close to me before I did this project. I was not aware. But then you see hunger, poverty, obesity, food waste, and get all this information and understand where we all are going, that I decided to try to work on the awareness of these issues and help people participate. Then came the idea of creating a supermarket with these sculpted products. When I started to work on that, that was when my eating habits changed.
Unfortunately, after some time, I started going back to my bad eating habits. I am, however, very aware now, but also, its lot more of a struggle than before to keep it healthier.
FT: Through the Food Chain Project, what are the two key food related issues you want to cast the spotlight on?
IG: For me, if we can highlight hunger and obesity, I think we cover a huge spectrum of issues of our society. This would also cover differences and similarities in food habits, practices, of both the developed and low income or developing countries. Therefore, I think these two words are very important to highlight. Again, if we zoom in, it is also about awareness, access of information, and knowledge and making quality, good food accessible to everyone and not be expensive. However, it is very difficult to address all topics such as food waste, which is also a consequence, and I will leave it to other experts and artists to deal with that. For me, hunger and obesity are the two most important food related issues.
FT: Could you talk about your participation in Chicago Expo and your collaboration with Food Tank.
IG: Expo Chicago is the oldest, most prestigious art exhibition from the United States, inviting one of the most important art galleries worldwide to exhibit in this fair. This is a commercial fair where the galleries sell their work and build their networks. This year, they have a new section called 'Special Exhibition' where they want to highlight an institution, museum, or organization with art. So, Tamar Dresdner Art Projects and I applied for the section and were lucky enough to participate in it.
For me, there is no reason to exhibit the Food Chain Project if there is no synergy with an NGO working in this area that could be highlighted and benefitted. I came across Food Tank when I dived into this project in the past. I also follow TED-Talks and saw Danielle there, which was very inspiring and interesting. Since this exhibition is in Illinois, Chicago, and Food Tank started from there, I thought it would be a nice opportunity to collaborate with Food Tank. The idea is that people can buy the sculptures at the exhibition and we will donate part of the profits from the exhibition to Food Tank. I contacted Danielle, we talked about it, and decided to go for it.
For this exhibition, beside the white sculptures, I am going to highlight a lot of golden junk food. So, there will be a lot of chrome gold plated burgers, soft drinks, milkshakes, and fries sculptures. It is going to be different composition of junk food that people can buy. The idea behind this is to display the madness for fast foods, the power of fast food industry, and to highlight the issues of obesity and hunger, especially in the United States and Illinois, where McDonald's was invented.
FT: Would you like to continue working on food related issues, either as an artist or through any other form of civic engagement?
IG: I am working on a new project of a set portrait called Body of Work, and it will be displayed here in Amsterdam in a museum next year. For Food Chain, I want it to have its own life. Ideally, it could be exhibited in every continent and tied up with different NGOs working on issues of food relevant to the country or continent in which it is being exhibited. I believe that I will always be involved with the project as long as it continues. I do not know what doors this project will open for me. I am not, as an individual, part of a specific movement or an NGO. I like to see myself more as an advocate for awareness with this project. So of course, in future, when something will come up with this project I will be more than happy to be a part of it but I do not have any strategy or plan about it.
FT: You are a multi-disciplinary artist and the Food Chain Project has opened a new and interesting way of communicating the issues related to food sustainability. How would you advise budding artists, film makers, business aspirants, and social change makers with interests?
IG: First of all, there is a classic advice. When I began with this idea and spoke with people about it, they did not understand what I wanted from them and they had questions like how I could make a living out of it. It was only last year that food and art became buddies. It became very popular to work on food in arts. It's weird that it happened. Luckily, I had been working on it before. It's not that I was following any trends, but what I want to say is that it was difficult for me then to establish my idea. So, if you believe in your ideas then stick to it, it is a lot of hard work, but it has proved to be possible. I think lot of artists work on social issues through their art. Just be honest to yourself and be clear with your message and work hard to achieve it and it will work out. You need to be very passionate, sacrifice a lot, and look for long-term investments if you want to accomplish works like that.
 You can follow Itamar Gilboa on his Instagram page @itamargilboa