Loren Cardeli, Founder and President of A Growing Culture (AGC), will be speaking at the inaugural New York City Food Tank Summit, "Focusing on Food Loss and Food Waste," which will be held in partnership with Rethink Food Waste Through Economics and Data (ReFED) and with support from The Rockefeller Foundation and The Fink Family Foundation on September 13, 2017.
AGC is a nonprofit that works to uphold farmer autonomy and stimulate agroecological innovation by supporting farmers' capacity for change. Cardeli believes the key to fixing our food system lies in giving farmers a prominent seat at the table, and that seat is currently threatened by industrial agriculture.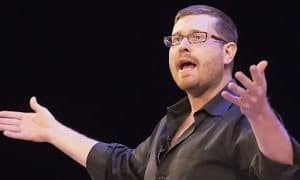 Cardeli's work at AGC promotes farmer-led research, innovation, and knowledge sharing, helping farmers create sustainable, self-driving futures. Loren is also a seasoned public speaker, presenter, and outreach leader who conceptualizes and addresses agricultural issues through the lens of economics, political science, and life sciences. He has received wide recognition for his contributions to ecological agriculture, earning awards such as The Culinary Trust's Future of Food Grant and Fellows of Future Generations.
Food Tank had the opportunity to speak to Cardeli and discuss what drives his passion for a producer-driven food system.
Food Tank (FT): What originally inspired you to get involved in your work?
Loren Cardeli (LC): I was inspired by several things. I grew up with a learning disability and language was very hard for me. These communication challenges helped to grow my interest in arts and music as a form of expression, because that was the only way I could feel confident in expressing myself. Once that came to be, I went to The Putney School in Vermont and I was immersed in that awesome culture.
While at Putney, I became interested in agriculture. I got to see the creative expression of it and the way it could be used like in landscape design. It created the ability to express yourself through the environment and your relationship to the environment. After Putney, I decided not to go to college, and I started traveling the world. I bought a one-way ticket to Latin America and took off.
While in Belize, I was living on a kind of compound with two local Belizean guys. We would drink from the same sink where we bathed and washed our clothes. We grew most of our own food, but we were horrible at hunting meat. One day I decided to walk the hour and a half to the local logging village to barter with a neighbor for chickens. During this, I heard screaming nearby. I immediately ran over to where I heard the noise and I saw a man about my age today, holding his son. His son had passed away from drinking pesticides on his farm from an unmarked bottle. That experience really messed me up, I was away from my family and I realized that the potential of industrial agriculture and how destructive it is.
My most important realization, though, was that environmental erosion is the result of culture and knowledge erosions. We dehumanize and devalue the local knowledge and the culture of the grand communities around the world. Once we do that, then we can bring in this agricultural model, that is now a destructive one. It dismantles their communities and cultural cohesion.
I was truly shocked about how much knowledge exists on the fringes of those communities, where they grow sustainably and organically and still had a surplus. It is crazy to me that the techniques we were using were being used so closely, yet so far away in that village. From this, I looked at how we can change the system. The best way I have found is through supporting and incorporating the indigenous, local, and peasant knowledge that exists in these communities around the world. After I had this realization, I took off and got a degree in agriculture and saved my money to launch and finance growing this culture.
FT: Are those same things what continue to inspire you to be involved in this kind of work, or has that morphed over time?
LC: By now I've traveled around the world, to almost 40 countries, and met with thousands of farmers. There are two primary things that keep me focused in this work.
The first thing is the amazing innovativeness of the world's farmers. Smallholder farmers are on 19 percent of the land, and 19 percent of land produces 70 percent of the world's food supply. That is ingenuity. This is a community that is operating on a fraction of that land that industrial agriculture is operating, yet they are out-producing industrial agriculture.
In my travels and in my work, I've seen these communities take on unimaginable adversities. From growing in a changing climate, to growing in a society with politically and economically exploitive policies. These are both social and environmental adversities and turn it into the birth place of unbridled ingenuity. It is that ingenuity of this community that inspires me every day. I want to help change and challenge the narrative and dispel the myths.
We are looking to consumers to change our food system and we are looking to the left to change our food system. We dehumanize rural communities by turning to solutions like high tech food from Silicon Valley, meat grown in Petri dishes, and vertical farms, to solve the problems in our food system.
This is a human rights issue. There are 2.5 billion people participating in the present food web. They are already resilient. If we tipped the balance in their favor, imagine what we could do. The resilience is the first thing that keeps me involved.
The second thing is one of the greatest lessons I've learned in this work: that our relationship with the environment reflects our relationships within societies and with each other. Until we can eradicate the barriers of exploitation, oppression, hierarchy, and social stratification that happens within societies, can't hope to foster relationships with the environment that are inclusive and sustainable. If there are individuals that are oppressed in our society, they are going to reflect that oppression wherever they can, and often that is the environment. I really believe that this is a human rights and social justice issue, and we have to look at that at the forefront to drive an environmental response.
FT: Would you say this is the most pressing issue in food and ag right now?
LC: Right now and forever, our transition from nomadic to sedentary societies. This is always fascinating to me is that you look at nomadic hunter/gatherers, hunters were the men, the gatherers were the women. The gatherers provided at least 80 percent of the diet, which meant women had a valued role in the society. It was a special circumstance when men were able to hunt and get an animal. As the transition from agrarian societies began, women became working machines for the patriarchal concept of agricultural labor. A concept that oppressed women from the onset.
We went from high nutrition diets to high-calorie diets, that caused nutritional collapse. There were increased labor hours and there was a surplus of food. These surpluses caused social hierarchy to form. There need to be people in charge of monitoring, growing and protecting the excess. All of a sudden, tribes begin to fight each other because there is a commodity to steal. This is where we start to see the development of political, defensive, and military structures. Along with this, the patriarchy and hierarchy structures you see in today's agrarian societies begin emerging.
At the root of our agrarian transition was exploitation and extraction. The irony is agriculture got us here, and agriculture can also save us. Industrial agriculture employs 22 percent of women. Smallholder farmers, depending on the community is 40 to 70 percent women. The role of women is very different in smallholder farming communities compared to industrial agriculture. GDP is twice as effective in agricultural programs, that's rural economies, and affects rural poverty levels.
About 1.2 billion people go to bed hungry at night and 100 million are severely hungry, 70 percent of them are farmers. We are starving the ones who we depend on for food. Agriculture has a major role to play in mitigating climate change, combating gender inequalities, and strengthening rural communities.
FT: Is approaching agriculture the best opportunity to fix our food system?
LC: Yes, because agriculture can either be the force of oppression and destruction or it can be the ultimate healer.
FT: Who is the food hero that has inspired you?
LC: There are a tremendous number of farmers that I have developed incredible relationships with over the years that inspire me every day. Debal Dev is absolutely incredible, but doesn't get the credit he deserves. He is an activist and really on the front lines of our food movement. He has the world's largest privately owned seed bank for indigenous rice varieties. He has over 1,400 varieties of rice that he grows every year to keep the genetics alive and thriving. His lab and farm have been raided and are constantly under attack. He has been published in more than 45 journals and continues to write articles to save this rice and to get it documented so that international corporations can't claim it. He is located in India, where rice is a significant crop and he gives away his rice seeds for free to farmers.
Another inspiration has to be Fred Kirschenmann, a farmer from North Dakota, and one of the fathers of the organic movement. Very close with Wendell Berry and Wes Jackson, they are a trio of heroes. Fred is void of all ego and he is just the most supportive and guiding light I have ever come across in my entire life. He is a philosopher and a professor. He is the Leopold Center Distinguished Fellow, he is president of Stone Barns, The Rockefeller Food and Agriculture Program. He is just a force, incredibly available, and always supportive of the work we are doing. He has got to be my greatest mentor.
FT: What is one thing that every person could do right now to make a big difference?
LC: That is a very difficult question. Honestly, I see the food movement making the same mistakes that the DNC made, in claiming to speak for a community that they don't represent. What the DNC did to working class middle America voters and unions is what the food movement is doing to farmers all over the world. We dehumanize them when we look for solutions in our environments. Buying local is great, but it keeps resources in blue states or blue areas of red states, rather than reaching across and breaking down the polarization of rural America and urban America.
What we need to do is to look for ways to support and engage with farmers that can't make it to the farmers market because they're too busy. We need to advocate for policy and support that supports development in rural communities, not just urban gardens, and not just high tech food webs. We shouldn't be just looking to Wall Street and Palo Alto as the saving grace of our broken food system. We should be looking to rural communities, at the ingenuity and innovativeness of the world's farmers to help fix or replace a system that is not only broken, but that is unjust.
FT: What policy mechanisms would be a good way to go about doing that?
LC: At the forefront, we should advocate for the subsidization of ecological techniques and diversify production away from mono production and serial production that does not suit anyone. We should utilize paid and charity organizations that increase self-respect, increase the individual and communal capacity for change, and increase autonomy and sovereignty over their food system. At the same time, we should make sure these organizations are not simply a top-down mechanism to push or implement western technologies into the peasant food system. I see organizations and nonprofits waving the green flag constantly. Priding themselves on their work, but what they are doing is being extension 2.0 for big agriculture.
FT: What can everyday people do to make a big difference?
LC: They should buy products that support smallholder farming communities in a fair way. There are a number of companies and products on the shelf that build relationships with these farmers and these communities. Lotus Foods does an incredible job with their smallholder farming communities. Look for and push for companies that treat their farmers as partners of the business, rather than just suppliers. We need to step away from our normal purchasing centers and we need to try to strengthen the bond with rural communities. Get food from the rural belt around your city. Many farmers aren't able to make it to their local farmers' markets. It is important we find ways to still support them. That is going to take a collective dialogue and the brain power of conscious consumers to navigate that change and create new ways of supporting farmers that aren't young and sexy, or farmers that aren't charismatic marketers.
FT: Is there anything else you want to leave us with?
LC: The open source revolution in Africa is a really interesting development in open source agricultural communities. No thought is inherently someone's own individual thought. It has been inspired by countless peers and thinkers before them and will inspire the next generation's thoughts and actions. That is the innovative process. We need to consciously connect individuals and producers, to disrupt the industrial knowledge system of patents and controls over technologies. This will open up a culture of sharing and learning from each other so that we can collectivize innovations while democratizing the information and support producers all over the world to reclaim their food system.
The NYC Food Tank Summit is now sold out. Register HERE to watch the livestream on Facebook. A few tickets remain for the Summit Dinner at Blue Hill Restaurant with a special menu from Chef Dan Barber. Apply to attend HERE. If you live in New York City, join us on September 14 for our FREE outdoor dance workout led by Broadway performers, called Garjana, featuring many great speakers raising awareness about food waste issues. Register HERE.