Liz Whitehurst, the owner and operator of Owl's Nest Farm, will be speaking at the upcoming Washington, D.C. Food Tank Summit: "Cultivating the Next Generation of Young Food Leaders," in partnership with George Washington University, World Resources Institute, the National Farmers Union, Future Farmers of America, and the National Young Farmers Coalition on February 28, 2018.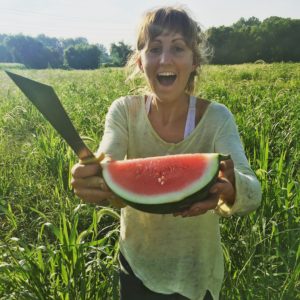 Prior to starting her own farm, Liz worked on a wide variety of farms and gardens as a grower and educator, including the Arcadia Center for Sustainable Agriculture and Angelic Organics Learning Center. Owl's Nest Farm is a small-scale, diversified, four-acre vegetable farm located 15 miles outside Washington, D.C. where Liz and her team grow unique, delicious, nutritious vegetables for their Community Supported Agriculture (CSA) members, one D.C. farmers' market, local restaurants, and friends. Liz and her farm were recently featured in a Washington Post article about how young farmers are changing the food system.
Food Tank had the opportunity to talk to Liz about her journey to becoming a CSA farmer, how she has seen food stimulate social connections, and her advice for those interested in engaging more with their local food system.
Food Tank (FT): What originally inspired you to get involved in your work?
Liz Whitehurst (LW): I feel so much better—physically, emotionally, and spiritually—when I eat well. I worked at an independently-owned health food store in college, which is where I first started learning about local food, and started paying real attention to what I put in my body. I learned how to cook not long after, and it is remarkable how much it changed the way I felt. Food also gives me a way to connect with all kinds of people, especially those from different backgrounds. This was a really important lesson I learned when I interned at a drop-in center for homeless women in college. Even though on the surface we had very little in common, we'd start talking about the brownies at lunch, and end up having real, rich conversations. Additionally, growing and eating food is my favorite way to build communities. Being part of a diverse, healthy community is what I'm all about. I don't want to work in an office staring at a screen all day! I feel grateful that I get to work outside.
FT: How are you helping to build a better food system?
LW: I'm growing food in a way that's healthy for people and for the environment.
In particular, I'm a CSA farmer, and I think CSA's model the kind of food system we should be working toward. CSA farms grow a diversity of crops that are marketed locally, CSA farmers have a direct relationship with eaters, and CSA members eat a wide variety of fresh, local, and seasonal food. Plus, having farmers and eaters share the risk and reward of each season allows farmers like me to do the hard work that we love.
FT: What's the most pressing issue in food and agriculture that you'd like to see solved?
LW: The issues in the food system are deeply and inextricably linked to the issues we see in our broader society. In other words, in order to create a healthy, just food system, we've got to also work on ending racism, sexism, capitalism, homophobia, ableism, and more.
That said, meat from industrial farms is just the worst for our bodies, for the planet, for the animals, and for the communities near these operations. I think we're already starting to see a consumer-driven shift away from some of the worst practices, but we've still got a long way to go.
FT: What innovations in food and agriculture are you most excited about?
LW: I'm always excited about repurposing and synthesizing old things to make new things. Along those lines, I see a lot of potential in using existing co-operative models to transform the way the food economy works.
FT: How can we best stimulate young people's curiosity about food and agriculture and encourage their participation in building healthier food systems?
LW: Have young people work on small farms! As a former farm educator, I believe in the transformative potential of connecting people with where their food comes from. Plus, seeing the direct impact of your physical work can be tremendously powerful.
FT: What is the best opportunity for young or aspiring farmers and entrepreneurs to get a foothold in America's agricultural future?
LW: I think we young farmers and food entrepreneurs are actively creating our own best opportunities by collaborating and supporting one another. Whether it's chefs who support local farms by sourcing our produce, or farmers creating multi-farm CSAs, I think the seeds of a new kind of economy are out here, and I'm excited to see how they continue to take shape.
FT: What is one small change every person can make in their daily lives to make a big difference?
LW: Cook and eat at home at least one more meal per week, ideally from scratch with local, organic, whole ingredients. For me, cooking is an essential way that I take care of myself and the earth.
Whether folks are aware and intentional about it or not, food choices have an impact and food is one of the key ways to be in relationship with the natural world. Those relationships can be healthy and just, or they can be exploitive and destructive. Cooking is a simple way to take a more active, intentional role in that relationship.
The D.C. Food Tank Summit is SOLD OUT but tickets remain for our next two Summits. Register HERE for the Seattle Food Tank Summit, Growing Food Policy on March 17. Register HERE for the Boston Food Tank Summit, Exploring the Paradox of Hunger and Obesity on April 19. These events will sell out – register today!