Photograph courtesy of Rebekah Vigil.
Alexis Taylor, Director of the Oregon Department of Agriculture (ODA), will be speaking at the Inaugural Seattle Food Tank Summit, titled "Growing Food Policy," which will be held in partnership with the Environmental Working Group, Food Action, Garden-Raised Bounty, the Natural Resources Defense Council, and Seattle University's Center for Environmental Justice and Sustainability on March 17, 2018.  
Alexis was appointed Director of the ODA by Governor Kate Brown in December 2016. As Director, she works with the governor and legislature as well as agricultural, conservation, and consumer groups to carry out the state's agriculture policy. ODA has a three-fold mission of ensuring food safety and consumer protection, protecting natural resources, and marketing Oregon agriculture products around the state, country, and world.  Prior to Alexis's appointment, she oversaw the U.S. Department of Agriculture's (USDA) Farm and Foreign Agricultural Services (FFAS), comprised of the Farm Service Agency (FSA), Risk Management Agency (RMA), and Foreign Agricultural Service (FAS). Alexis worked to build new markets across the globe and improve the overall competitive position of U.S. agricultural products in the marketplace.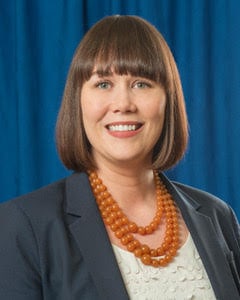 Alexis led the Women in Agriculture Initiative, driving the USDA's mission to support the growth and diversity of the next generation of farmers and ranchers. Before joining USDA, Alexis served for various members of the U.S. House of Representatives and Senate, and worked on the 2008 and 2014 Farm Bills. Alexis served in the United States Army Reserves from 1998 to 2006. During that time, she completed one tour in Iraq with the 389th Combat Engineer Battalion. Alexis is a graduate of Iowa State University and grew up on her family farm in Iowa, which has been in her family for more than 150 years.
Food Tank had the opportunity to speak with Alexis about her work at the ODA, what drives her to work in agriculture, and the future of food policy.
Food Tank (FT): What originally inspired you to get involved in your work?
Alexis Taylor (AT): Growing up on my family's farm in Iowa, I loved agriculture but I knew from a very young age that farming wasn't for me. I didn't have that entrepreneurial spirit my father had. There is something unsettling about the fact that someone could be the best producer, do everything right, and still not be successful in farming or ranching because they don't control the markets or weather. It took me a long time to figure out that I could have an amazing career in agriculture and not actually farm. It's pretty amazing that I grew up outside of a small town, and I have been able to travel all over the world because I work in agriculture. Nothing is more personal that what we feed to our families. Feeding ourselves is our most basic need, and being able to help farmers, ranchers, and their rural communities thrive is an amazing place to put my energy.
FT: How are you helping to build a better food system?
AT: Consumers are often generations removed from their farming and ranching roots, but at the same time they are more interested today in where their food comes from and connecting to the producers growing it. The Oregon Department of Agriculture's mission is to ensure healthy natural resources, environment, and economy for Oregonians now and in the future through inspection and certification, regulation, and promotion of agriculture and food. Our agency has a unique role in state government in that we regulate the food and agriculture industry but also promote it. In our everyday work, we strive to ensure that the ODA's programs allow producers the flexibility to meet the demands of their consumers.
FT: What's the most pressing issue in food and agriculture that you'd like to see solved?
AT: During my first year as Director at the Oregon Department of Agriculture, I traveled to all 36 counties in the state. During every tour, meeting, or roundtable I attended, succession planning and challenges for young people entering agriculture came up. This was a universal topic in every part of the state, regardless of operation size, crop, or production system. As the average age of farmers and ranchers continues to increase, getting new and young people into agriculture will become more and more vital. And it's not just important on the production side of agriculture.  We need farmers and ranchers but we also need scientists, journalists, economists, marketers, logistic experts, and more. In 2015, the U.S. Department of Agriculture, together with Purdue University, completed an employment outlook report which found that there are an average of 35,400 new U.S. graduates with a bachelor's degree or higher in agricultural fields, only enough to fill 61 percent of the jobs available annually. There will continue to be exciting opportunities in food and agriculture and we need people without farming backgrounds interested in choosing it as a career.
FT: What innovations in food and agriculture are you most excited about?
AT: What has become clear to me after a year in Oregon is how innovative our food and agriculture industry has been. Every sector continues to look for better ways through innovation. For example, our tree fruit industry uses optical scanners to look for defects or certain size and color characteristics. That has resulted in a standard for quality. All fruit in that pack is consistently reaching a desired quality. The grower and shipper receive more money per pack because of the more consistent quality of fruit. The use of scanners also reduces the number of people needed for the production line. Those workers can be used for other purposes on the farm or at the facility.
Another exciting innovation is the robotic milker. Some Oregon dairy farms are now using a robot to do the milking. Again, labor is reduced or redirected on the farm but the robotic milker has also increased efficiency and production. The cows seem happy. The dairy farmer is making a living, so they are happy, too.  And the use of UAVs, also known as drones, allows growers to be more precise and efficient in the application of pesticides, nutrients, and water while being operated remotely.
FT: What is one small change every person can make in their daily lives to make a big Difference?
AT: Buy local.  This can be supporting your local farmers market, joining a CSA, or looking for local products at your grocery store or favorite restaurant. In Oregon, we are lucky because we can really eat our way through the seasons. Whether it is beef from eastern Oregon, crab from the coast, or the diverse mix of fruits and vegetables throughout the year, eating local isn't difficult and it supports Oregon's economy by helping our state's agricultural producers.
FT: How can we make food policy more relevant to eaters so that the politicians representing them feel a mandate to act?
AT: I'd rather switch the question around. How can we make food policy more relevant to politicians so that they can take action on behalf of the people they represent? Because they are the decision makers, politicians need to understand that food and agriculture policies have an impact on our economy and our way of life. So I'd like to see focused outreach and education to elected officials continue. The more they know, the better policy they create. At the same time, any effort or experience that connects all Oregonians to our food is important at a time when so many are several generations removed from the farm.
FT: What policy areas or ideas would you like to see an increased focus on as the 2018 Farm Bill negotiations kick off?
AT: The Farm Bill is such an important piece of legislation for a large part of the U.S. and Oregon. It supports our farmers and ranchers but also the rural communities they live in. It also touches every single person in the United State. The Farm Bill ensures safe food, strong conservation practices across the country, and ensures kids are getting healthy meals at school. In Oregon, it also helps market the food and agriculture products locally, domestically, and internationally. Specifically, the USDA's Foreign Market Development Program and Market Access Program are extremely important to a state like Oregon, where so much of what we produce crosses our border. Oregon can only consume about 20 percent of what it produces. Most of those program dollars are focused on small-to-medium sized enterprises that drive innovation in our food system and that want to expand their business to export markets. At the Oregon Department of Agriculture, we rely on those dollars, through the Farm Bill, to assist these companies in their export initiatives, and also leverage our ability to keep those markets open for Oregon agriculture. Another program funded through the Farm Bill, the Specialty Crop Block Grant Program, is extremely important to a specialty crop state like Oregon. We produce more than 220 different crops, most of which are not program crops and don't receive direct funding. The program gives us the ability to support local and domestic market efforts as well as help to keep our specialty crop growers competitive with producers in other states and countries.
Food Tank's 2018 Seattle Food Tank Summit is SOLD OUT! Please join us via livestream on March 17th on our Facebook Page or FoodTank.com.