Clover Food Lab has 12 restaurants based in the Boston area. Clover makes fast food fresh, local, and full of clean flavors. There are no freezers in the entire company and ingredients are seasonal, without preservatives, and cut to order, meaning the menu is constantly changing based on availability, even throughout the day. Everything at Clover is also 100 percent compostable.
Ayr Muir founded Clover Food Lab in 2008 and serves as the CEO. Muir is motivated to reduce the ecological footprint of the food industry and has built Clover to achieve just that.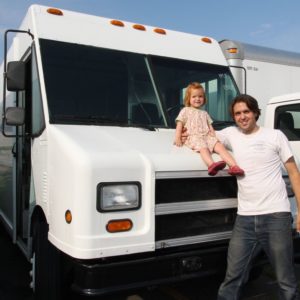 Food Tank spoke with Ayr Muir to discuss what makes Clover unique, and how the company's relationship with local food providers makes a positive impact on the environment and is changing the way people eat and think about fast food.
Food Tank (FT): How is Clover redefining fast food?
Ayr Muir (AM):  I first learned about our connection to environmental issues a little more than 10 years ago. I never thought of food choices as environmental activism. The reason it matters so much where we choose to eat is complicated. Clover focuses on making a delicious meal that somebody dreams about and can't wait to eat and then we let the rest take care of itself. Our idea is that we can create a restaurant company that is quiet, delicious, environmental activism.
We are unique in a lot of ways. We have no meat on our menu. That's critical to the environmental mission because that's how we achieve most of our impact. Ninety percent of our customers are not vegetarian. There are obviously a lot of really exciting plant-forward, vegan, or vegetarian restaurants that have been springing up, but I don't know any of them that have a customer base that is ninety percent non-vegetarian. I think this is the success we're most proud of.
FT: What are the key factors in serving clean flavors?
AM: Since most of our customers are not vegetarian, they generally don't have a problem with eating meat. We know our customers enjoy a burger and a burrito. For them to choose Clover they must prefer it to other choices.
We don't really work with fake meat a lot. Although, we have a recent collaboration with Impossible Burger that's probably treading in that territory. Generally, we focus the menu on serving people vegetables that are exciting and taste delicious. The way we win is when somebody walks past a burrito shop or past a burger shop to get Clover because they can't wait to eat our food.
Flavor is important in winning customers. If we're serving people carrots that taste like the carrots from the grocery store, I think it'll be hard to inspire people. And it will be hard to get somebody to dream about that carrot because it's mediocre. At Clover, we get to work with amazing suppliers. Our approach to our supply chain is truly supplier-first and then we work forward from there. We ask our farmers what's available right now, and if they tell me they have beets then beets are going to be all over our menu. We will have beet soda, beet soup, a beet sandwich, a beet salad, and then when they're all out of beets, beets come off the menu.
Clean flavors highlight the amazing and delicious ingredients we get to work with. If any chef has bad ingredients, then he or she needs to use a lot of fat, salt, sugar, and spices to cover them up and make them work. With really beautiful ingredients, the complexity that's inherent in those ingredients is so amazing, it's beyond what you can create yourself. The best thing to do is just step out of the way and let the ingredients shine.
FT: How do you integrate consumer feedback to make changes at Clover?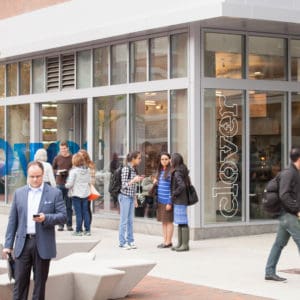 AM:  We are very close to our customers and a lot of them come in daily. We're a restaurant, but we look more like a coffee shop in terms of the frequency of visits. We get to know our customers who come in a couple times a week. Or if you come in on the same day, our folks will get to know your name. We create relationships and ask people to try something new, and then ask them what they thought about it. That's a big avenue for getting feedback—having a real relationship with someone. They trust that we want to hear their opinion and they'll raise their hand or send us an email and let us know when we're doing things that are amazing and where we're falling down.
We also have more formal and routine methods of gathering feedback. This includes a monthly survey of our customers, and we scour social media and look for certain terms involving Clover so we can see what people are saying to their friends and make sure we respond to it. We watch Yelp and other review sites carefully and integrate that feedback. Additionally, we take emails from people and we have an app now where people can order online and submit feedback. Every Tuesday, we hold food development meetings where we invite customers and hourly staff to come; sometimes local chefs or suppliers show up. It's a wonderful way to source recipes and new ideas and keep our menu growing and evolving. Our feedback avenues are multifaceted and super essential to what we're doing and what's important to us.
FT: What inspires your diverse and constantly changing menus?
AM: Our menu depends on what's available from our suppliers. We're about to roll out an amazing sandwich called the Maine Tomato Sandwich. There's a greenhouse up in Maine called Backyard Farms that grows these beautiful tomatoes. They only ship them within two hours of the greenhouse because they want to let them get all the way ripe on the vine. Most tomatoes are picked green commercially. We wanted to make a simple tomato sandwich like in the summertime, but usually we would have lettuce. We were looking at different ideas and we ended up playing around with seaweed from a sustainable harvester in Maine called Ironbound Island Seaweed.
If we flash fry that seaweed it's bright green and a little bit crispy, crunchy, and smoky. We also add a sriracha mayonnaise with it. One of our suppliers, Kitchen Garden, makes their peppers into a sriracha every year. So far, the sandwich is a big hit. Absolutely delicious. It's fun, smoky, and a little bit spicy, but with a beautiful tomato flavor. It's a collaboration of a bunch of different sources. We're focused on what's delicious that's being made and grown by people around us, and how we can work with those ingredients and bring out the best flavor.