Keri Glassman, Registered Dietitian Nutritionist, is speaking at the inaugural Boston Food Tank Summit, "Investing in Discovery," on Naked Juice's "Are We Becoming Nutrient 'Dense'?" panel. The Summit will be held in collaboration with Tufts University and Oxfam America on April 1, 2017.
Keri is a nationally recognized celebrity nutritionist, healthy cooking expert, and published author, who created The Nutrition School to provide nutrition education and a springboard for building a successful career in the health and wellness industry. For years, Keri has been a leader in advancing a "whole person" approach to health and wellness. Her expertise is frequently featured on several national television programs. She is a contributing editor and advisory board member for Women's Health Magazine, a Today Show Tastemaker, and has authored four books, including The New You and Improved Diet and The O2 Diet.
Food Tank had the opportunity to speak with Keri about the inspirations behind her passion for nutrition and how she translates this passion into improving the food system.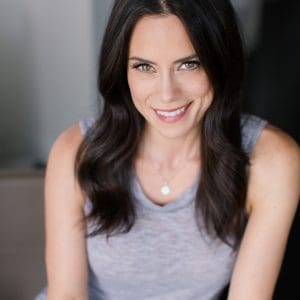 Food Tank (FT): What originally inspired you to get involved in your work?              
Keri Glassman (KG):
I always say I was born to do what I'm doing! My childhood friend tells me she remembers me being in seventh-grade science class and saying, "My body is craving vitamin E, I am going to eat almonds!" I'm sure I had no idea what that meant, but clearly, I was interested in this whole nutrition thing!
In college, I played sports, so unhealthy habits to keep my weight down (this was popular for many!) was not an option. I needed (and wanted!) to fuel my body to be my best on the athletic field but also to look good in my "skinny" jeans on Saturday night. Thus, my passion for being healthy continued.
When I graduated from college and began working at a corporate desk job, I would sit and read health magazines instead of doing my work. That's when I knew I needed to pursue my passion, so I went back to school for my master's degree.
FT: What makes you continue to want to be involved in this kind of work?
KG: Working in nutrition connects my love of food with my interest in science and my super strong desire to be a helper, so I'm lucky enough to wake up motivated every day to do what I love. The Nutrition School graduates are also a huge source of inspiration. Getting to see each of them complete the course and then work to continue to thrive in their nutrition and wellness careers is amazing. So whether it's the fulfillment of helping people bring their nutrition up a notch, or working with my students, I'm inspired every day to continue to be involved in this work.
FT: Who inspired you as a kid?
KG: Ever since I was little, I have been inspired by Olympic athletes. Growing up as an athlete myself, they always motivated me to perform to the best of my ability, and push myself to my greatest potential.
FT: What do you see as the biggest opportunity to fix the food system?
KG: I think a huge part of fixing the food system has to do with transparency and keeping people informed. When consumers are informed of what they're buying, and what is good for fueling their bodies, they can make educated choices for themselves. There are so many different food products on the market today and helping consumers purchase products made from real foods is incredibly important. While it's important to have these products available, it's equally as crucial to let people know how to recognize these products.
FT: Can you share a story about a food hero who inspired you?
KG: Michel Nischan is a chef and a leader of the sustainable food movement. I was once a judge on a show on HLN called "Cook Your Ass Off" in which he ended up being a contestant! It was incredible! It was funny to be the "judge" of someone who's work I always loved, who had inspired me.
FT: What is one small change every person can make in their daily lives to make a big difference?
KG: Creating long-lasting healthier habits is all about making small nutritious shifts that over time become the norm. For example, add extra greens to your lunch every day. Soon you'll wonder how you ever went every day without them. Or drink a glass of water first thing upon waking. You'll kick start your digestions, and it's a great, simple way to ensure rehydration after sleeping.
Tune in to Food Tank's inaugural Boston Summit via a FREE live stream at FoodTank.com on April 1.