The Smart Food initiative is working to empower rural Kenyan women, families, and communities through participatory cooking classes, nutrition training, and door-to-door educational outreach. According to Feed the Future, about 21 percent of Kenyan children under the age of five are experiencing stunted growth, which is evidence of chronic malnutrition. The Kenyan Ministry for Public Health and Sanitation reports that "poor infant and young child feeding practices, poor maternal nutrition, low access to adequate and diversified diets, childhood illnesses and inadequate access to health and nutrition services" partially caused this high percentage of malnutrition.
To address these issues, the International Crop Research Institute for the Semi-Arid Tropics (ICRISAT) and the Smart Food initiative are working with rural Kenyan communities to promote millets, sorghum, and legumes, or Smart Foods. According to ICRISAT, "the benefits of healthy eating, as highlighted during the training, are improvement of children's performance in schools, reduced chances of family members becoming ill, and improved productivity, because healthy people have more energy to work harder and make more positive decisions, and in turn, make more money." Through these interactive training programs, ICRISAT intends to repopularize, increase demand for, and encourage the development of Smart Food crops. Their hope is that this will benefit small-scale farmers by increasing their incomes and the wellbeing of their families.
Millets, sorghum, and legumes tend to be nutritious, drought-tolerant, and farmer-friendly crops. However, over the last 50 years, Smart Foods have disappeared from many Kenyan farms and diets. This is attributed to a growing lack of investment, popularity, familiarity, and knowledge of Smart Foods. In many cases, rural farmers and families are now relying more on popular, yet less nutritious and less reliable, grains like rice, wheat, and maize, sometimes provided by the government and relief organizations.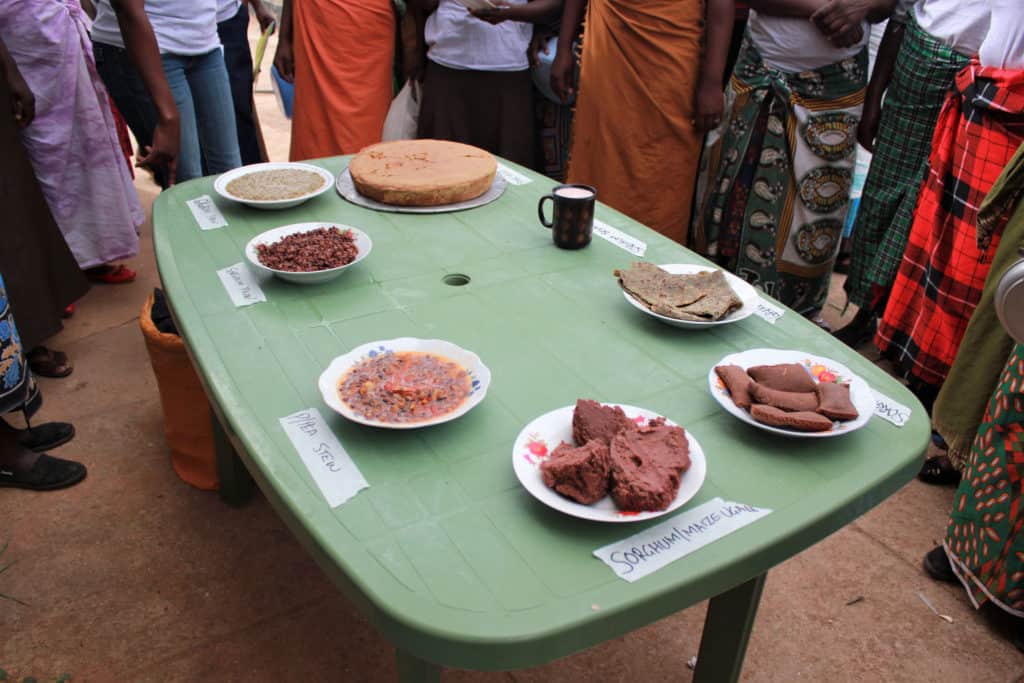 With funding from the United States Agency for International Development (USAID), ICRISAT is partnering with Feed the Future's Kenya Accelerated Value Chain Development Program (AVCD) project, Egerton University, Kenya Agricultural and Livestock Research Organization, the International Livestock Research Institute (ILRI), and county departments of health and agriculture to engage in community outreach and counteract to promote traditional crops.
After visiting over 100,000 homes to recommend healthy, micronutrient dense diets, ICRISAT held healthy eating workshops for more than 10,000 women, as well as participatory cooking classes for over 12,000 women farmers. According to Christine Wangari, the Smart Food Coordinator for East and Southern Africa, the interactive cooking trainings teach women how to cook various healthy and tasty dishes, including: sorghum cake, pearl millet chapati (bread), pigeonpea chapati, sorghum-cowpea pilau (pilaf), sorghum-green gram stew, and a traditional pearl millet drink known as Kinaa or Mburugi. These training sessions also cover hygienic cooking practices and energy-saving cooking methods.
While language barriers and insecurity can create challenges, Wangari says that, overall, the trainings have been successful and well-received. "The communities find the trainings very useful and eye-opening." By comparing baseline and midline surveys for six Kenyan counties, ICRISAT's training programs have also been successful in changing eating behaviors and increasing dietary diversity for women and children. Wangari reports that "a baseline [survey] conducted in 2016 and a midline conducted after one year (2017) showed an increase in the dietary diversity score for women (WDDS) and the household in general (HDDS) by almost 20 percent, while the children's dietary diversity score (CDDS) doubled after only a year of interventions."
According to Wangari, community members serving as Smart Food Ambassadors create "ownership, help strengthen the message, and create buzz around the activities." For greater impact, ICRISAT hopes that more participants in these training sessions will become Smart Food Ambassadors and share their new knowledge with others in their communities. According to Wangari, ICRISAT's surveys also benefited farmers, with "an increase in sales of grain at the farm level for all [Smart Food] crops except finger millet and groundnuts, which typically act as a safety net during drought." In fact, at the farm level, cowpea and pearl millet sales more than doubled in just one year.
With plans to train over 15,000 women in other Kenyan counties and other countries, ICRISAT hopes the educational Smart Food cooking and nutrition programs will educate and empower rural communities, inspire healthier cooking, feeding, and farming practices, and thereby fight malnutrition and undernutrition. This initiative is part of ICRISAT's larger effort to develop the Smart Food value chain from farming to food products.
Click here to watch videos and learn more about ICRISAT's Smart Food program.