Photograph courtesy of  Bekah Vigil. 
Jessie Bovay, Director of Business Development at Mercaris, will be speaking at the Washington D.C. Food Tank Summit, "Cultivating the Next Generation of Young Food Leaders," which will be held in partnership with George Washington University, World Resources Institute, the National Farmers Union, Future Farmers of America, and the National Young Farmers Coalition on February 28, 2018.
Bovay earned a B.A. in international relations from the James Madison College at Michigan State University and an M.B.A from the University of Illinois. Bovay became more involved with food security through her work evaluating supply chains as at Archer Daniels Midland Company. Bovay continued focusing on goals in food and water security as a Project Manager at the Howard G. Buffett Foundation. In her current position at Mercaris, an organization that provides information on market conditions for organic and non-GMO commodities, allowing buyers and sellers to trade online, Bovay seeks out opportunities to move identity preserved crops to market and make information about these crops more accessible across the supply chain.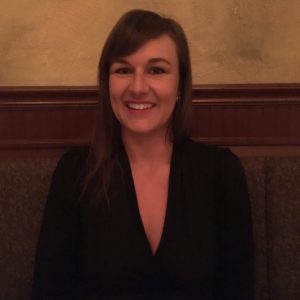 Food Tank had the opportunity to speak with Jessie about her work and experience to empower communities to make informed decisions in the food system for healthy living.
Food Tank (FT): What originally inspired you to get involved in your work?
Jessie Bovay (JB): I have always been passionate about food, whether it is the business of agriculture, government policy, or cooking in my kitchen. My family had a garden and we always ate dinner around the table. My first jobs were in foodservice and when I began college as an international relations major, I wanted to specialize in something that is essential and powerful—food.
FT: How are you helping to build a better food system?
JB:  A better food system for all includes variety, choice, and value from the producer to the plate. At Mercaris we work to make the very unclear world of organic, non-GMO, and otherwise identity preserved crops—those with specific characteristics and standards meant to fit the needs of the targeted consumer—-more transparent. From opportunities to buy and sell crops, to information about pricing and demand, we create transparency. I look for opportunities to deliver identity preserved crops to market and make information about these crops more accessible across the entire supply chain. I help create variety for the consumer by giving producers the ability to make informed and smart decisions on what to grow and how to market it.
FT: What's the most pressing issue in food and agriculture that you'd like to see solved?
JB: The United Nations (UN) estimates that the world's population will grow to more than 9 billion in 2050 and; I want to be part of the solutions to feeding that growing population. . The solutions to food insecurity and access will come from worldwide collaboration of universities, organizations, businesses, and people.
FT: What innovations in food and agriculture are you most excited about?
JB: I am excited about the growing number of choices in food and agriculture today. While there are many places worldwide where access to food is a daily struggle, there are many actors working to to increase choice, access, and quality. The choices we have today come from continuing innovations in plant genetics, transportation systems, and food literacy. Actors working in this space range from universities and private labs to companies like Mercaris, all working to increase market access for both producers and consumers.
FT: What is one small change every person can make in their daily lives to make a big difference?
JB: Every person should be informed, active, and responsible participants in their daily lives. This can be done in a variety of ways and involve actions as small as turning off lights, disposing of waste properly, and reading the news. With the understanding that access to electricity, waste disposal, and news is a luxury for the majority of the world, it is essential that those with access to these resources act responsibly. Becoming active participants in our daily lives can have positive ripples worldwide.
FT: What is the best opportunity for young or aspiring farmers and entrepreneurs to get a foothold in America's agricultural future?
JB: Young and aspiring farmers and entrepreneurs can gain a foothold in the future of agriculture by learning from experienced farmers and entrepreneurs. The average age of American farmers hovers around 60 years and while there is many opportunities for innovation and change within the agricultural industry, experienced farmers have a wealth of knowledge to pass down to the next generation of farmers and entrepreneurs.
FT: How can we best stimulate young people's curiosity about food and agriculture and encourage their participation in building healthier food systems?
JB: Just as we teach language literacy, we need to teach young people food literacy. involving young people in various aspects of the food system by running community gardens, visiting supermarkets, or navigating menus, helps build food and agricultural literacy.  With food literacy comes comprehension, understanding, and participation in building a healthier food system.
The D.C. Food Tank Summit is SOLD OUT but tickets remain for our next two Summits. Register HERE for the Seattle Food Tank Summit, Growing Food Policy on March 17. Register HERE for the Boston Food Tank Summit, Exploring the Paradox of Hunger and Obesity on April 19. These events will sell out – register today!